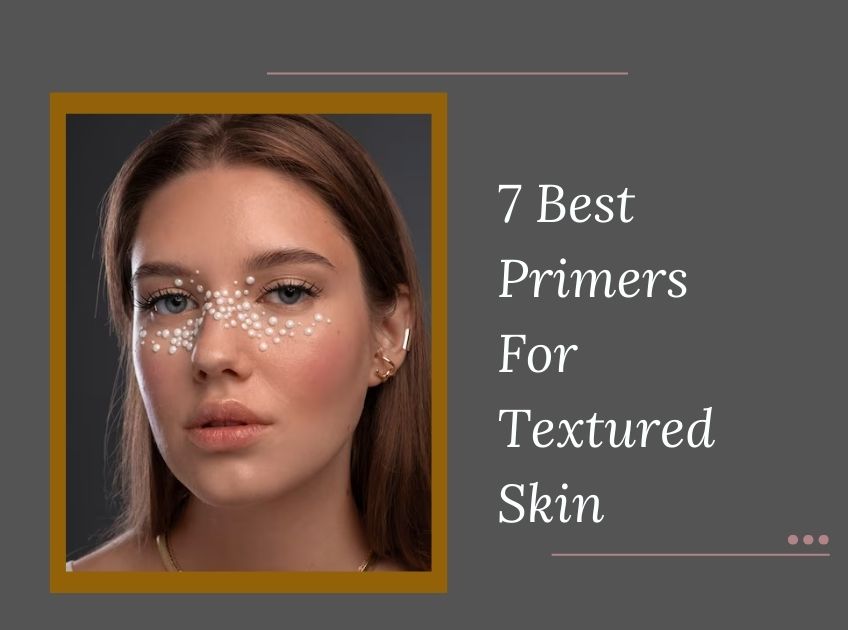 Primers give a flawless look. They ensure your makeup stays for long hours without getting smudged. However, when it comes to textured skin, finding a primer that can work on uneven skin that has pores and textures excessively become a little tricky.
Textured Skin
Since primers give a smooth canvas for further makeup application, it is an essential product for textured skin. If you are not able to find the best primer for textured skin, check out the list we have shared including high-quality primers.
These primers work effectively on uneven skin textures and help provide hydrating and nourishing benefits too. Serving as a multi-purpose product, these primers are worth every penny.
Check them out!
7 Best Primers For Textured Skin
1. Gives Mattifying Effects: Tarte Cosmetics Poreless Mattifying Primer
The key ingredients are Avocado, T5 Super Fruit Complex™
It also contains Echinacea Root, Hibiscus Flower, and Rosemary Leaf Extracts
The presence of Safflower Seed makes it even more appealing
It is easy to apply and remove
The results are not greasy
Packed with natural ingredients, it keeps skin safe and healthy
Suitable for all skin types, especially acne-prone skin
Promises 12 hours of a shine-free matte finish
What We Don't Like: It is slightly coarse.
[ Read: 7 Best Primers For Acne Prone Skin ]
2. Effective and Affordable: Almay 5-in-1 Correction Primer
Infused with microspheres for a smooth base to the makeup
Blends easily and effortlessly
It gives the refined and radiant look
Contains bi-colored spheres- lavender microspheres and green microspheres
Even out the skin tone and reduces skin redness
Oil-free gel formula
Stays light on the skin
Comfortable enough for all-day wear
It is non-comedogenic and oil-free
What We Don't Like: It doesn't offer sun protection.
3. Lightweight Formula: TOUCH IN SOL No Pore Blem Primer
Conceals pores effectively
Gives a smooth surface and salon-finish
Leaves skin flawless, beautiful, and spotless
It is lightweight
Infused with skin-nourishing ingredients
It offers even coverage and conceals the pores
Evens out the complexion, and masks wrinkles
Nourishes and rejuvenates the skin
Ensures long-lasting effects of the makeup
Contains soluble collagen
Enhances skin elasticity and upkeep the moisture
What We Don't Like: It may feel slightly oily.
4. Plant Extracts Based: bareMinerals Prime Time Original Foundation Primer
Keeps skin oil-free and makeup ready
It makes skin look fresh, supple, and healthy
Conceals fine lines and enlarged pores
Reduces excess oil and perfects skin
Infused with Vitamin C and plant extracts
Skin nourishing formula
Smooth and creamy texture that glides evenly on the skin
Covers uneven skin texture
Perfects the rough patches on the skin
Feels smooth
It doesn't feel sticky
It comes in travel-friendly packaging
Free of preservatives
What We Don't Like: It has a runny consistency.
[ Read: 7 Best Primers For Glowing Skin ]
5. Best Blendability: Benefit Cosmetics POREfessional Pore Primer
Even out rough patches and fine lines
Reduces the appearance of pores
Makes skin smoother and softer
Features no oil formula
Helps keep the makeup locked for long durations
Infused with Vitamin E
Stays smooth and protects the skin
Improve skin appearance
Blends effortlessly
Lightweight and translucent
What We Don't Like: It doesn't suit acne-prone skin.
6. Reduces Enlarged Pores: Dr. Brandt Skincare Pores No More Pore Refiner Primer
Water, Lavender Oil, and Tea Tree Oil are the active ingredients.
The presence of flax seed extracts helps absorb excess oil and mattifies shine.'
The mineral-rich powder prevents a barrier to keeping makeup from clogging them
It works well on all skin types and helps reduce acne
Also, it reduces the appearance of pores and gives an even skin tone.
The smooth texture feels silky on the skin and looks natural.
Repairs and soothes the damaged and troubled skin
What We Don't Like: It doesn't smell good.
[ Read: 7 Best Products For Large Pores And Oily Skin ]
7. Best for Oily Skin: Laura Mercier Foundation Primer – Oil Free
The key ingredients are Microalgae, Blurring Powders, Glycerin
Also infused with cucumber and antioxidant green tea extract to soothe and refresh the complexion
Enriched with Vitamins A, C, and E that work as antioxidants
It gives a long-lasting mattifying effect to the skin
Perfect for oilier, overactive skin; however, it suits normal and combination skin equally
It absorbs excess moisture and gives an oil-free look
To protect the skin from the environment and delay cell damage
What We Don't Like: It is expensive.
Conclusion
Now that you know some of the best primers for textured skin, it's high time you should invest in any of these and hide all the skin's imperfections, getting flawless coverage.
You Might Also Like: