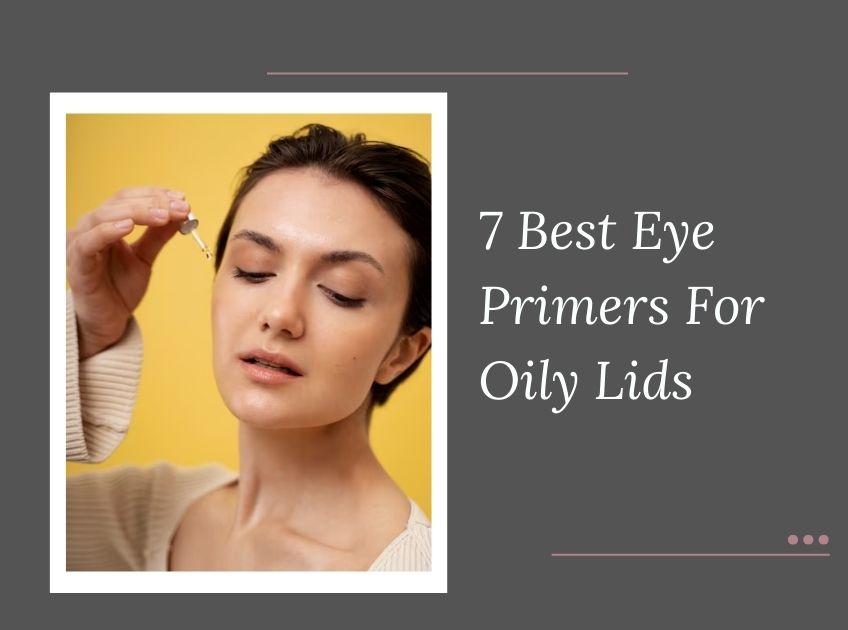 Oily eyelids can create problems while applying eyeshadow because it leads to creasing. Fortunately, primers can prevent such situations and help bring a flawless finish. The right primer will give a smooth canvas for applying further makeup products on the skin.
Eye Primers
If you struggle to maintain crease-proof eyeshadow, we have some of the best eye primers for oily lids. Available in multiple textures and working perfectly on different skin types, these primers are all you need to manage the eyeshadow over your oily eyelids.
Keep reading to find the best eye primer for oily eyelids and boost your eye makeup.
7 Best Eye Primers For Oily Lids
1. Light and Creamy: Mac And Prep Prime 24-Hour Extended Eye Base
It helps smooth and prime the eyelids and neutralize the discoloration to give a flawless finish all through the day
It stays comfortable for over 24 hours and doesn't cause crease
It is lightweight, ophthalmologist tested, dermatologist tested, and non-acnegenic, thus suitable for oily skin
The infusion of antioxidant vitamin E makes helps improve skin health
What We Don't Like: A patch test is recommended
[ Read: Vitamin E Oil for Skin ]
2. Highly Effective: Elizabeth Mott Thank Me Later Eyeshadow Primer
The silky formula makes it soft and gliding on the skin, uplifting skin health
It helps control excess sebum keeps oil at bay and makes skin soft and smooth
The lightweight the formula stays comfortable on the eyes all through the day
It suits all skin types and works wonder on mature skin
What We Don't Like: If you have dry skin, perform a patch test to ensure it is not drying the skin further.
[ Read: Milani Eyeshadow Primer Review ]
3. Long-lasting Results: Pur Get A Grip Endurance Eyeshadow Primer
It works best for oily eyelids as it gives a smooth application and crease-free results
Contains ingredients like agave, clay, and silica that help absorb excess oil and hydrate the skin
It prevents smudging and creasing of eye shadow, ensuring long-lasting results
It is BPA-free and gluten-free
What We Don't Like: Blending this primer may take time. Also, it won't be good for dry skin.
[ Read: How To Keep Eye Liner From Smudging ]
4. Lightweight and Comfortable: Erinde Eyeshadow Primer
The lightweight formula of this eye primer makes it perfect for seamless eye makeup
It gives a flawless matte finish wherein the eyeshadow stays all through the day
The infusion of pearl powder helps conceal and brighten the uneven skin tone
It absorbs the excess oil from the skin, making it the best for oily skin type
What We Don't Like: It may feel slightly heavy on the skin.
[ Read: Eye Makeup Tips And Tricks For Black Eyes ]
5. Long-lasting results: BareMinerals Prime Time Eyelid Primer
It offers 24 hours coverage and blends easily on the skin
It is a lightweight primer, suitable for delicate skin around the eyes and oily skin
Comfortable enough to wear all day long
The crease-free solution and anti-aging formula make it best for people with oily skin
It is free of paraben, gluten, and synthetic fragrance
What We Don't Like: It may feel slightly sticky initially.
[ Read: 7 Steps To Apply Eye Makeup For Natural Look ]
6. Crease Proof: Revlon Eyeshadow Primer
The formula is powered by Color Stay technology that helps primer to stay for over 24 hours
It contains a shea butter care complex, offering a smooth base for the eyeshadow
The lightweight formula helps prevent smudging and blends smoothly
It is non-greasy and non-drying
What We Don't Like: It may not suit people with sensitive skin and may feel dry on certain skin types. A patch test is necessary.
[ Read: Best Waterproof Makeup for Your Wedding Day ]
7. Best Oil-Free: Monica Ann Beauty Dual Action Eyeshadow Primer
It is packed with skin-nourishing ingredients that protect the thin and delicate skin around the eyes
Infused with hyaluronic acid and Vitamin C to plump the skin and reduce aging signs like fine lines and wrinkles
It helps fight pigmentation and enrich the skin's suppleness
The waterproof the formula makes it oil-free and crease-proof all through the day
What We Don't Like: It can feel sticky.
[ Read: How to Hide Wrinkles with Makeup ]
Conclusion
These eye primers offer great and crease-proof results, manage your oily skin, and give a stunning result. All these primers are highly effective and selected based on their quality and performance. So, give them a try and see how astounding the results of your eye makeup come out.
You Might Also Like: