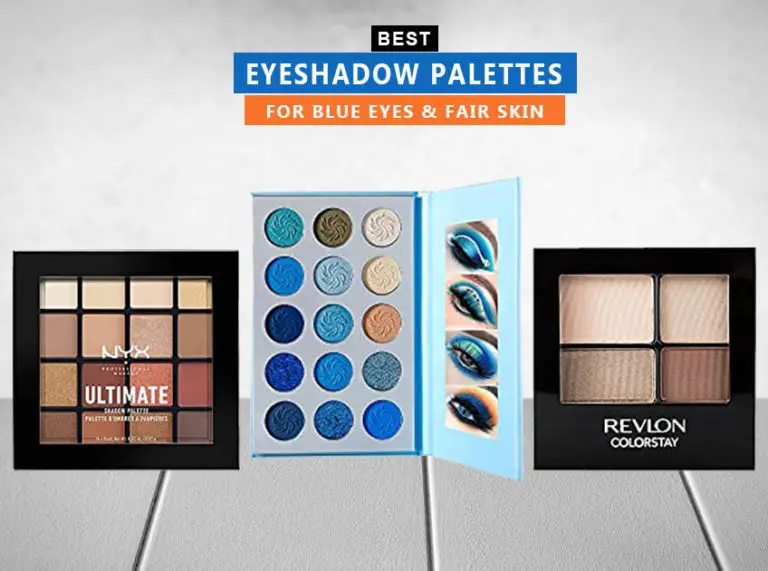 Are you looking for a great eye shadow palette for blue eyes that comes in a fair range of colors? or What colors should you select? here are few options that are the most recommended shades, and best affordable brands to get an excellent eyeshadow palette for blue eyes.
The best color eye shadow is commonly a deep or dark shade that covers the eyelid to create a more major effect. The best eye shadow for fair skin is usually a light color with glitter or brightness.
Eyeshadow Palettes
Therefore to give you the best eyeshadow palette for blue eyes and fair skin, we have shortlisted some of the eyeshadows that make you look moore beautiful and gorgeous than ever.
7 Best Eyeshadow Palettes For Blue Eyes And Fair Skin
1. Dazzling Eyeshadow for blue eyes: Maybelline New York Eyeshadow
This 12-shade eyeshadow palette features various colors infused with rose gold pigments.
This palette gives expertly unique shades that are perfect for versatile eye makeup
It includes two double-ended sponge applicators
It gives subtle lines, smokey vibes, and custom brow looks.
What We Don't Like:
The eyeshadow may form clumps if not applied properly.
[ Read: Eye Makeup Tips And Tricks For Black Eyes ]
2. Ultimate Eyeshadow Palette for blue eyes and fair skin: NYX PROFESSIONAL MAKEUP
It gives classic tones or a shot of color that transforms eye look
It provides a full line of eye makeup
It is easy to apply effortlessly on the eyes
Cosmetics suit everyone with different kinds of skin types.
What We Don't Like:
The customers feel that it irritates the skin due to hypersensitivity
[ Read: NYX Professional Makeup Ultimate Shadow Palette Review ]
3. Waterproof eyeShadow palette for blue eyes: Prism Makeup Eyeshadow Palette
It has 18 pro-Colors with high Pigmentation that gives a Shimmer finish
Glitter Eye Shadow Palette that's Blendable and Long Lasting
The creamy velvet texture is achieved within a range of metallic, satin, and matte finishes
Each color is unique, easy to layer, and gives better application.
What We Don't Like:
It scales off due to the dry consistency on the skin
[ Read: How Long Do Eyeshadow Palettes Last ]
4. Christmas Snowflake eyeShadow for blue eyes and fair skin: DE'LANCI Space Blue Eyeshadow Palette
It comes along with three pressed glitter shadows, six matte shadows, and four shimmer shadows
Highly pigmented eyeshadow delivers extreme color payoff in just one swipe
It ranges from velvet-smooth mattes and blinding icy metallic long-wearing formula
the unique combination of softer powders that adheres easily to the eyes gives a soothing focus
What We Don't Like:
The eyeshadow may form clumps in lids if not used regularly
[ Read: UCANBE Pro Glitter Eyeshadow Palette Review ]
5. Beautiful eyeShadow for blue eyes: REVLON ColorStay eyeShadow
It has Dual-Ended Applicator Brush for fine strokes
This has long worn capacity that gives Intense Color for Smooth Eye
It can be applied as Makeup even Day & Night
Ophthalmologist tested and approved for best finishing of eye makeup.
What We Don't Like:
The eyeshadow may give rashes if applied harshly on the eyes.
[ Read: Eye Makeup Tips for Beginners ]
6. Eyeshadow Palette for fair skin: L.A. COLORS 16 Color
The Vibrant colors are pigmented for excellent results on eye makeup
It gives a Matte and Shimmer Finish that is wonderful on the eyes
The Dual ended applicator gives micro strokes for the best finishing of the eyes
Ophthalmologists approve it for good outcomes
What We Don't Like:
The eyeshadow may be sticky due to improper mixing.
[ Read: How to Do Eye Makeup for Blue Eyes ]
7. Smokey EyeShadow palette for blue eyes: Best Land Professional Beauty Makeup
Nude Colors Eyeshadow gives a Natural look.
Nude Matte Shimmer Glitter finish is obtained on application
Ensures Super Soft texture on eyes
It has excellent flexibility with solid adhesion that can last all day long.
What We Don't Like:
The eyeshadow may be hypoallergenic for a few customers who have sensitive issues.
[ Read: 10 Best Smokey Eye Palette ]
Conclusion
Hope we have cleared all our doubts and concerns as there might be many types of eyeshadow palettes available, but choosing the right and perfect match for your blue eyes and fair skin is the concern, so now it's your turn to choose the perfect one.
You Might Also Like: