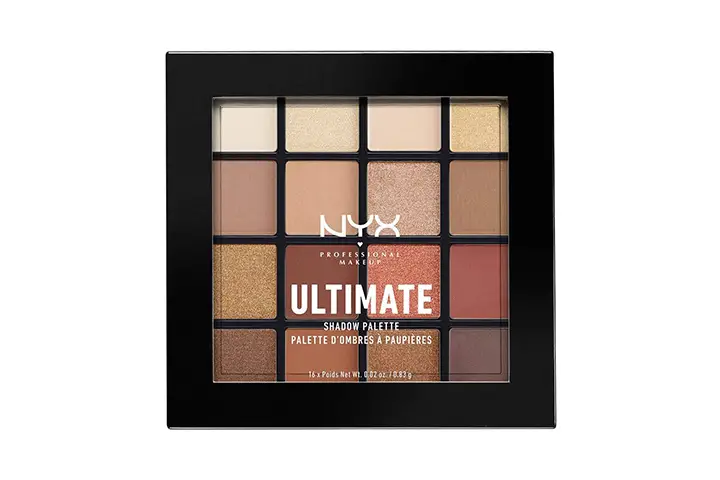 Who doesn't love stunning and striking eyelids with NYX PROFESSIONAL MAKEUP Ultimate Shadow Palette. It gives a professional level make up to your eyes with these 16 highly pigmented eyeshadows.
These glide onto lids and make eyes pop with color. Use these eye shadows for bolder and longer – lasting color. Each shadow is buttery and blondable to offer a lovely look to your lids.
NYX Professional Makeup Ultimate Shadow Palette
How it Works:
Each high quality eyeshadow palette features a highly pigmented mix of finishes from matte and stain to shimmery and metallic. It gives a perfect shade for your skin tone.
The combination of these shades features a vivid mix of velvety – rich textures and gives extraordinary finishes.
Pros:
This palette comes with unique shades.
Each shadow is nicely pigmented and pairs well with all of the other colors.
These rich eyeshadows are easy to blend and build perfect for pairing together to create custom, natural looking eyeshadow looks.
The different shades of this palette are awesome for any type of makeup.
It adds shimmer or smokey effects to your eyes.
Cons:
Without eyeshadow primer it will not hold them in place for much time.
Rating: 4.5 out of 5
Whatever may be the look you want to give to your eyes like vibe or simple and clean or bold you can give by using NYX PROFESSIONAL MAKEUP Ultimate Shadow Palette.
Frequently Asked Questions (FAQ's)
Q. How much fallout is there for this product?
Ans: Fall out Not bad actually I didn't notice much, some I have to wet my brush for it to be more pigmented.
Q. Do any of the colors oxidize on the face over time?
Ans: I use a primer. They tend to become deeper if you just put them on skin without eyeshadow primer. I recommend using the primer. The colors will pop more and stay longer.
Q. Does this palette contain the color Warm rust?
Ans: They don't really have names. At least not on the palette. So, not sure what they are called. But for a warm rust type of color, I wouldn't get this palette. I would get the Nyx Ultimate Palette Warm Neutrals or Nyx Ultimate Palette Fiery Red & Corals.
Alternate Products:
You Might Also Like: