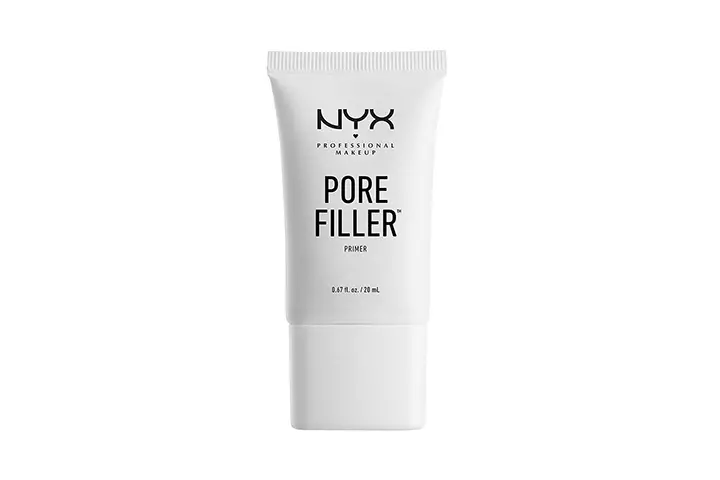 Give a complete look with NYX pore primer. It is infused with vitamin E that helps to minimize the appearance of pores.
Through the excess shine and prepares your complexion for a polished makeup look and application.
The oil free pore minimizing primer is a go to primer to achieve the ultimate matte look specially for oily skin.
NYX PROFESSIONAL MAKEUP Pore Filler Blurring Primer, Vegan Face Primer
How it Works:
The sleek and silky formula of this product conceal pores.
Use this before applying your favourite foundation, concealers, powders or bronzer and enjoy elongate makeup wear.
The pore filling primer does not change your natural complexion.
Apply pea-sized amounts all over your face and feel the soft focus filter effect all day.
Pros:
This primer also reduces the appearance of fine lines.
It is infused with vitamin E for extra nourishment.
Infused with smoothing agents.
100% vegan formula.
It is cruelty free and PETA certified.
Cons:
It may result in a slightly cakey look.
Rating: 4.3 out of 5
This is the perfect pre-foundation base coat which reduces the appearance of pores and even fine lines. This talc-free, oil free formulation keeps your skin smooth and enhances your skin.
Frequently Asked Questions (FAQ's)
Q. Does the pore filler perform well for 50 years old skin?
Ans: I'm 64 and just tried it and it works fine especially on my nose pores. However, once I put foundation on top of the NYX pore filler the pores become accentuated and show up again (don't know why that is) therefore I just put on the NYX pore filler without foundation and it's great.
Q. Is it sweat proof? How long does it stay?
Ans: Not sure if it's sweat proof but it is long lasting & gives you a smooth complexion.. prior to using your foundation…I really like it.
Alternate Products:
You Might Also Like: