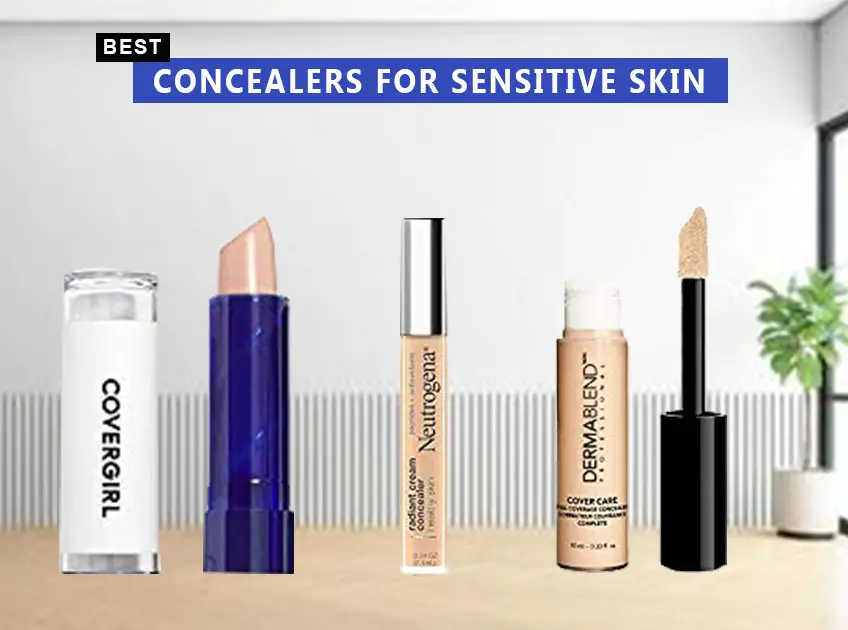 Sensitive skin is also called problematic skin due to its sensitivity to different allergens. Some ingredients that do not pose any issue to normal skin may create havoc on sensitive skin, making it red, irritated, inflamed, and itchy. Therefore, selecting the right concealer for sensitive skin is very important.
The best concealer for sensitive skin can perform all its functions- concealing the dark spots, correcting the color, hiding the blemishes, and contouring and highlighting the best facial features without causing skin irritation.
Concealers For Sensitive Skin
Since sensitive skin is prone to allergies, finding the right skincare product becomes tricky. If you have such a skin type and cannot find the right concealer, do not worry.
Here, we have brought the seven best concealers for sensitive skin. They are extremely effective and useful for sensitive skin types.
Check them out!
7 Best Concealers for Sensitive Skin
1. Waterproof & Lightweight: Catrice True Skin High Cover Concealer
Infused with hyaluronic acid, a skin-loving ingredient that helps to lock in moisture and make skin soft and supple
It hides the blemishes and corrects the under-eye circles for a flawless look
Offers an amazing shine on the face without making the skin look greasy or oily
The water-proof formula is the biggest USP of this concealer
What we don't like: It contains fragrance and PEGs, which are not suitable for the skin. You should perform a patch test before slathering it all over the face.
[ Read: How to Get Rid of Oily Skin on Face at Home ] 
2. New and Exclusive: HUDA BEAUTY The Overachiever Concealer (PEANUT BUTTER)
It is loaded with the antioxidants like green tea and probiotics, ensuring soothing and calm skin forever
The highly pigmented formula offers high coverage
It blends easily in the skin and corrects color wherever required
Leaves you with a radiant and glowing skin
Available in different shades, therefore, suitable for different skin tones
What we don't like: It is an expensive concealer and contains a scent. Due to synthetic fragrance, perform a patch test and ensure whether it suits your skin tone or not.
[ Read: 7 Best Essential Oils For Glowing Skin ]
3. Cruelty-Free and Vegan: ILIA – True Skin Serum Concealer
It is a full-coverage formula that stays gentle on the skin
It comes in multiple shades, suitable for different skin tones
The skin-loving and soothing ingredients make it suitable for sensitive skin tone
It is lightweight and blends seamlessly into the skin, making it flawless and radiant
What we don't like: It comes with a hefty price tag.
[ Read: 7 Best Primers For Sensitive Skin ]
4. Non-Comedogenic: Neutrogena Healthy Skin Radiant Brightening Cream Concealer
It is loaded with peptides, vitamin E, and other antioxidants, thus fulfilling every requirement of the skin
Vitamin E and peptides help protect the skin and support the skin barrier
It is non-comedogenic and infused with skin-soothing ingredients, thus the best concealer for sensitive skin
It is fragrance-free
What we don't like: It is not ideal for dry skin as such skin type may get drier using this concealer.
[ Read: Vitamin E Oil for Skin ]
5. Dermatologist Tested: Concealer by Almay
It offers buildable full coverage due to its lightweight texture and formula
Matte-finish formulation of this concealer helps attain a flawless finish
It is oil-free, hypoallergenic, and non-comedogenic, thus suitable for problematic skin
It is fragrance-free and offers blurring effects
What we don't like: Limited shades are available in this concealer. Also, it contains PEGs that may create havoc on sensitive skin.
[ Read: How to Get Clear Skin Naturally at Home ]
6. Allergy-tested: Dermablend Cover Care Concealer
It is free of fragrance and alcohol, thus best for sensitive skin
Non-comedogenic and tested for different allergies
The gentle and effective formula stays lightweight on the skin
Creamy consistency helps in blending into the skin effortlessly
Available in 16 different shades
What we don't like: It contains PEGs.
[ Read: 10 Effective Home Remedies For Skin Allergies ]
7. Ultra Moisturizing: COVERGIRL Smoothers Moisturizing Concealer
It has a creamy, fragrance-free, and lightweight formula
Moisturizes the skin deeply and lock in the moisture to keep the skin soft and supple
Blends with all skin types with no hassle
Effectively hides blemishes, dark circles, aging spots, and fine lines
It is crease-free and stays gentle and light on the skin
What we don't like: Limited range of shades is available.
Conclusion
One concealer that suits a person with sensitive skin may not suit another person with the same skin type. Even though all these concealers work wonders on problematic skin, we suggest you perform a patch test before slathering it all over the face. It will ensure that a particular product works well on your skin type.
You Might Also Like: