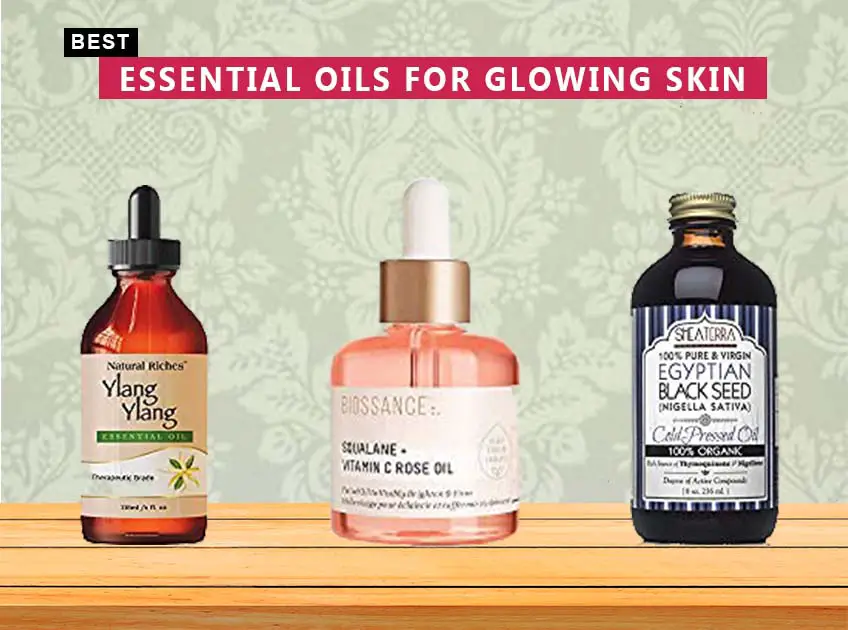 Essential oils are the most potent and effective form of plant medicine. If you want to grab the benefits of any medicinal plant, its essential work will help the most. Essential oil is a concentrated hydrophobic liquid containing volatile (easily evaporated at normal temperatures) chemical compounds from plants.
Generally, essential oils are mixed with a carrier oil, like coconut oil, for aromatherapy and healing. Besides healing, the essential oil can also improve skin condition and make it glowing with radiance.
Essential Oils
If you want to boost the skin's condition and enhance the glow, here are the best essential oils to help. We have curated a list of the most effective, potential, and best essential oil for glowing skin.
All these products are selected on the basis of their quality and performance on different skin types. Keep reading to find out the essential oils for you.
7 Best Essentials Oil For Glowing Skin
1. Best Overall- Rosehip Seed Oil: The Ordinary 100% Organic Cold-Pressed Rose Hip Seed Oil
Contains the goodness of rose plants and rosehip oil that contains both vitamins C and vitamin A, beneficial for the skin's health
Reduces skin irritation and banishes redness and inflamed skin
Improves skin texture and hydration level and fight dull and dry skin
Infused with 100% Organic Cold-Pressed Borage Seed Oil that features anti-inflammatory properties
Offers extra nourishment to the skin, making it healthy from inside
What We Don't Like: It may feel slightly oily on the skin.
2. Calming and Soothing- Lavender Oil: Vitruvi Organic Lavender Oil
It offers soothing, calming, antibacterial, and anti-inflammatory properties
Made with 100% Certified Organic Lavender is sourced from the high Alpine fields in France
Helps brighten skin and make it deeply nourished
Free from synthetic fragrance, sulfates, parabens, formaldehyde, phthalates, and mineral oil
What We Don't Like: The results are not instant.
[ Read: How To Use Lavender oil to Clear Your Acne? ]
3. USDA Certified- Frankincense Oil: HBNO Organic Frankincense Essential Oil
Made from the resin of the Boswellia Serrata tree by steam distillation
It is USDA Certified 100% pure natural, steam distilled oil suitable for all skin types
Helps calm skin and delivers all the benefits of it instantly
Suitable for skin, hair, and aromatherapy
Gives skin a healthy & glowing look or a silky smooth feel to your hair
What We Don't Like: It may feel greasy.
[ Read: How to Get Healthy Skin Naturally at Home ]
4. Skin Purification- Tea Tree Oil: The Body Shop Tea Tree Oil
Helps treat mild acne and brings glow and shine to the skin
It has natural anti-inflammatory and anti-microbial properties, reducing infestation by bacteria, fungi, and viruses
It is lightweight and helps improve overall skin condition
Skin looks clearer and smoother and feels healthy, and soothes with fewer skin imperfections
What We Don't Like: It may cause skin dryness; therefore patch test is recommended.
[ Read: Benefits Of Tea Tree Oil For Skin and Hair ]
5. Revives Skin Radiance- Rose oil: Biossance Squalane + Vitamin C Rose Oil
It is a luxuriously lightweight oil delivering a trifecta of skin-loving goodness, brightening, firming, and hydration
It works on multiple facets and works on improving skin tone, firmness, and complexion
It protects skin from moisture loss, leaving it soft and naturally scented
The presence of proven and natural ingredients helps improve skin's elasticity and reduce skin discoloration
What We Don't Like: It takes time to absorb by the skin.
[ Read: Top 50 Surprising Rose oil Benefits and Uses ]
6. Manage Chronic Dry Skin- Black seed oil: Shea Terra Egyptian Black Seed Cold Pressed Extra Virgin Oil
It works on multiple levels and promotes skin health, including eczema, and brings a natural glow and radiance
The virgin black seed oil improves skin tone and complexion
It is ultra-hydrating and deeply nourishing
Free of harmful ingredients like parabens, SLS, sulfates, phthalates, alcohol, propylene glycol, mineral oil, petroleum, recycled water, and synthetic fragrance & dyes
What We Don't Like: It may feel heavy on the skin.
[ Read: 10 Best Homemade Skin Toners For Glowing Skin ]
7. Therapeutic- Ylang Ylang Essential Oil: Natural Riches Ylang Ylang Essential Oil
It features a fruity and floral aroma, giving a soothing feel
It can be used for aromatherapy to create calming and soothing environment
It helps refresh skin and improves the complexion
The presence of pure essential oil helps bring a natural glow and radiance to the skin
What We Don't Like: It may feel heavy on the skin.
Conclusion
Since all these products effectively increase the skin's glow and radiance, you can use them and look more fabulous than ever. We recommend a patch test before slathering oil all over the skin to avoid any allergic reaction.
You Might Also Like: