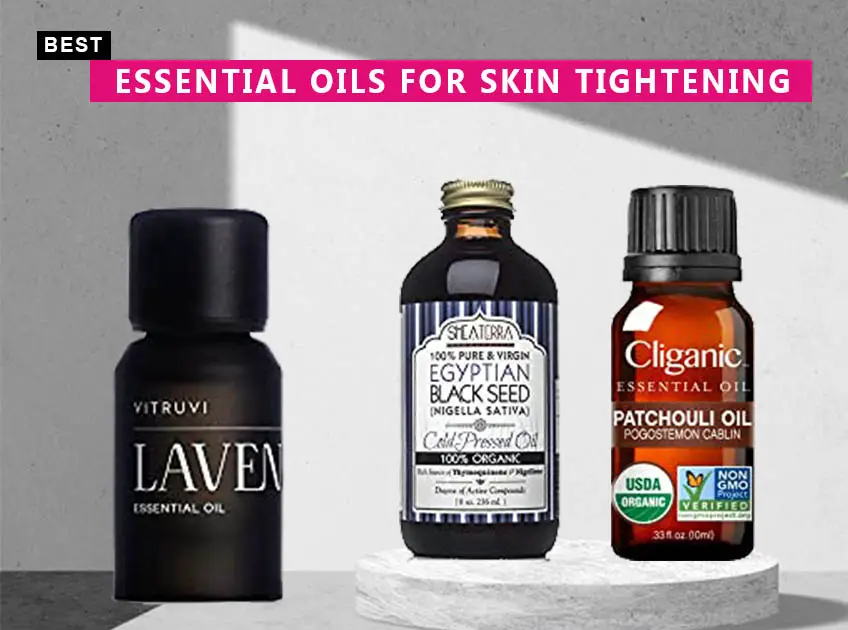 Aging skin loses elasticity due to reduced collagen. As a result, skin sags and becomes thin and fragile. Apart from sagging skin, aging spots, fine lines, and wrinkles also become prominent.
As you cross 30, you may start noticing certain changes in the skin. It is the right time that you should switch from normal skincare products to something more intense and effective. Using essential oils can help keep the sanity of skin intact and make you look younger forever.
Even though many skincare products for aging skin help make it firm and youthful, essential oils seem the best option. While creams and lotions may contain chemical ingredients, essential oils are completely natural and plant-based, thus offering only benefits.
Essential oils are concentrated and natural oils that provide many skin care benefits. If you think it's the right time to start taking care of your skin to delay aging, check out the best essential oils for skin tightening that we have listed.
These oils are highly effective in creating a youthful glow and firm skin. They will help rejuvenate skin and regenerate skin cells. Check them out and find out your best pick.
7 Best Essential Oils For Skin Tightening
1. Calming and Soothing- Lavender Oil: Vitruvi Organic Lavender Oil
It offers soothing, calming, antibacterial, and anti-inflammatory properties
Made with 100% Certified Organic Lavender is sourced from the high Alpine fields in France
Helps brighten skin and make it deeply nourished
Free from synthetic fragrance, sulfates, parabens, formaldehyde, phthalates, and mineral oil
What We Don't Like: The results are not instant.
[ Read: How To Use Lavender oil to Clear Your Acne? ]
2. Non-GMO Verified- Sweet Orange Essential Oil: Cliganic USDA Organic
It acts as a protective antioxidant and stimulates collagen production, which helps make skin firm and tight
It helps brighten skin and achieve glowing radiance with Vitamin C
The oil is extracted from Vitamin C that helps improve skin complexion
It is beneficial for maintaining the health, appearance, and texture of skin by promoting clarity, radiance, and smoothness
Free from additives and is a non-GMO-certified product
What We Don't Like: It is expensive.
[ Read: Essential Oils Vitamin C Facial Cleansing Wipes Review ]
3. Detoxifying- Juniper Berry Essential Oil: GYA LABS Juniper Berry Essential Oil
With powerful detoxifying properties, it acts as an antioxidant and a natural healer
It repairs skin and strengthens the epidermis, creating a defense against premature skin aging
The calming effects of the oil help revive the skin's youthfulness
It is an effective skin-nourishing remedy that works on multiple issues and makes skin younger and more youthful
What We Don't Like: It may feel slightly oily initially.
[ Read: Beauty Concepts Detoxifying Wipes Review ]
4. Skin Healer- Geranium Essential Oil: Gya Labs Egyptian Geranium Essential Oil
It works wonderfully to bring a natural glow and radiance to the skin, making it firm and youthful
The blend of Frankincense Oil helps soothe skin and brings a calming effect
It works as a therapeutic remedy and is effective against acne and other skin issues
It is 100% pure and natural and completely free of additives, and undiluted with no filters
What We Don't Like: It may feel sticky on the skin.
[ Read: How to Get Glowing Skin for Brides ]
5. Effective and Affordable- Patchouli Essential Oil: Cliganic Organic Patchouli Essential Oil
It is a USDA-certified organic patchouli oil that helps in skin firming and making it tighter to look younger
Being 100% pure, it helps skin to heal and boosts collagen production
It is a single-ingredient product and a multipurpose oil that brings a natural glow and radiance
It is free from additives and is non-GMO verified
What We Don't Like: It may feel sticky for some time but absorbs fast.
[ Read: 7 Best Carrier Oils For Skin Firming ]
6. Best Overall- Rosehip Seed Oil: The Ordinary 100% Organic Cold-Pressed Rose Hip Seed Oil
Contains the goodness of rose plants and rosehip oil that contains both vitamins C and vitamin A, beneficial for the skin's health
Reduces skin irritation and banishes redness and inflamed skin
Improves skin texture and hydration level and fight dull and dry skin
Infused with 100% Organic Cold-Pressed Borage Seed Oil that features anti-inflammatory properties
Offers extra nourishment to the skin, making it healthy from inside
What We Don't Like: It may feel slightly oily on the skin.
7. Manage Chronic Dry Skin- Black seed oil: Shea Terra Egyptian Black Seed Cold Pressed Extra Virgin Oil
It works on multiple levels and promotes skin health, including eczema, and brings a natural glow and radiance
The virgin black seed oil improves skin tone and complexion
It is ultra-hydrating and deeply nourishing
Free of harmful ingredients like parabens, SLS, sulfates, phthalates, alcohol, propylene glycol, mineral oil, petroleum, recycled water, and synthetic fragrance & dyes
What We Don't Like: It may feel heavy on the skin.
[ Read: 10 Best Homemade Skin Toners For Glowing Skin ]
Conclusion
These are the best essential oil for skin tightening and brightening. Using them can help get a more youthful and younger look. Make sure you use the essential oils as directed in the bottle or only after consulting a dermatologist.
Being mindful about your skin and skincare products ensure healthy glow for many years.
You Might Also Like: