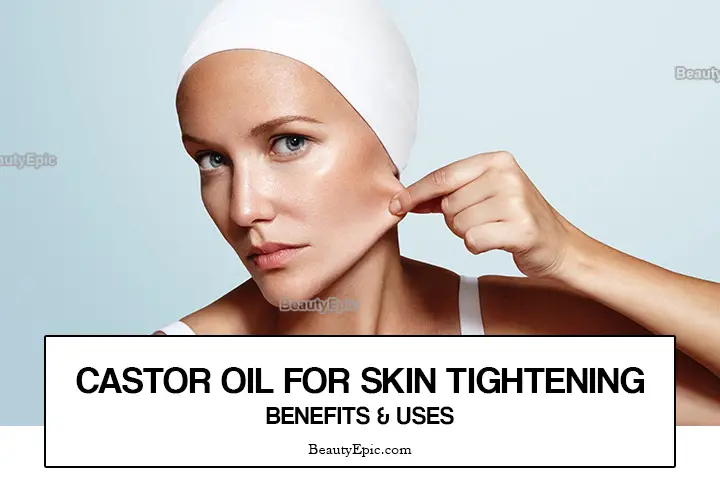 Castor oil is one of those medicine cabinet staples you might have seen in your grandparents' home. Derived from the seeds of the castor oil plant (Ricinus communis), it has been used for centuries for its anti-inflammatory benefits. It's also a mild laxative, is beneficial in hair care, and can be effective in treating menstrual problems and rheumatism. But what does it do in tightening ageing or loose skin?(1)
Does Castor oil Work to Tighten Skin?
Castor oil is a fatty acid, a natural lubricant, and it contains compounds that help with keeping moisture in the skin. Moisture is vital for firm, youthful looking skin. Castor oil also promotes the synthesis of collagen and elastin, essential proteins that give skin firmness and elasticity (and which break down quickly as we age).(2)
How to Use Castor oil for Skin Tightening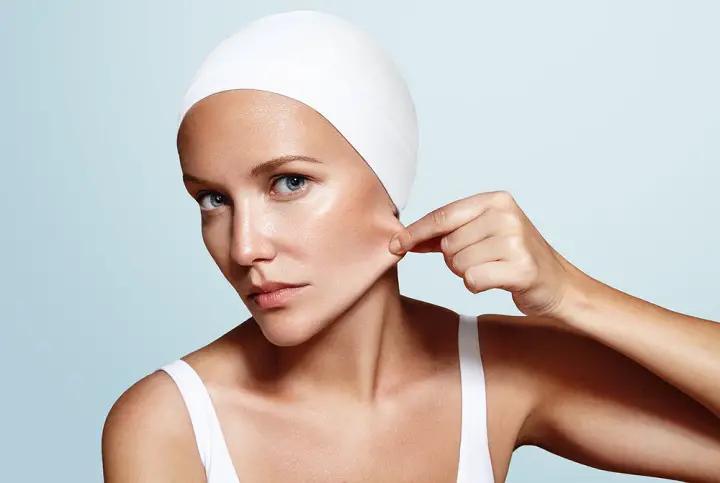 Many people around the world say that castor oil is a failsafe solution to fix loose and sagging skin. While it does contain chemicals associated with skin health, so far there has been limited scientific research into whether or not castor oil definitely tightens skin.
[ Read: How to Use Coconut oil for Skin Tightening ]
Castor oil for Skin Tightening
Applying castor oil directly to the skin will bring you the most benefit. (Taking it orally will not help; this will induce a laxative effect.)
How to Use:
Mix castor oil with an essential oil to make a pleasant-smelling treatment oil.
Coconut oil is good because it dilutes the thick castor oil while not interfering with its therapeutic qualities.
Store the mixed oil in a dropper bottle in the refrigerator and rub a drop or two on your face each night. Or use it for a weekly face massage.
Alternatively, make a face scrub combining 1 teaspoon of powdered cinnamon and enough castor oil to make a paste. Rinse well.
[ Read: How to Use Aloe Vera for Skin Tightening ]
Rubbing Castor Oil for Tightening Skin
How To Use:
One well-known method of using a castor oil rub is to combine a cup of warmed castor oil with a few drops of a sweet-smelling oil such as lavender oil. Gently massage this into your face and other areas.
Consider adding the oil blend into a bath and soaking your whole body for an hour.
Rinse well afterwards and your skin will feel softer and smoother thanks to castor oil's rich fatty acids.
The collagen boosting properties of castor oil will help tighten your skin. Apply at least weekly for best results.
[ Read: How to Tighten Face Skin Naturally ]
Castor Oil And Lemon Juice For Skin Tightening
How To Use:
You can also apply a simple castor oil and lemon juice mixture to your face.
Squeeze 1 teaspoon of fresh lemon juice into 1-2 tablespoons of castor oil and stir well.
Massage this into your face and neck in an upward circular motion for a few minutes.
Let the oil stay on your skin for as long as you can, overnight if possible. (Cover your pillow – some of the oil will rub off during the night.)
In the morning, wash your face with lukewarm water and rinse with cool water.
If you apply this remedy every night, your skin will start to regain elasticity and tighten up.
While the science is still unexplored on the tightening effects of castor oil, applying it to your skin will soften and soothe your skin.
In time, dermatological research might just prove what people have thought for years, that castor oil can indeed tighten the skin.
Best Skin Tightening Creams
Best Overall
Alastin Restorative Skin Complex – Buy on Amazon
Best Budget
First Aid Beauty Ultra Repair Hydra-Firm Night Cream – Buy on Amazon
Best for Body
Sol de Janeiro Brazilian Bum Bum Cream – Buy on Amazon
Best for Arms
StriVectin Crepe Control Tightening Body Cream – Buy on Amazon
Best for Legs
Revision Skincare BodiFirm – Buy on Amazon
Best for Face
Fresh Black Tea Firming Corset Cream – Buy on Amazon
Best for Eyes
Alastin Restorative Eye Treatment- Buy on Amazon
Best for Neck & Chest
Gold Bond Ultimate Neck & Chest Firming Cream- Buy on Amazon
Best Serum
No7 Restore & Renew Face and Neck Multi-Action Serum- Buy on Amazon
Scientific Evidence:
You Might Also Like: