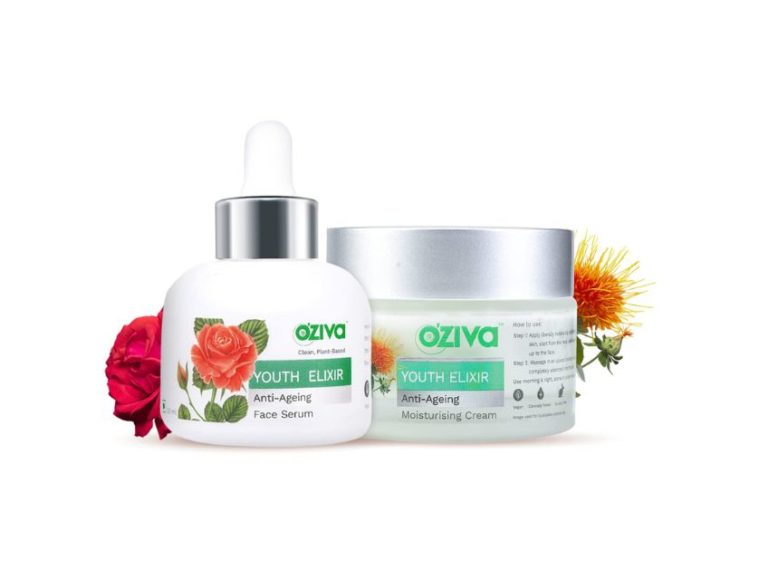 Healthy skin is a personality enhancer. Even if you do not apply makeup or wear fancy clothes, your skin will do all the magic if it is healthy, glowing, and flawless. However, maintaining such skin is not a cakewalk.
Earlier, when our ancestors used to breathe pure air, eat pure food, and apply only natural extracts on the face, they glowed without any effort. However, today, when the air is polluted, food is adulterated, and we apply chemicals-based harsh skincare products, the skin gets dull and looks older than the age.
Therefore, switching to herbal products is the need of time. Today we are reviewing Oziva Anti-aging serum that consists of nature's extracts and claims to reduce fine lines and wrinkles.
Product Review
Oziva anti-aging serum consists of ingredients with age-reversing properties. The best thing is the presence of extracts from Rose and Tiare flowers that are a rich source of antioxidants and helps to keep the skin healthy.
There are ingredients for skin hydration like safflower seed oil, which reduces wrinkles like Paracress extract, and age-reversal like Milkvetch Root Extract. Since these products are scientifically proven to be beneficial for skin, giving a try to Oziva Anti-aging serum won't be a bad decision.
Additionally, it helps in collagen production that tightens and brightens the skin. We believe regular use of this product will surely give fruitful results.
[ Read: How to Get Clear Skin Naturally at Home ]
Product Description
Oziva anti-aging serum consists of plant-based ingredients that reduce fine lines, wrinkles, and other aging signs. Also, the collagen-boosting components maintain the elasticity of the skin, keeping it tight and firm for a long. All this helps the skin to look younger and youthful.
Another good thing about it is it suits well and is made for all skin types. The serum settles well in the pores and does not make the skin feel heavy. Regular use of Oziva anti-aging serum for at least eight weeks will help you see the difference.
To use it, take 3-4 drops of serum and gently pat it onto the cleansed face. The skin will absorb the serum instantly, and it will settle down into the pores. The skin will start looking supple, soft, and well-hydrated.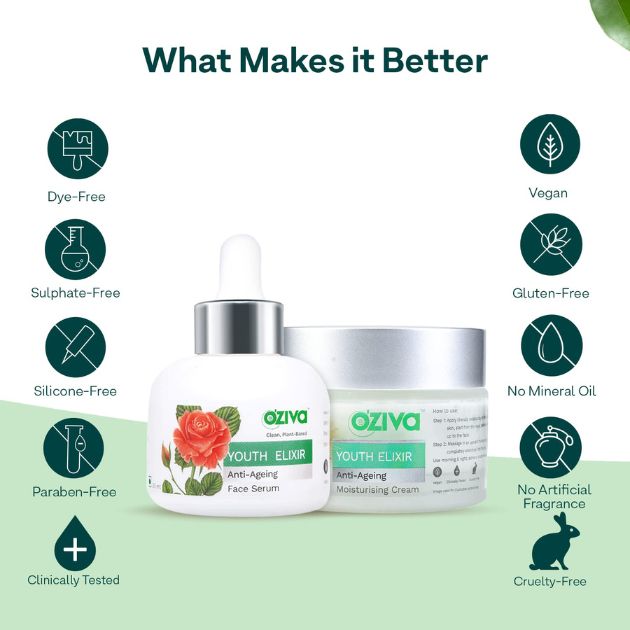 Nutrition Facts
Different blends in Oziva anti-aging serum make it reliable.
Anti-Wrinkle Blend– This blend comes from the extracts of Safflower Seed Oil, Paracress Extract, and Milkvetch Root Extract. Since everything is natural, the results are long-lasting. It also consists of Phyto Retinol to enhance the effects.
Moisturising & Skin Firming Blend– Rose oil and Tiare Flower extracts help in keeping the skin well-hydrated, moisturized, and nourished.
What We Like
It is a clinically tested product.
Certified vegan and cruelty-free
It is free from sulfate, paraben, artificial fragrance, silicone, and dye.
There are no side effects of this product, and it suits all skin types.
What We Don't Like
The only drawback of Oziva anti-aging serum is you have to apply it only over the cleansed face. A clean face helps in proper absorption of the serum that, in turn, helps in bringing out the perfect results.
Also, you need to use it regularly to see the outcome- reduction of fine lines and aging spots.
How Much Does Oziva Anti-aging Serum Cost?
The regular price of Oziva anti-aging serum . However, when you buy it from the website or order online from Amazon. Always buy Oziva products from either its website or a trusted source like Amazon to get them at the sale price.
List Of Alternatives
Minimalist 10% Vitamin C Face Serum for Glowing Skin – Click Here Know
Biotique Dandelion Youth Anti-Ageing Serum For All Skin Types – Click Here Know
Mamaearth Skin Plump Face Serum Anti Aging Cream For Glowing Skin – Click Here Know
WOW Skin Science Anti Aging Night Face Serum – Click Here Know
Elume Antioxidant Concentrate Face Serum – Click Here Know
Conclusion
Even though the market is flooded with several skincare brands that sell anti-aging serum, most of them comprise harsh chemicals that do not suit sensitive skin well. On the other hand, the plant-based anti-aging serum from Oziva suits all skin types and helps to keep the skin free of aging signs.
Since there are no side effects and the serum settles down instantly, it can be used for eight weeks regularly to see the results. It helps to keep the wrinkles away with special formula for skin tightening and brightening.
Read More