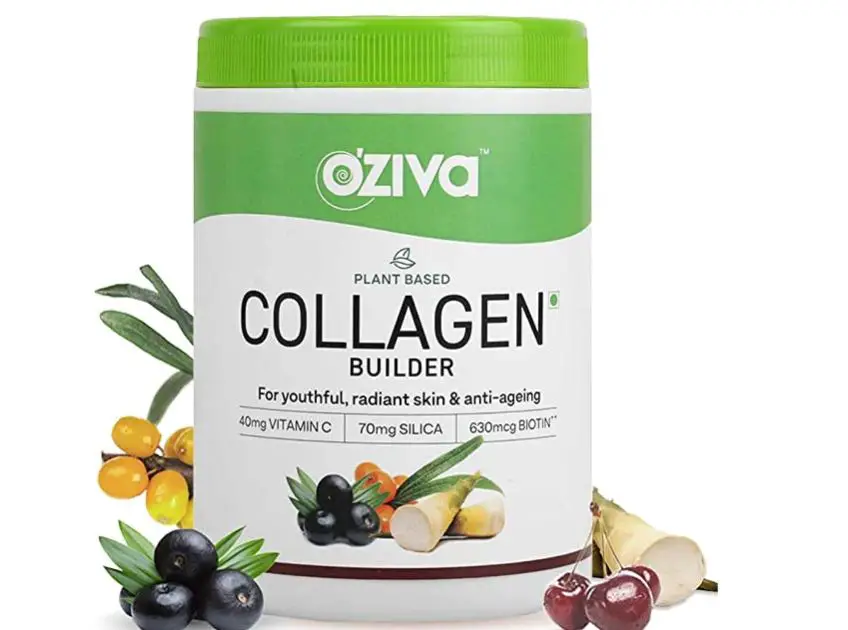 There is no denying that no matter how well you eat and how good your lifestyle is, the signs of aging start appearing as you hit your middle age. The skin starts getting fine lines and wrinkles that keep on getting prominent with age. Looking aged at the right age is fine, but these days premature aging has also become a common concern among youngsters.
Blame it on poor eating habits, unhealthy lifestyle, hectic schedule, or too much workload; looking a lot older than the actual age is something that no one wants. Therefore, making little effort to get back youthful skin is essential. Plenty of skincare products are floating on the market but getting the solution from inside is what makes your skin healthier and something that lasts forever.
For this, today, we have come up with Oziva Plant-based Collagen Builder, which is meant to keep your skin healthy and youthful.
Product Review
Oziva Plant-based collagen builder is a product meant for attaining anti-aging beauty and glowing skin. It consists of silica, vitamin C and Biotin- everything that makes the skin healthier and glowing. Due to the presence of plant-based ingredients, means completely natural, and they will not have any side effects.
Additionally, the presence of 21 real and highly nutritious ingredients makes it more promising. The best part is that it has eight anti-aging and ten pro-collagen superfoods along with plant extracts filled with essential minerals and vitamins to keep the health of the skin.
When you get all the nature's ingredients to escalate collagen production, there is nothing that you stop you from getting beautiful, glowing, and flawless skin. Oziva Plant-based Collagen Builder is meant to keep you youthful, and it does full justice to its commitment.
Certified Vegan by the Vegan Society of the UK, it has become one of the most reliable products for skincare.
Product Description
Oziva Plant-based Collagen Builder contains-
Eight anti-aging ingredients
Ten pro-Collagen Superfoods
Three standardized wholefood Vitamin extracts
Together these 21 plant-based and completely natural products boost the collagen content in the body, which escalates the skin's health. Apart from these, these components maintain a healthy level of keratin and elastic proteins that maintain the natural glow of the skin
Regular intake of it helps to keep the skin youthful, shiny, and glowing. It is a one-stop solution to maintain skin health and keep it supple and soft.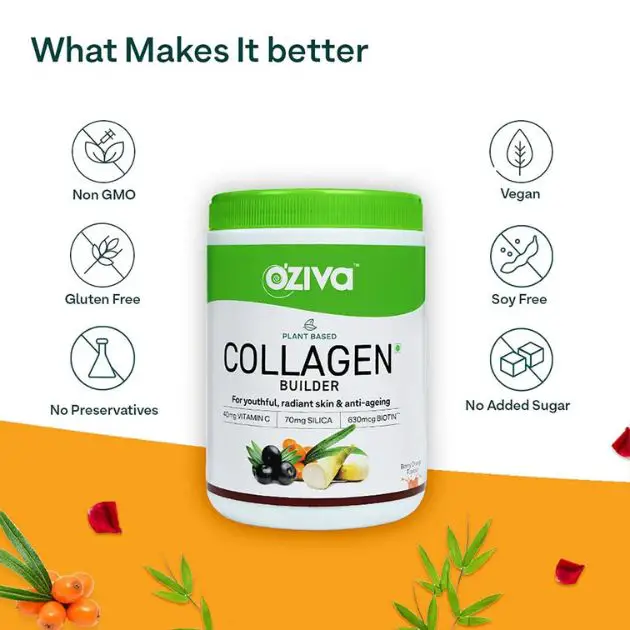 Nutrition Facts
Silica, Vitamin C, and Biotin helps to restore younger-looking skin
Acai Berry repairs the damaged skin due to its rich Vitamin A and C content
Sea Buckthorn is a rich source of omega that boost collagen production
Bamboo shoot rejuvenates and refreshes the skin
Sesbania Agati reduces fine lines and wrinkles
Acerola Cherry is rich in Vitamin C and helps in collagen synthesis
Rose Petals is loaded with antioxidants to give glowing skin
What We Like
The presence of natural and plant-based ingredients that boosts collagen and maintains youthful skin is the USP of Oziva Plant-Based Collagen Booster. Apart from this,
It is free from soy, gluten, artificial sweeteners, and sugar, therefore perfect for health.
Being 100% vegan, it is suitable for all.

What We Don't Like
To see the desired results, you need to have Oziva Plant-based Collagen Builder for at least three months, twice a day. All you need is to mix two scoops or 6g of powder in 200 ml of water and enjoy.
How Much Does Oziva Collagen Builder Cost?
The regular price of one bottle of Oziva Plant-based Collagen Builder Check Here. Make sure you always buy Oziva products from trusted sources like its website or Amazon. Beware of fraudsters!
Alternative Products
Conclusion
If you have been trying numerous skincare and anti-aging products for decades, it's time to switch to something effective and more fruitful. Oziva plant-based collagen builder works on the solution from within and helps in improving the skin texture. Get a smooth, glowing, and youthful skin with Oziva Plant-based Collagen Builder.
Read More