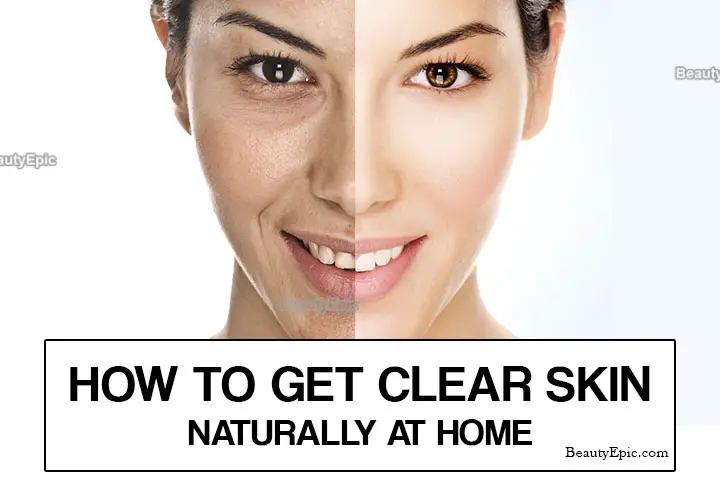 Clear skin is everyone's desire as we all crave for radiant, shiny, glowing, and flawless beauty. While achieving the results make you panic because getting clear skin naturally is quite a task. The skin breaks out due to dirt, dust, and pollution and taking care of it becomes very important to keep it youthful. Clear skin means removing all the impurities before going to bed and it would be better sticking to natural home remedies to get rid of skin problems. To make sure your skin stays clear, we have jotted these sure shot ways that will help you all your life. Ready to explore? Read on to get spotless skin!
Wash Your Face Before Bed
Always make sure to wash your face before hitting the bed. Yes, watching your favorite movie at Netflix is very important but on top of that, don't forget this. Not washing your face means inviting breakouts, acne, and pimples. Take a mild cleanser and wash your face with lukewarm water and then apply a nice moisturizer afterwards.
[ Read: Homemade Turmeric Face Mask Recipes ]
Oil Absorbing Moisturizer is Must
The idea of moisturization is to provide hydration and let the skin heal from within. Pick a daily moisturizer and apply properly on your face and neck. Plus, moisturize your body too with a nice body lotion.
[ Read: 5 Best Tanning Lotions For Sensitive Skin ]
Drink Detox Water
Detox water works wonders for the body and results can be seen on your skin. What you can do is slice the cucumber and lemon and put them in a pitcher. Add the mint leaves and pour water over it. Refrigerate it and keep drinking the whole day. Since cucumber is refreshing, it rejuvenates the body and lemon balances the digestive system keeping acne at bay.
[ Read: 10 Best Toner For Sensitive Skin ]
Coconut oil
Virgin coconut oil is excellent if you want clear skin naturally. Heat up the oil a little and apply it with a cotton ball all over the skin. Massage the area with your fingertips for 2 minutes and let the skin absorb for a few minutes. Wipe the oil off with a cotton pad. Since coconut oil provides enough moisture to the skin, it looks clear. The more moisturized the skin is the more clear it is.
[ Read: Coconut Oil for Face Benefits and Uses ]
Eating Habits
Very important! A poor diet cause acne breakouts leading to bad looking skin. There are foods which contribute in worsening the acne condition however, it is important to control what you eat. Cut back your alcohol intake, sugary foods, dairy items as milk can lead to a certain type of acne due to hormonal changes. Instead focus on consuming lean diet like fish, chicken, whole grains, leafy vegetables, and dark greens. Plus, Omega 3 fatty acids also help in improving skin condition.
[ Read: Homemade Face Masks for Acne ]
Sleep Well
Not sleeping on time due to busy work schedule? That's bad! Getting the right amount of sleep is a solution to many problems as the skin needs to repair itself when your eyes are shut. To improve the texture, feel, and appearance of your skin, properly sleeping on time for at least 8 hours is must.
[ Read: Baking Soda Face Mask Recipes ]
Replace The Bed Sheet Often
Make it a habit of changing your pillow covers and bed sheets often because we sweat and shed skin cells on our bedding. If not changed after every few days, your bed can become your enemy by injecting the bacteria back in your skin. Go for satin or silk pillow covers as they retain skin moisture and prevent wrinkles as well. Also, your hair doesn't get stuck on the slippery fabric that helps in less breakage.
Meditate
I love meditating in free times. Start your day with meditation and reduce stress and depression. Your inner stress reflects on your skin so when you are happy from inside, the skin appears nice and clear. Also, meditation helps in calming your mental state which beautifully reflects on your face.
[ Read: How to Use Aloe Vera for Skin Lightening ]
Exercise and Workout
Regular workout lowers down the stress level and when you sweat it out, the skin looks healthy. Also, the endorphins production increases and the body go in relaxed state. When the body is relaxed, you sleep well and when that happens, the skin gets enough time to repair itself making it look clear and clean. Say goodbye to acne, pimples, and breakouts with exercising.
Oatmeal Pack
Talking about the natural remedies, oatmeal pack is excellent for skin. Mix 2 tbsp oatmeal, 1 tsp honey and 1 tsp lemon juice together and add some water. Apply this pack on your face and neck and wait for 15 minutes. Wash off with lukewarm water to see amazing results. Since oatmeal exfoliates the dead skin cells, it provides enough moisture to the skin as well.
[ Read: The Best Oil For Relaxed Hair ]
Rose Water
Finishing it off with rose water, it gives clean and clear skin. For maximum benefits, you can use rose water in every pack that you apply or else apply just rose water directly on the skin. Use a cotton ball to dab the rose water properly on the face and neck. Cool the rose water and then apply for added benefits. Let it dry and then apply a moisturizer as you normally do. Since rose water is being used for ages, the benefiting properties are quite evident. It is an excellent pH balancer and a great skin toner.
[ Read: Is Lotion Good For Your Hair ]
Hope these methods will help you in getting clear skin naturally. Avoid using over-the-top counter products and add these ingredients in your skincare regime instead.
You Might Also Like: