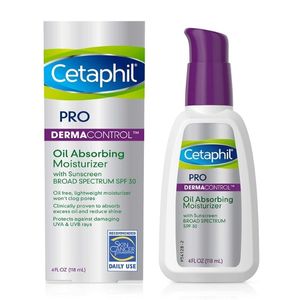 If you have oily skin, you will be familiar with the shiny T-zone and acne breakouts. It is difficult to think of incorporating a moisturizer into your skin care routine if you have oily skin. But you need a good moisturizer like Cetaphil moisturizer to keep your skin healthy. Keep reading!
Oily skin is due to the excess production of sebum (natural oil produced in the skin for lubrication). When oily skin accumulates dust, grime and foreign bacteria, it can clog pores and cause acne.
Skin care routine for any skin type should include cleansing, moisturizing, sun protection and treating any underlying skin conditions like tan, acne, dark spots or patches. A moisturizer can improve skin hydration, increase smoothness and can keep your skin younger by preserving the skin barrier function.
Many people are under the impression that oily skin needs no moisturization. But it is untrue. Oily skin too, needs moisturization to protect the skin barrier and prevent the entry of any unwanted foreign substances into the skin.
Cetaphil Moisturizer For Oily Skin
Why Is Moisturization Important For Oily Skin?
Moisturizing everyday can reduce the risk of developing extreme dryness or oiliness. Both extremes are dangerous for your skin. They can cause skin conditions like acne. Here's a little secret for you. Using a daily moisturizer can ensure that your skin's blemishes are camouflaged.
The best moisturizer for oily skin is the one that is light, reduces the greasiness and is easily absorbed into the skin. Cetaphil dermacontrol oil absorbing moisturizer is your best bet. Let's get to know more about it.
Cetaphil dermacontrol oil absorbing moisturizer is specifically designed for oily skin. It hydrates, repairs and protects sensitive, oily skin. The brand cetaphil is popular for its gentle skin care. Cetaphil dermacontrol oil absorbing moisturizer fights
dryness
irritation
roughness
tightness
a weakened skin barrier
This moisturizer also has a sun protection factor (SPF) of 30. It is crucial to protect your skin from the harsh rays. Overexposure to sunlight can cause tan, brown spots, patches and cancer in extreme cases.
How To Use
Cleanse your face with a gentle cleanser (you could use cetaphil cleanser).
Moisturize with Cetaphil Dermacontrol Oil Control Moisturizer SPF 30. Apply all over your face and neck 15 minutes before sun exposure. 1-2 pea-sized should suffice for your entire face.
You might want to use a water resistant sunscreen if you go out swimming or are sweating it out at the gym.
Pros
Fragrance free
Hypoallergenic
Paraben free
Gives mattifying look by controlling excess shine
Easily absorbed into skin
Light weight formula
Non greasy, no white cast
Dermatologist tested
Clinically proven to be gentle on sensitive skin
Good packaging
Cons
Can form clumps in cooler weather
May not be gentle around the eyes for some people
Ingredients In Cetaphil Dermacontrol Oil Absorbing Moisturizer
Active Ingredients: Avobenzone 3%, Octisalate 5%, Octocrylene 7%
Inactive Ingredients: Allantoin, Aluminium Starch Octenylsuccinate, Caprylyl Glycol, Carbomer, Diisopropyl Sebacate, Dimethicone, Dimethiconol, Disodium EDTA, Glycerin, Glycyrrhetinic Acid, Ceramide NP, isopropyl Lauroyl Sarcosinate, Panthenol, Pentylene Glycol, Phenoxyethanol, Polymethyl Methacrylate, Polysorbate 61, Potassium Sorbate, Silica, Sodium Stearoyl Glutamate, Sucrose Tristearate, Tocopheryl Acetate, Triethanolamine, Water, Xanthan Gum, Zinc Gluconate
Protip: Always read the ingredient list on your skin care products because you may be allergic to certain ingredients.
Conclusion
If you have oily skin, remember to cleanse your skin twice a day but don't go overboard. Apply a moisturizer like Cetaphil dermacontrol oil absorbing moisturizer that can reduce the grease on your face and is light in texture. Also, cetaphil moisturizer is non-comedogenic, meaning it does not cause or increase the appearance of acne.
You Might Also Like: