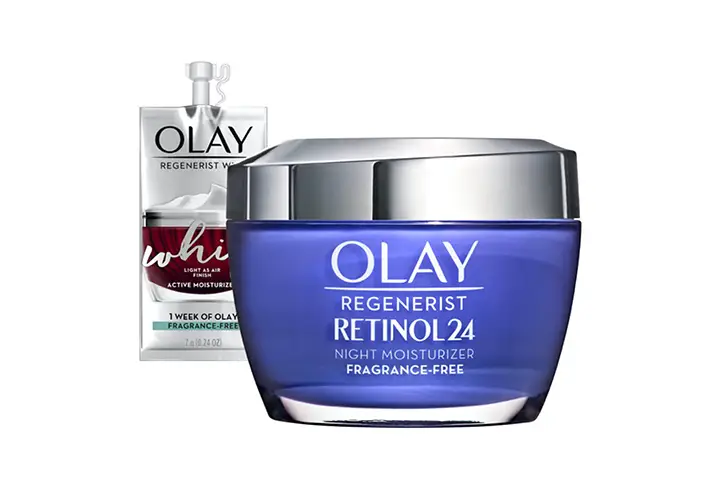 Night creams have more benefits where you cannot dream up. Olay Regenerist Retinol moisturizer is designed to have a smooth effect.
After applying the cream, the rough skin cells of your face will be smoothed. It also increases your skin hydration and lessens the appearance of wrinkles.
Generally daytime moisturizers help to protect from pollution, dryness, heat and cold, whereas night creams will focus on the reconstruction process of the skin.
Olay Regenerist Retinol Moisturizer, Retinol 24 Night Face Cream
How it Works:
Olay overnight moisturizing magically hydrates your skin night time.
This product contains vitamin B3 and Retinol complex, which help to remove the dead skin cells.
It also helps to neutralize free radicals to boost the production of elastin and collagen.
Vitamin B3 helps to keep the skin healthy.
This moisturizer is rich and it contains ultra hydrating formulas which help to absorb quickly to show anti aging benefits.
You can observe quick results in reducing fine lines, wrinkles, dark spots and pores.
It is proven that it will erase aging signs and make your skin smooth and bright.
Pros:
Quick results of anti aging signs.
Reduce the appearance of acne of fine lines and wrinkles.
Gives a smooth texture.
Makes your skin soft and hydrates.
Shows remarkable benefits over night.
Cons:
Not suitable for all skin types.
Rating: 4.6 out of 5.
The night moisturizer is made of clean ingredients which gives awesome results. The fragrance and dye free formula of this product absorbs quickly and goes deep into your skin surface layer. So every morning you can feel a young looking skin.
Frequently Asked Questions (FAQ's)
Q. Does it work for dark spots?
Ans: Yes it works with dark spots.
Q. Can this product be used by men?
Ans: Yes it can be used by men and women.
Q. Does it contain mineral oil?
Ans: No, it doesn't have mineral oil.
Alternate Products:
You Might Also Like: