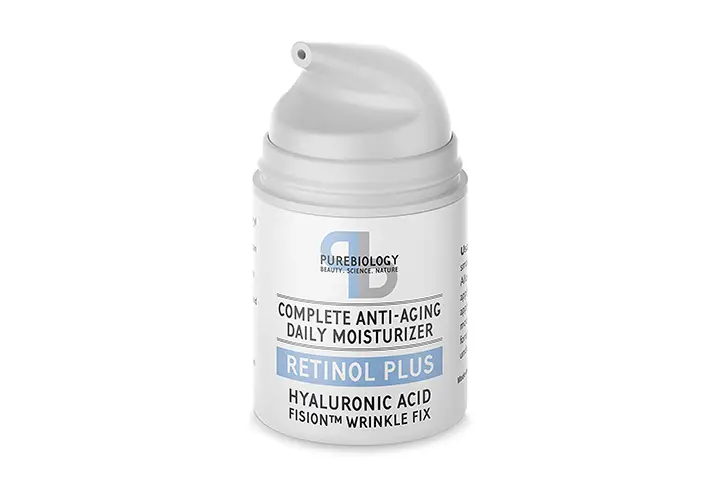 It is very important to apply moisturizing cream to maintain your skin soft, smooth and healthy. Make it a daily routine to use pure biology Retinol moisturizer to keep your skin nourished and beautiful.
It not only moisturizes your skin but also helps to lessen the aging spots, minimize the pores and wrinkles. This moisturizer cream works gently on the skin and gives soft and silky skin.
Pure Biology Retinol Moisturizer Cream
How it Works:
The best anti aging blend which is packed with proven base ingredients Retinol, hyaluronic acid, vitamin B,E and argan oil.
Vitamin A helps to fill deep wrinkles to correct dark spot.
Where hyaluronic acid helps to firm the skin around your eyes, face and neck.
It works gently on your skin and gives a young and radiant look.
The ingredients of this product give smooth skin, minimize pores and boost collagen formation day and night for a fresh and refreshing feel.
Pros:
Fill deep wrinkles to correct dark spots.
Tightens skin around eyes, face and neck.
Works gently and gives effective results.
Travel friendly.
Cruelty free.
Cons:
Not suitable for all skin types.
Rating: 4.1 out of 5.
Pure biology complete anti aging daily moisturizer has retinol plus, which helps to reduce the signs of age and damage. As it is portable you can carry it in your bag.
Frequently Asked Questions (FAQ's)
Q. Does it have sunscreen in it?
Ans: This product does not have SPF.
Q. Can it be applied at night time?
Ans: Yes of course that is the best time since there is no sunscreen in it.
Q. How often can this be applied?
Ans: Use it twice daily! Once in the AM and once in the PM.
Alternate Products:
You Might Also Like: