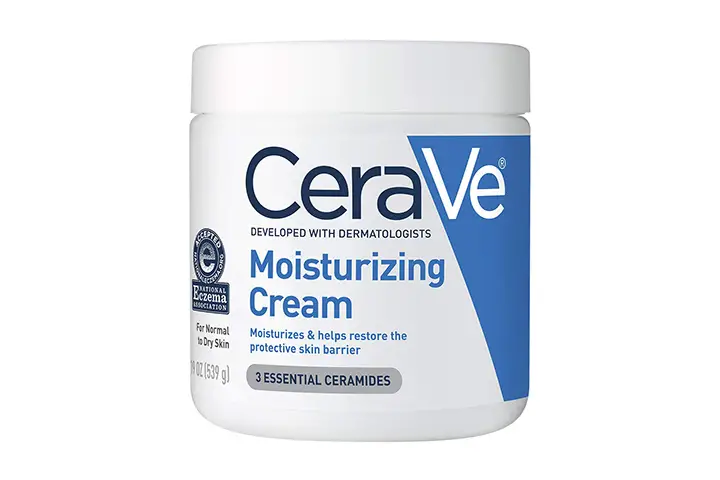 Cerave moisturizing cream reduces the extreme dryness and oiliness. It is rich, non greasy. The rich texture of this cream is velvety. It is absorbed quickly for softened skin without a greasy and sticky feel.
This moisturizer helps to maintain your skin's health and protect you from irritation.
By moisturizing your skin with this product you can get rid of dryness, breakouts and acne. It also boosts your skin to repair itself and makes it stay healthy.
CeraVe Moisturizing Cream
How it Works:
This moisturizing cream contains hyaluronic acid, ceramides and MVE technology for 24 hour hydration.
Hyaluronic acid help to get more supple skin and Ceramides help to fill the gaps between your skin and cells, so your skin can lock moisture in and keep impurities out.
Cerave moisturizing cream is formulated with three essential ceramides to restore and maintain the skin's natural barrier.
It is free of both fragrance and oil and gives the best soothing and moisturizing results.
Pros:
Best for dry to very dry skin.
Rich and velvety texture.
Restores protective skin barrier.
Free of fragrance to avoid irritation.
NEA seal of acceptance.
Cons:
Rating: 4.8 out of 5
A moisturizer which is developed by dermatologist Cerave moisturizing cream has a unique formula that provides 24 hours of hydration and is suitable for all skin types.
Frequently Asked Questions (FAQ's)
Q. Is it fragrance free?
Ans: Yes, the Moisturizing Cream Daily Face and Body Moisturizer for Dry Skin does not contain fragrance.
Q. Does this cream absorb quickly into your skin?
Ans: May be not as quickly as other product but it relieves so well and protects so well.
Q. What is the difference between cream and moisturizer?
Ans: This Moisturizing Cream is rich, non-greasy, oil-free and ideal for dry and very dry skin on the face and body. The Daily Lotion is a lightweight, oil-free moisturizer that helps hydrate the skin and restore its natural barrier.
Alternate Products:
You Might Also Like: