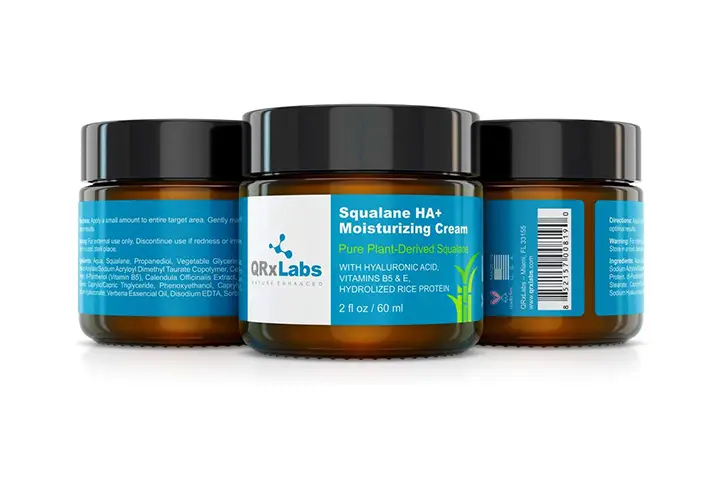 Moisturize your skin regularly to avoid many skin problems like dryness, acne. Use QRx Pure Plant-Based Squalane HA+ Moisturizing Cream to get rid of such problems and to retain your skin moisture. It is an important step to apply moisturizer every day to maintain your skin health.
The small amount of this moisturizer will go a long way in protecting the skin and help to maintain its elasticity, for a younger and healthier appearance.
Pure Plant-Based Squalane HA+ Moisturizing Cream
How it Works:
QRx lab made this cream with pure plant derived squalane and with hyaluronic acid, vitamin B5, E and hydrolyzed rice protein.
Many studies have proven that squalane increases skin firmness, reduces the appearance of the fine lines and improves skin hydration and smoothness.
Hydrolyzed rice protein is a powerful dermal nutrient that leaves the skin glowing with a healthy look.
Superior squalane is derived from sugar cane.
It boosts skin hydration and can help your skin to appear more vibrant and healthier.
This product is also combined with vitamin B5 and E.
These two vitamins are antioxidants which help to heal the damaged skin caused by UV rays.
Pros:
Soothing scent leaves you feeling calm and refreshed.
Nourishes the skin and keeps it fully moisturized.
Vitamins of this moisturizer keep the skin healthy and hydrated.
Gives a radiant look.
Protects skin and maintains its elasticity.
Cons:
It may be irritating for some people.
Rating: 4.4 out of 5
This moisturizer is infused with 100% pure sugar cane and is USDA certified and Bio based product with hyaluronic acid and vitamin B5,E.You can get a younger and healthier appearance.
Frequently Asked Questions (FAQ's)
Q. Is this a serum or moisturizer?
Ans: This product is a cream rather than a serum and it contains hyaluronic acid where the serum does not.
Q. Is it ok if it applies in the morning and the retinol at night?
Ans: The QRxLabs Squalane HA+ Cream can be used at any time of the day. It will not interfere with other products.
Q. Can this be used as an under eye cream?
Ans: You can certainly use it under your eyes, but it's a moisturizer not specifically formulated as an under eye cream.
Alternate Products:
You Might Also Like: