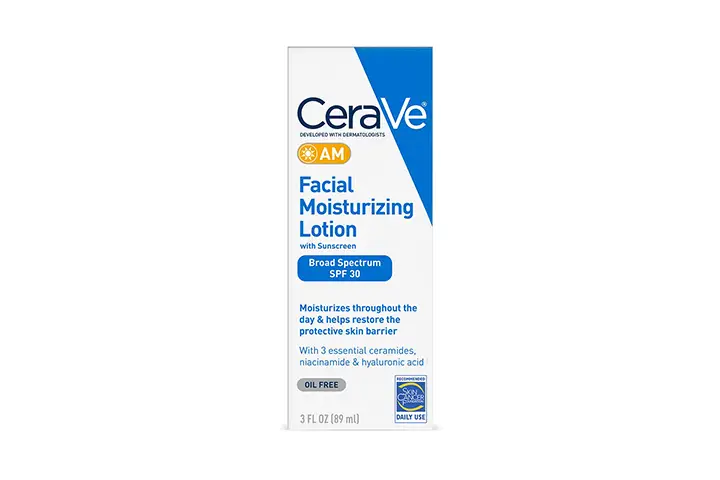 Everyday moisturizing prevents developing extreme oiliness and dryness. These both conditions may cause skin problems like acne. To avoid such problems use CeraVe AM Facial Moisturizing Lotion.
It helps to moisturize your skin with SPF 30. Cerave moisturizing lotion restores moisture in the outer part of skin which was lost.
This lotion locks moisture to avoid dryness. It also protects sensitive skin and improves skin texture and mask imperfections.
CeraVe AM Facial Moisturizing Lotion SPF 30
How it Works:
This moisturizing lotion contains Hyaluronic acid to retain skin's moisture and Niacinamide to help calm skin.
This product is recommended for daily use by the skin care foundation.
As this gives extreme moisture which helps from dryness and breakout.
It is formulated with three essential ceramides to help to restore and maintain the skin's natural barrier MVE technology delivers hydration throughout the day.
A micro-fine zinc oxide sunscreen for UVA/UVB protection.
It is suitable for dry skin, sensitive, oil and acne-prone skin.
Use this daily face sunscreen as the last step in morning skin care routine.
It easily spreads on the skin and absorbs quickly and will not leave any greasy finish.
Pros:
Suitable for all skin types.
Oil free and no greasy feeling after applying.
Non Comedogenic.
Skin cancer foundation recommended.
Formulated without fragrance.
Cons:
For some it may irritate.
Rating: 4.6 out of 5.
Cerave heals the skin which is affected by the dryness with less time. It is recommended by the skin cancer foundation. The best lightweight moisturizing lotion.
Frequently Asked Questions (FAQ's)
Q. Is this good for makeup?
Ans: No, definitely not good under makeup. This stuff is like white wax that does not dissolve. It causes makeup to pill and ball up.
Q. Is this greasy on your face?
Ans: AM Lotion leaves your skin feeling hydrated with a lightweight, non-greasy feel!
Q. Is this product suitable for dry skin?
Ans: AM Lotion is perfect for dry skin! Starting the day with hydration and SPF is essential.
Alternate Products:
You Might Also Like: