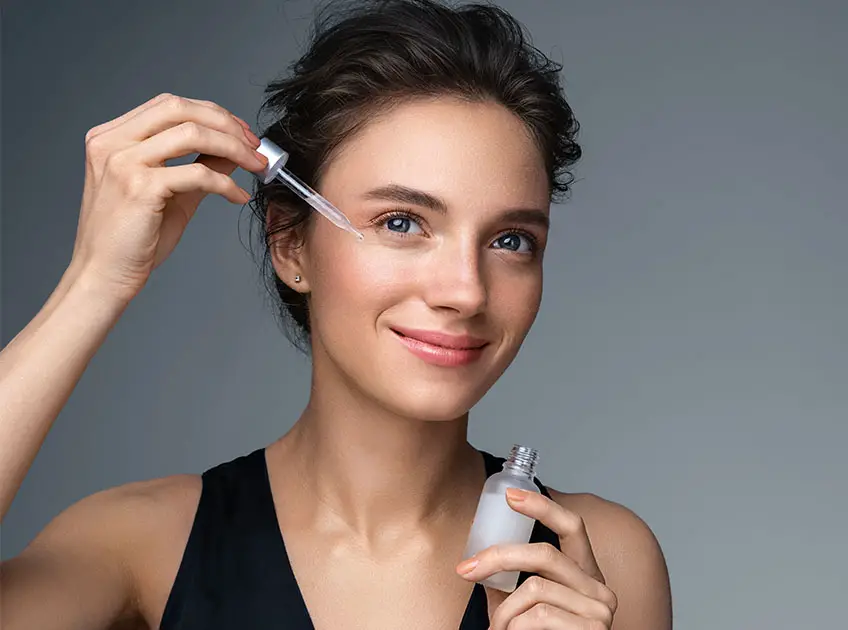 Out of so many anti-aging ingredients that nature has blessed us with, retinol is something irreplaceable. It is the trendiest skincare ingredient that replenishes the skin, making it healthier and free from aging signs.
While retinol was becoming a beauty staple, it entered bakuchiol which works wonders in improving the skin condition. So, whether retinol is better or bakuchiol becomes a matter of debate. Today, let's review what retinol and bakuchiol are and how they affect our skin.
Bakuchiol Vs Retinol
All You Need To Know About Bakuchiol
If you wonder what bakuchiol is, it is a plant-based alternative to the very popular skincare ingredient, retinol. Even though the name bakuchiol seems intimidating, the product is worthy in all sense.
Bakuchiol is an oil harvested from babchi, a native Indian plant. The benefits it provides to the skin are the same; however, it is a plant-based product with no side effects. You can find plenty of brands selling vegan forms of retinol, but most of them are not. It is when bakuchiol comes to the rescue.
How Does Bakuchiol Benefit The Skin?
Promotes the production of collagen, which is vital to smoothen the skin and improve its elasticity.

Triggers the skin cell repair and results in rejuvenated and refreshed skin.

Reduces the appearance of fine lines and wrinkles, giving skin a smoother and even tone.

Protects skin from the sun's harmful rays without leaving it dry and irritated.
Another good thing about bakuchiol is it is suitable for all skin types and can be used on sensitive skin with no side effects.
Quick Facts About Bakuchiol
Vegan

Good for all skin types

Great alternative to retinol

Boost collagen production and reduce aging signs

Improves skin tone, texture, and complexion.
Drawbacks Of Bakuchiol
Since there are so many great things about bakuchiol, finding drawbacks is difficult. The only downside is that it is a new ingredient; therefore, there is less scientific or clinically tested data on its use. The lack of conclusive research about bakuchiol being better than retinol makes it less acceptable.
All You Need To Know About Retinol
Retinol is a vitamin A derivative that helps reduce the signs of aging, ensuring you get smoother and calmer skin. When bakuchiol was not popular, it was only retinol that has made a place in the skincare regime of people. However, with the emergence of bakuchiol and its popularization, people are ditching retinol.
How Does Retinol Benefits The Skin?
Helps to clear clogged pores

Improves skin clarity

Triggers skin to produce collagen

Promotes a more youthful skin texture, complexion, and tone

Addresses fine lines, aging spots, large pores, and blemishes.
Retinol is a powerful skincare ingredient, suitable for topical and oral application. Also, it suits all skin types, even the sensitive ones. Since you can find retinol in skin creams and serums, the skin may get dry and irritated if the formulation is not right. Also, improper use of retinol will also turn the skin dull and dry.
Quick Facts About Retinol
Available in different strengths and potencies

Good source of anti-aging ingredients ensuring fewer lines and smoother skin

Improves complexion

Regular use shows great results

Promote youthful skin by boosting collagen production

Enjoys a long track record of efficacy in clinical and public use
Drawbacks Of Retinol
Retinol is some products came derived from animal sources.

They are not always vegan and cruelty-free.

Can increase skin sensitivity

Anti-inflammatory for sensitive skin types
Bakuchiol Vs. Retinol
Now that we know everything about bakuchiol and retinol, its' time to review their differences and understand which is better?
One major characteristic that differentiates the two is their source. While Bakuchiol will always be vegan and plant-based, we cannot say the same for retinol. Even though most of the retinol skincare products are 100% vegan and derived from natural sources, some could be animal-derived too.
Retinol could be derived from plants like carrots, squash, and cantaloupe. Basically, plants that are a rich source of Vitamin A can also be used to derive retinol. The rest of the retinol is derived from animal by-products. It is why bakuchiol is more popular among vegetarians, vegans, and animal lovers.
What makes us compare retinol and bakuchiol is the function of these two products. Since each is highly effective in reducing the signs of aging and giving glowing and even-toned skin, you can choose based on your preference.
If you cannot use vegan products, opt for Bakuchiol; however, if you rely more on scientific evidence and results, retinol could be your good go-to. So, choose wisely and make your skin healthier.
You Might Also Like: