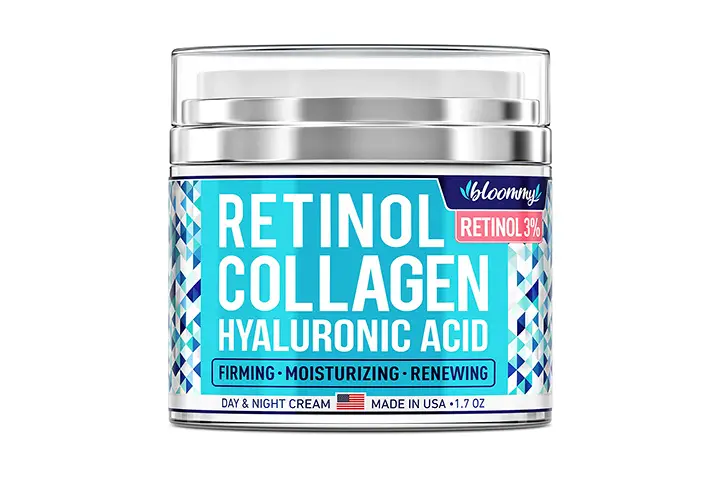 Look younger than your age by avoiding the aging signs. Bloommy collagen and Retinol cream help to moisturize deeply and remove the signs of aging from the first application.
It can be used by men and women.It works efficiently and gives a lifting effect for the saggy skin.
It deeply nourishes your skin and lightens the dark spots and fades the hyper pigmentation. This product is made of high quality ingredients to get good results.
BLOOMMY Collagen & Retinol Cream
How it Works:
This product has components like Retinol, collagen and hyaluronic acid.
It only comprises plant based ingredients to deliver efficient daily skin care.
It efficiently diminishes the appearance of fine lines, deep wrinkles, spots, crow's feet and even more.
Bloommy day and night retinol and collagen anti aging cream hydrates and normalizes cell turn over during night time.
Reduce dryness, irritation and abundant hydration during the day time.
The components of this product like Retinol, which deeply nourishes skin by fading the dark spots.
Collagen tightens your skin by improving elasticity and firmness.
Hyaluronic acid reduces the appearance of wrinkles and fine lines.
The plant based ingredients like coconut and jojoba oils smooths, balances and enhances skin's texture and tone.
Pros:
Lightweight texture of this product quickly absorbs by the skin.
It will not leave any oily residue.
Can be used at day and night time.
Gluten and paraben free.
Deeply nourishes and locks the skin's moisture.
Cons:
Some of it may be irritating.
Rating: 4.6 out of 5
Bloommy collagen and retinol cream is specially formulated to diminish the appearance of aging signs like wrinkles, fine lines and dark spots.Once if you start using you never feel like you want to stop the usage.
Frequently Asked Questions (FAQ's)
Q. How retinol cream works?
Ans: It provides a great lifting effect and it deeply moisturizes.
Q. Can it be used on hands?
Ans: Yes it can be used for hands.
Q. Does it work with makeup?
Ans: Yes, under makeup as a moisturizer.
Alternate Products:
Related Articles: