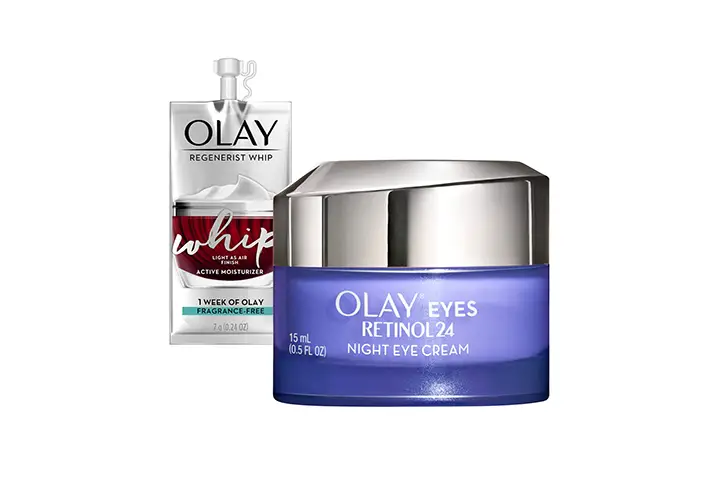 Make your eyes beautiful by using Olay Retinol eye cream. It makes your eyes bright and gives an even skin tone around your eye area. It exfoliates to even out pigmentation and improve the look of pores and stimulates collagen production.
The area around the skin is naturally thin and fragile. By increasing the collagen production, retinol can help to thicken the skin and lessen to show fine lines, wrinkles around the eyes.
Olay Regenerist Retinol Eye Cream
How it Works:
Olay eye retinol cream has a rich and lightweight feel and absorbs quickly into your skin to moisturize and nourish all night long.
The combination of vitamin B3 and olay's most transformative retinol complex gives visible results overnight without irritation.
It generates the delicate skin around your eyes from the very first use.
Just gently tap around your eyes before you go to bed and wake up with brighten and even tone skin.
You can see the results within 24 hours like lessening the finelines, wrinkles and deeply moisturizers.
Pros:
Works gently to give stressed out eyes.
Free from fragrance, phthalates, mineral oil and synthetic dyes.
Reduce the visibility of dark spots and pores.
Suitable for sensitive skin.
Moisturizes and refreshes around the eyes.
Cons:
May not be suitable for extremely sensitive skin.
Rating: 4.5 out of 5
Discover the eye opening results. A safe product to use every night without irritation. It works fast and decreases the look of even Bush-bye, crow's feet.
Frequently Asked Questions (FAQ's)
Q. What is the difference between eye cream and night cream?
Ans: Night cream targets a more sensitive area of your face.
Q. Can it be used for a 14 years child?
Ans: No, it is suitable for only adults.
Alternate Products:
You Might Also Like: