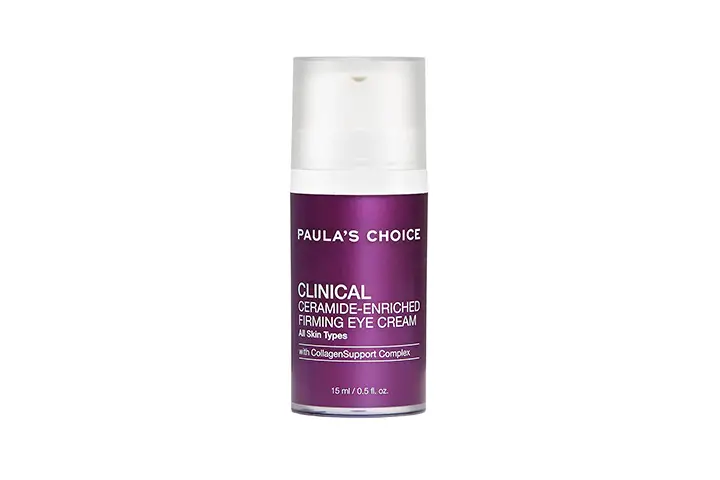 Maintain your eyes looking young by applying this rich, creamy lotion. It extremely hydrates and freshens the eye area with a concentrated blend of 5 deeply nourishing ceramides.
This no fragrance eye cream makes your eyes bright and visibly reduces crow's feet and under eye dullness with this hydrating eye cream.
The main target of this cream is to remove the dark circles, discoloration and dryness.
Paula's Choice CLINICAL Ceramide Firming Eye Cream
How it Works:
The ingredients are ceramides, vitamin C, retinol and hyaluronic acid.
Retinol increases skin cell turnover and stimulates collagen synthesis.
It has more anti-aging and skin clearing benefits.
Ceramides lock the moisture and prevent dryness and irritation.
It also reduces lines and deep wrinkles.
Vitamin C has impressive benefits that it fights with aging signs and provides a brightening glowy effect on the skin.
It also lightens the spots caused by UV exposure.
Pros:
Paraben and fragrance free.
Brightens tone..
Fights fine lines and wrinkles.
Suitable for all skin types.
Removes dark circles.
Cons:
Rating: 4.3 out of 5
Paula's choice clinically ceramide firming eye cream makes your eyes brighten by removing the dark circles, discoloration and dryness. Get amazing results by applying one or two times a day to the under eye area and around the orbital bone.
Frequently Asked Questions (FAQ's)
Q. Does it give little bumps around the eyes?
Ans: Had no instances of bumps around the eyes.
Q. How long will it take time to show results?
Ans: You can see results within a couple weeks, using it twice a day.
Q. Does it lighten dark circles?
Ans: Yes! The skin around my eyes feels moisturized and my dark circles have lightened.
Alternate Products:
You Might Also Like: