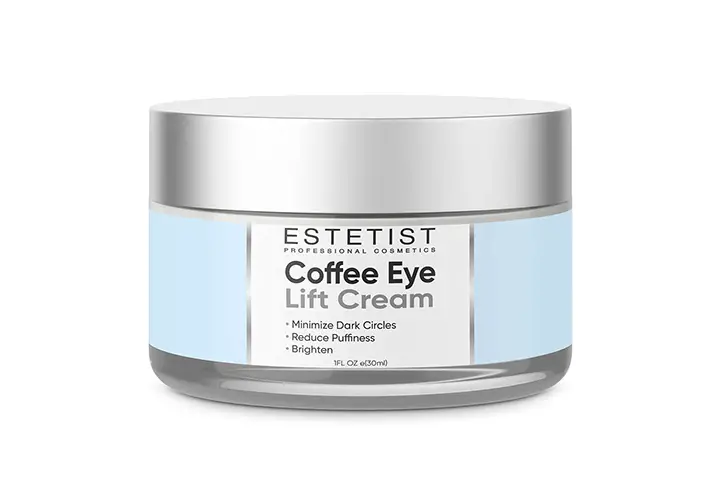 Now it is easy to remove dark circles, puffiness and under eye bags with Estetist coffee eye lift cream. It is specially created to care for the delicate area around your eyes. Regular usage of this product diminishes the aging signs like wrinkles and fine lines.
This eye lifting cream protects and cures the area which is affected by harmful uv rays. It gently nourishes the soft skin around the eyes and you can find bright, young and healthy skin of the eye area.
Estetist Caffeine Infused Coffee Eye Lift Cream
How it Works:
A Perfect product to keep your eyes bright. It contains Caffeine, which helps to reduce the look of puffiness and dark circles under the eyes.
It also helps to protect the delicate skin around the eyes.
Elastin is for firmer looking eyes.
It repairs the skin which is damaged by UV rays and effectively smoothens and lightens fine lines, wrinkles and crow's feet.
This organic Coffee bean eye cream reduces puffiness and under eye bags and also brightens dark circles for a glowing and even skin tone.
It revitalizes and hydrates your skin.
Pros:
Repairs UV damage and reduces the aging signs.
REduces eye puffiness and under eye bags.
Removes dark spots, fine lines and wrinkles.
Suitable for men and women.
Minimize dark circles and brightens.
Cons:
Some people get results after weeks.
Rating: 3.9 out of 5.
Say bye bye to puffy and tired looking eyes. This product makes your skin refreshed. It can be used by men and women who want a bright and healthy eye area.
Frequently Asked Questions (FAQ's)
Q. Does it remove the dark circles?
Ans: Yes! For sure it's great for dark circles and eye puffiness removal.
Q. How long will it take to show the results?
Ans: You can see immediate results, your under eye area looks brighter and less puffy. Consistency is key.
Q. Does this cream really work?
Ans: Yes it really works.
Alternate Products:
You Might Also Like: