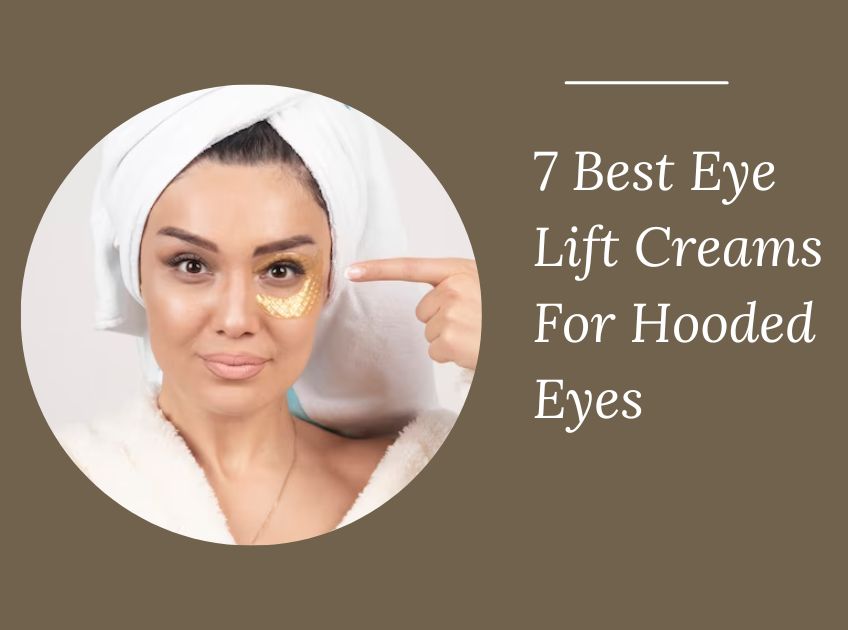 Aging can affect thin and delicate skin around the eyes, causing them to droop and lead to hooded eyes. Even though hooded eyes are a cosmetic concern, if left unattended, they may make you look older than your age.
If you are experiencing the initial signs of hooded eyes, certain eye creams can help combat them and provide firmness to the skin. We have provided a list of the best eye lift cream for hooded eyes that can make skin younger and youthful. Our selection is based on the quality and performance of the eye cream and the user's reviews.
Eye Lift Creams
So if you are over 40 and see the signs of maturing skin, it's time to take the right steps and use an effective eye lift cream to maintain your younger look. Check out the best eye creams for firming skin.
7 Best Eye Lift Creams For Hooded Eyes
1. Younger and Youthful Skin: Burt's Bees Renewal Firming Eye Cream
Highly effective eye cream with an anti-aging formula to manage hooded eyes
Infused with bakuchiol, an alternative to natural retinol that stays gentle on the skin and improves its texture
It reduces wrinkles and fine lines and ensures a youthful appearance
Made of 99% natural and plant-based ingredients to keep skin firm
Free of parabens, phthalates, SLS, and petrolatum
What We Don't Like: It may feel slightly heavy on the skin.
[ Read: Paula's Choice CLINICAL Ceramide Firming Eye Cream Review ]
2. Anti-Aging Formula: Eva Naturals Youth Restoring Eye Gel
It is a powerful cream consisting of a blend of Matrixyl 3000, plant stem cells, hyaluronic acid, and amino acids
Boosts elastin and collagen production to make skin tight and firm
The potent anti-aging formula with the antioxidant and anti-inflammatory benefits
The active ingredients are Gotu kola, frankincense, and a strong peptide complex
What We Don't Like: The gel is lightweight but takes time to absorb into the skin.
[ Read: Baebody Eye Gel for Under and Around Eyes Review ]
3. Manages Damaged Tissues: Mizon Collagen Power Firming Eye Cream
Improves skin's elasticity by delivering marine collagen and thus reducing fine lines and wrinkles
It contains organic argan oil and adenosine that locks in moisture to improve skin's elasticity
It helps regenerate the damaged tissues and works on enhancing collagen production
Safe for delicate and thin areas around the eyes
What We Don't Like: It may cause allergic reactions to certain skin types; therefore patch test is recommended.
[ Read: Arvesa Collagen Anti Aging Cream Review ]
4. Dermatologist Tested: Dermalogica Multivitamin Power Firm
The powerful anti-aging formula helps fight off aging skin and uplifts the skin to reduce hooded eyes
It is rich in antioxidants that fight free radicals damage and make skin tight and firm
It enhances the skin's natural repair mechanism and improves cell turnover
Contains silicones and red seaweed extract to improve skin resilience and prevent moisture loss
What We Don't Like: It is not easily absorbed onto the skin.
[ Read: Home Remedies for Skin Tightening ]
5. Effective and Affordable: Derma-E Stem Cell Lifting Eye Treatment
It is rich in skin-loving ingredients like copper and copper peptides that make skin soft and firm
Works on improving skin's elasticity and improve uneven texture
Contains a natural antioxidant and brightener, Vitamin B3 (niacinamide), that reduces aging signs and sun damage
Also contains Vitamin C that, addresses multiple skin issues, and prevents hooded eyes
What We Don't Like: It may feel slightly heavy on the skin.
6. Multi-Purpose: CeraVe Eye Repair Cream
Manages different issues like redness, dryness, itching, and more that happen due to ocular Rosacea
Promotes healthy skin barrier with different ceramides present in the cream
It hydrates the skin and combats harsh external factors
Also contains hyaluronic acid that deeply hydrates the skin, along with Niacinamide and Marine/Botanical Complex
It is ophthalmologist-tested and safe
What We Don't Like: It may initially feel slightly greasy and heavy on the skin.
[ Read: 7 Best Eye Creams For Ocular Rosacea ]
7. Effective and Affordable: Neutrogena Hydro Boost Eye-Gel Cream
It nourishes the soft and delicate areas around the eyes, making them soft, smooth, and firm
Enriched with skin-loving ingredients like hyaluronic acid, it locks the skin's moisture for over 24 hours
The gel formula absorbs easily into the skin without clogging pores; thus suitable for acne-prone skin too
Hyaluronic acid is the active ingredient, and it is free of fragrances, dyes, and oils
What We Don't Like: The quantity of cream is less than other eye creams.
Conclusion
These are the most effective eye creams that can firm and tighten the thin and delicate skin around the eyes and combat hooded eyes. Buy any of them and maintain your youthful glow.
You Might Also Like: