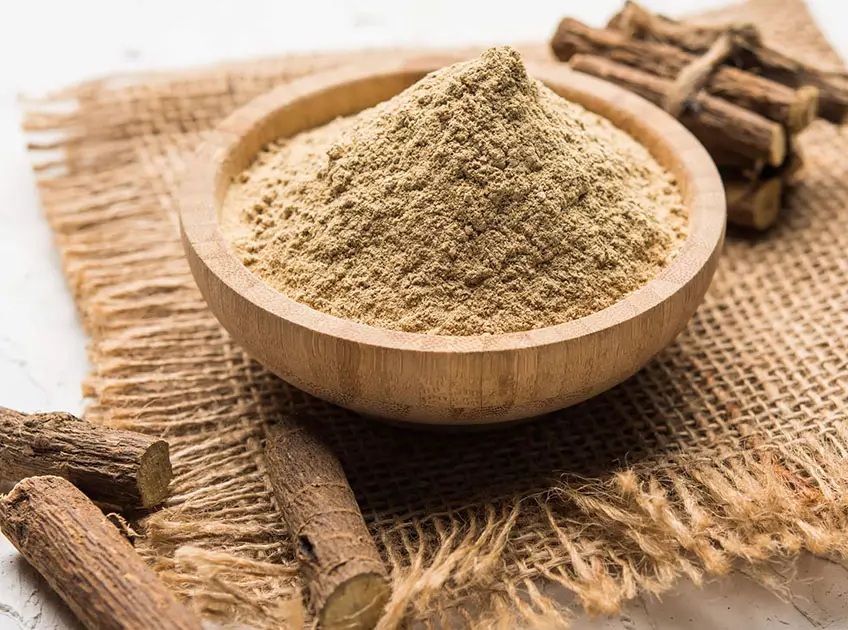 Licorice is an amazing herb with numerous benefits. It has positive effects on the skin, right from skin lightening to anti-inflammatory characteristics. Skin issues like rosacea psoriasis and hyperpigmentation can be treated using the licorice herbal extract. Read on to know the process of using it for the skin.
Process of Using Licorice Root Extract
Here is the simple process of using licorice root extract for skin:
1. Licorice and Honey
Mix 2 tbsp of licorice root extract with a tbsp of honey to create a thick paste.
Add 1 tsp of lemon juice to the mixture and combine well. You can dilute it with some rose water if needed.
Apply the mixture to a cleansed face and let it sit for 25 minutes before washing off with cold water.
Repeat the process twice a week for desired results.
2. Licorice and Aloe Vera Gel
Mix licorice powder with aloe vera gel and apply on the face. Keep for some time and then wash with cold water.
Advantages of using licorice on skin:
Brightens the skin and makes it glow.
Reduces itchiness and irritation.
Certain formulations with licorice, specifically treat dark spots.
Licorice extract along with vitamin C reduces sun damage, and pigmentation significantly. This needs to be used before sunscreen application.
Licorice root extract can be used 1-2 times a day for better outcomes. It is important to check with your dermatologist while using the medicated topical cream/gel. In case you have sensitive skin and experience any issues, avoid using the formulation and check with the dermatologist.
You Might Also Like: