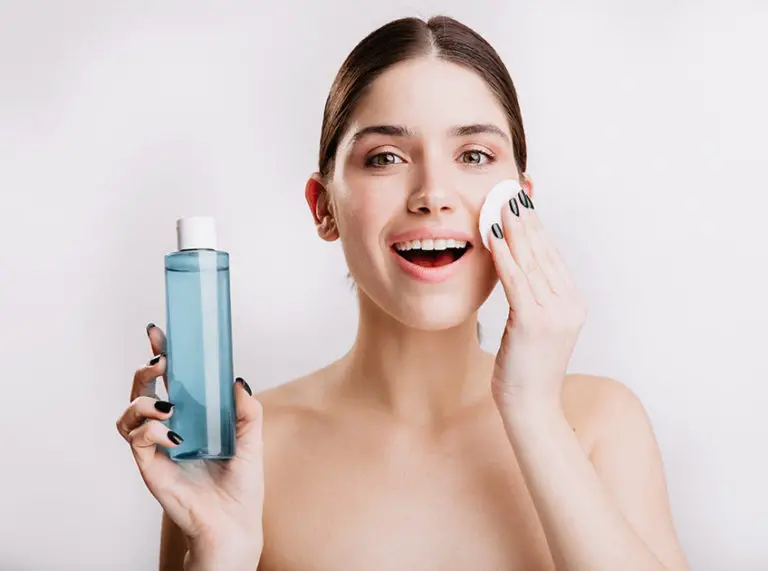 In this ever changing world, keeping skin safe from pollution is always an important aspect in these busy schedules. There are many skin toners available in the market calling themselves as effective and safe but when compared with the natural ways. It's an extended warranty to your skin, as chemicals are always unsafe for soft and delicate skin tissues. We bring you the finest natural ways of making skin toner at your home which are helpful, easy and effective and also make your skin glow much better when compared with the chemical added toners.
Homemade Face Toner Recipes
1. Apple Cider Vinegar Face Toner
Apple cider vinegar has been an ancient element for healthy skin. They actually clear all the impurities and protect the skin from drying. It is well known for its moisturizing properties and brightness booster. The high tannin content in apple cider vinegar gives the best cleansing effect on skin. It is actually good for acne treatment because of antimicrobial action. 
Ingredients:
2 tbsp of apple cider vinegar
1 glass of water
1 tbsp of rose water
2-3 drops of essential oil
Process:
Mix all the above in a glass container
Wash your face before using
Dip a cotton swab, apply it
Leave it for 20 mins and clean it.
Note: Never apply this toner directly on the face without dilution, it causes irritation, discomfort. This is one of the well known toners in the current affairs of the cosmetic world.
[ Recommended: Natural Ways to Clean Your Face Without Soap ]
2. Cucumber and Aloe Vera Face Toner
Toners are beneficial for people who have oily skin. Cucumbers are the cooling agents of skin adding an aloe vera gel keeps skin hydrating and balances the pH level .This combination is a good skin toner that will help the skin regain its pH balance ensuring spotless glow of the face. Lot of artificial toners do more damage than our expectations. So it's always best to use natural skin toners.
Ingredients:
One cup of cucumber juice
4 tbsp of fresh aloe vera gel
Process:
Mix it well and place it in the fridge
Apply like a mask on the face
Wash it off after 20 minutes
Repeat this once a day for a month or two to get best results.
[ Recommended: Homemade Face Masks to Remove Dark Spots ]
3. Essential oil Face Toner
Essential oils are one of the powerful tools to improve healthy skin, nourishment. Fresh and active skin complexion is obtained by many essential oils, if you make a skin- care routine. Basically oils prevent aging with natural and gentle care. They also reduce black heads, dark spots on the face. To glow your face this essential oil mix is the very best choice.
Ingredients:
Take spray bottle filled with distilled water
12 drops of lavender oil
2 drops of tea tree oil
4 drops of frankincense oil
Process:
Add all these oils in the spray bottle
Mix them properly for 5 mins
Wash your face and let it dry
Spray the toner on face by closing your eyes
Wash after it dries out.
4. Rice Water Facial Toner
As we all know, skin is the most sensitive part of the body. That's the logic why we need to pamper and take extra care of our skin. Rice water toner gives desired flawless skin glow by reducing acne and stops premature signs of aging.
Antioxidants help in inhibition of enzyme activity that harm elasticity of skin. It improves and repairs skin damage. Above all it heals sunburns, especially the redness and tight skin.
Ingredients:
Take ½ cup of rice
¼ cup of water
Process:
In a bowl wash the rice to remove leftover debris
Add water and soak it overnight
Next morning, strain the rice water into a spray bottle for hassle free use
Apply on clean face , let it dry for sometime
Rinse your face and follow the steps once a day for a month.
5. Green Tea Facial Toner
Green tea toner is known for the best results for those who have oil skin. It cleans the pores and shrinks the skin to avoid breakouts on the skin. Antibacterial property which provides optimum balance of pH.
This toner is just amazing in giving a refreshing vibes and improves radiance of the skin. Mother nature miraculously works in contributing to healthy skin care. Follow the tips down there and enhance your face beauty.
Ingredients:
1 cup of water
1 tbsp green tea leaves
Process:
Place a container in stove
Add water and boil for sometime
Add green tea leaves and turn into low flame
Let the green tea leaves brew for 5 mins
Turn off the stove, let it cool
Strain the liquid into a spray bottle
Apply on clean face and let it be for 20 mins
Later wash it off with normal water.
All the above homemade remedies are best picked suggestions for facial tone. It's time for you to change your chemicals into naturals in the form of facial toners. For better results do consult a dermatologist for any allergies and infection of your skin.
Recommended Topics: