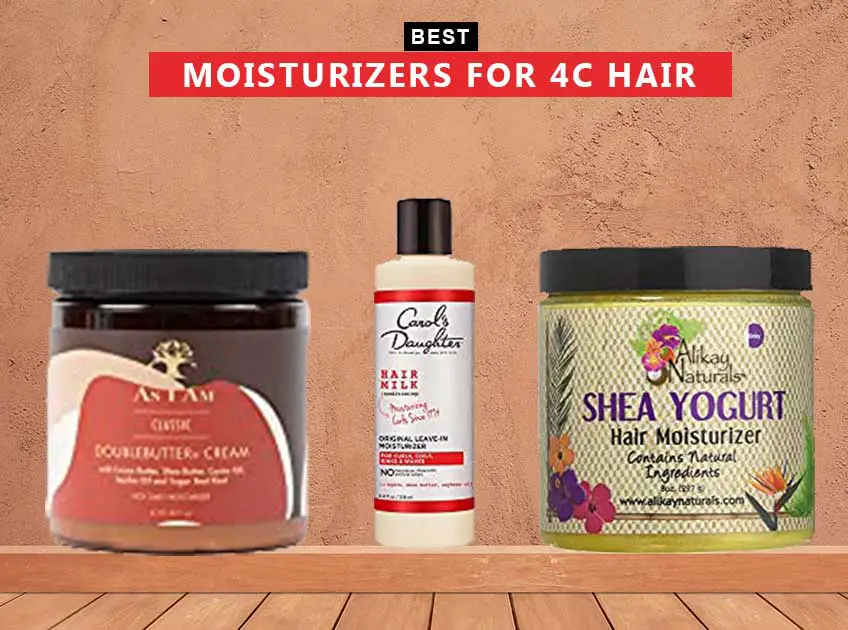 Since extremely curly and coily hair needs TLC, we have curated a detailed list of the best moisturizers for 4C hair to make them healthy, shiny, and frizz-free. All the products we have listed are formulated with nourishing ingredients that help maintain hair health and tame flyaways and frizz.
Moisturizers
Since tight curls are prone to damage and breakage, they need more hydration than other hair types. Even though you are using shampoos and conditioners for 4C hair, without using the best moisturizer, you are keeping them away from essential hydration.
So, check out the best moisturizers for 4C hair and flaunt your curls.
[ Read: Home Remedies For Hair Growth ]
7 Best Moisturizers For 4C Hair
1. Ultra Nourishment: Tgin Butter Cream Daily Moisturizer for Natural Hair
It targets dryness and helps reverse breakage and shrinkage in natural hair
Active ingredients are butter and vitamin E
Also infused with shea butter and cocoa butter make hair strong and supple from root to tips
Reduces frizz and keeps moisture in the strands for up to two days
Suitable for instant styling
Pleasing buttery smell with light floral notes
What We Don't Like: It lacks added protein to repair damaged hair strands.
[ Read: Home Remedies For Damaged Hair ]
2. Suitable for 4A to 4C Hair: Curly Hair Moisturizer by Carol's Daughter
The active ingredients are agave and shea butter
Strengthen hair strands and soften the brittle roots
Infused with soybean oil to coat your hair and protect them from environmental aggressors
Enrich the scalp and 4c hair with moisture
Reduces shrinkage and boosts your hair's natural shine
Free of parabens, sulfates, mineral oil, and petroleum
What We Don't Like: It has a watery consistency.
[ Read: 5 Easy Homemade Hair Rinse Recipes for Silky and Shiny Hair ]
3. Repair Damaged Hair: As I Am Double Butter Rich Daily Moisturizer
Helps maintain healthy sheen and moisture 4C dry hair
Infused with cocoa butter and shea butter to moisturize hair
Offers soft and irresistible finish on hair strands
The presence of pro-vitamin B5 helps manage hair breakage and split ends
Packed with butter and oils that enhance hair health
What We Don't Like: It is expensive.
[ Read: How To Fix Hair Breakage On Top Of Head ]
4. Intense Moisturization: Shea Moisture Coconut & Hibiscus Style Milk
It is a non-rinse mixture that provides intense moisturization to the scalp and strands
Offers a healthy dose of shea butter that can rebalance overly treated hair
Helps manage itchy and flaky scalps
Also consists of coconut oil and neem oil that control frizz and flyaways
Free of harmful ingredients like paraben and sulfate
What We Don't Like: It doesn't work in any category other than 4C due to its rich shea butter.
[ Read: 7 Best Moisturizers For Scalp ]
5. Anti Frizz: The Roots Naturelle Curly Hair Moisturizing
It can be used as a daily styling cream to prevent damage from heat styling tools
The major ingredients are olive oil and grapeseed oil
It is a frizz-free formula that restores the natural shine and bounce of hair
Boosts the curl and kink in 4c hair due to grapeseed oil protein
It can be used by people with 3C to 4C hair type
It is suitable for color-treated hair too
The result lasts for eight hours after the application
What We Don't Like: Overwhelming coconut smell. Even though the smell fades after a while, some users do not like it at all.
[ Read: 7 Best Grapeseed Oils For Hair ]
6. Best for African-American hair Alikay Naturals Shea Yogurt Hair Moisturizer
It contains whipped shea butter
It is lightweight and easy to massage into the curls
Do not cause flaking or clumping at the roots
Rosemary and coconut are the dominant notes, making it smell pleasingly
The infusion of argan oil, sweet almond oil, and coconut oil makes it rich and healthy
Manages dry and frazzled hair and restores natural sheen
What We Don't Like: It can be greasy and oily on hair and may feel slightly heavy.
[ Read: How To Get Rid Of Oily Hair Naturally ]
7. Damage Repair Treatment: ORIBE Moisture & Control Deep Treatment Masque
It contains a high dose of coconut and almond oil
It saturates hairs with fatty acids, vitamins, and proteins without slicking the strands
Seals cuticles and coats them to prevent further breakage
The presence of shea butter, cupuacu butter, and illipe nut butter makes it rich and appealing
Also, it boots the keratin content on the strands
Protects hair's natural colors from harsh UV rays
What We Don't Like: According to some users, it doesn't add bounce to hair.
Conclusion
These are the most effective and the best moisturizers for 4C hair that can help deliver intense hydration to the hair strands, quenching their thirst and making them soft and supple.
You Might Also Like: