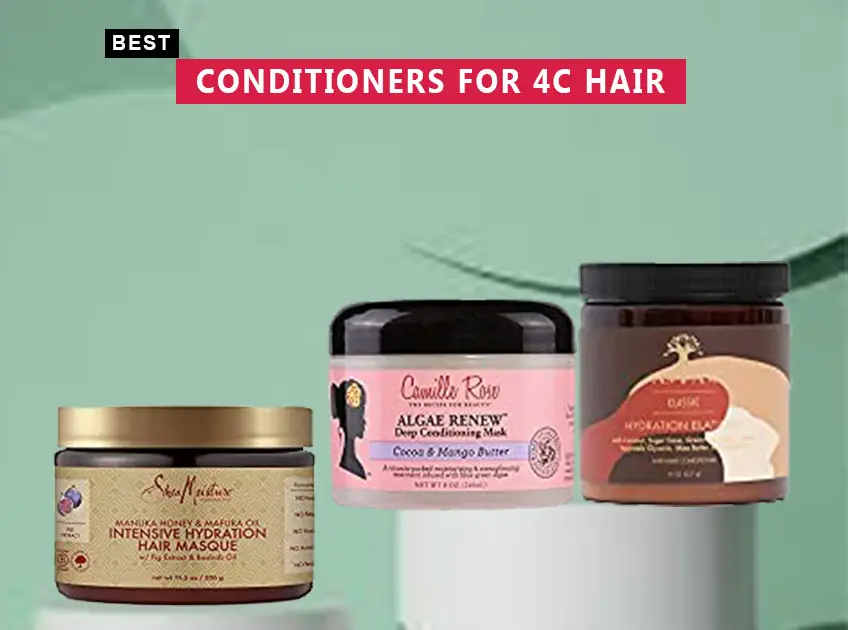 No matter how beautiful the 4C hair looks, maintaining them is a real deal. Sometimes it becomes so hard to manage the curls and coils that it takes a toll on you. It is when using the best conditioner for 4C hair that it can help.
Conditioners help soften hair cuticles by delivering essential oils and nutrients. The best conditioner for 4C hair will be the one that helps moisturize the scalp and every strand, keeping the curls bouncy, soft to feel, and shiny.
Conditioners For 4C Hair
Even though managing 4C hair is challenging, some conditioners are made specifically to fix them. Here we have listed the best conditioners for extremely curly and coily hair. Check them out!
[ Read: 7 Best Moisturizers For Scalp ]
7 Best Conditioners for 4C Hair
1. Hair Strengthening Conditioner: Camille Rose Algae Renew Deep Conditioner
It is loaded with essential vitamins and minerals to maintain hair health
Infused with botanical blue-green algae that prevent hair shedding and thinning
It helps stimulate hair growth and keep the texture smooth and shiny
It gives the instant result, and you don't need to keep it on the head for longer (10 minutes suffice)
What we don't like: It may leave some residue on the scalp when not washed properly.
[ Read: Essential Tips For Healthy Hair ]
2. Best for Treated Hair: tgin Honey Miracle Hair Mask Type 3c and 4c hair
Repairs damaged and treated hair by providing deep conditioning
Infused with raw honey that helps make cuticles soft and shiny
Also consists of jojoba and olive oils, ultra-nourishing and moisturizing for the skin and hair
It ensures restoration of hair health and prevents damage to give beautiful and healthy curls
What we don't like: It is an expensive conditioner for 4C Hair.
[ Read: 7 Best Moisturizers For 4C Hair ]
3. Treatment for Brittle and Damaged Hair: Aunt Jackie's Flaxseed Recipes Fix My Hair Intensive Hair Repair Conditioning
Suitable for dry and fragile hair as it helps restore the hair health
Works well for hair with different textures, especially curly, kinky, coily, and wavy
Hit is loaded with the goodness of hair-loving ingredients like flaxseed, mango butter, shea butter, avocado, and coconut oil.
Creates a protective layer around the hair strands to keep them protected against environmental stress and make them strong
What we don't like: The texture may seem greasy and oily.
[ Read: Does Damaged Hair Grow Back Healthy? ]
4. Hydrate and Replenish: SheaMoisture Intensive Hydration Hair Mask for Dry, Damaged Hair
The active ingredients in this conditioner for 4C hair are Manuka Honey, Mafura Oil, and Fig Extract- all are known for hair health.
Offers an intense dose of moisture to the hair, keeping them healthy and bouncy
Best for dry, damaged, brittle, and fragile hair
Free of sulfates, parabens, phthalates, mineral oil, and petrolatum
What we don't like: Due to shea butter, the conditioner's texture is greasy, but it is extremely good for 4C hair.
[ Read: 5 Easy Homemade Hair Masks For Dry Hair ]
5. Protein Power: Shea Moisture Manuka Honey and Yogurt Hydrate Plus Repair for Unisex Treatment
It is rich in nutrients and helps strengthen the hair right from the roots
Helps revitalize the over-processed, treated, and abused hair fibers
Works wonders on dry, dull, and damaged hair
Helps make hair soft, supple, and healthy with bounce and shine
What we don't like: You need to wash it properly to get rid of residues completely.
6. Plant-based: As I Am Store Hydration Elation Conditioner
It helps manage springy curls and coils, making them deeply nourished and moisturized.
Consists of a powerful blend of coconut, sugar cane, green tea, and apple extracts, along with lemon, shea butter, and vitamin E
Ultra-moisturizing and nourishing
It smoothens the cuticle layer and repairs split ends.
What we don't like: It is pricy.
[ Read: 6 Best Homemade Hair Masks for Split Ends and Growth ]
7. Protein Treatment: Mielle Organics Babassu & Mint Deep Conditioner
It is infused with natural oils and healthy fatty acids from Babassu oil
Helps strengthen the hair and improve their elasticity
The nutrient-rich oils and complex amino acids from wheat, soy, and other natural ingredients keep hair health intact
Ensures lasting shine to curls, waves, coils, and chemically-treated styles
What we don't like: Overpowering and unpleasing fragrance.
Conclusion
The conditioners we have listed dramatically change your 4C hair due to their deeply nourishing and ultra-hydrating properties. If you are having a hard time managing your curls and coils, it's time to shift from normal conditioners to one of these.
Choose according to your hair type and enjoy gorgeous curls all the time.
You Might Also Like: