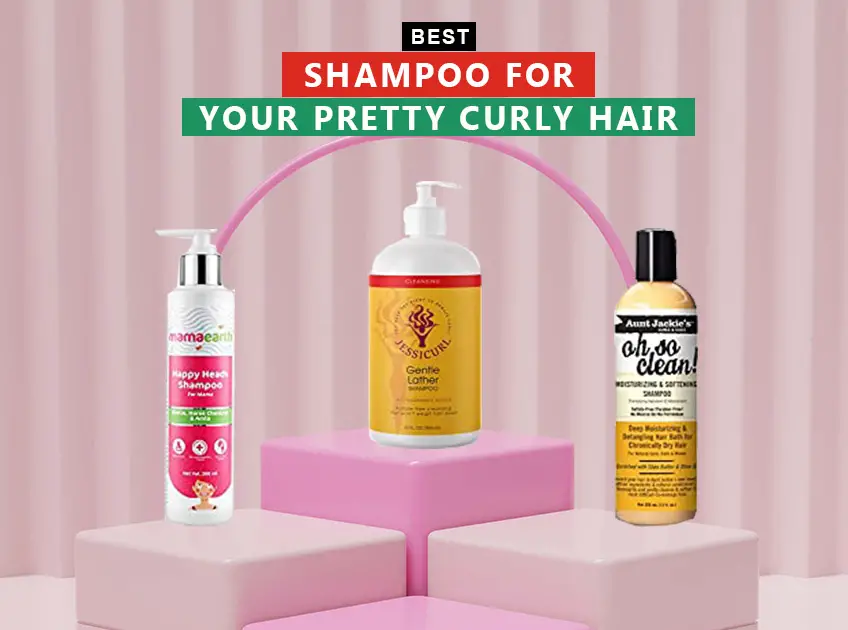 If you have curly hair, then finding the best shampoo is a significant one to do a good job for your hair. Don't look for a shampoo that only cleanses the hair but look for which also moisturizes your hair. Choosing shampoo should not disturb your spring curl hair pattern. Curly hair mostly looks dry because it is harder for natural oils to move down the non-linear hair shift. Hairstylists agree that using shampoo for curly hair must be alcohol-free and sulfate-free as much as possible. These things will dry out the hair strands even more and leaves them unhealthy and stringy. Before going for curly hair shampoo scan the ingredients, containing healthy fats like ceramides, Shea butter, and lightweight oils can safeguard the cuticle from damage as well as prevent frizz.
A Few Reasons Why Your Curly Hair Requires Special Treatment
The curled hair pattern makes it very harder for scalp oils to spread till the ends and this will leads to dryness problem
Handling very tough to curly hair can turn into a tangled mess which makes damage and breakage
More brushing, as well as grooming, can weaken your curly hair, so products which allow more hand-off styling
can protect the damaging hair
Curly hair leads to surface damage which affects smoothening and shine of hair
Certain Criteria To Pick Up The Best Shampoo For Curly Hair
Whether you want to protect your curly hairstyles or need to safeguard your hair, selecting the best shampoo is highly significant. Some of the things to follow are given below
1. Go For A Chemical-free One: Curly hair tends to get frizzy and dry very fast because of the sulfate-based shampoo and also your hair will damage easily. Therefore, give importance to a sulfate-free shampoo.
2. Look For Moisturizing Shampoo: Deep moisturizing shampoo contain milk protein or soy which works well on your curly hair. They assist in taming frizz along with adding definition to the curls.
3. Choose Volumizing Shampoo: When curls have bounce and body, it looks fresh and lively. So, you may seek a volumizing curl-improving shampoo that makes curly hair look healthy.
Shampoo That Suits Your Curly Hair
Curly hair needs more care when compared to other types of hair. As mentioned above, it is because curls get frizzy, dull, and rough very quickly. Hence, it is a must to use a suitable shampoo that understands the hair needs. Here are listed some of the best curly hair shampoos that render smoothness, bounce, and shine while protecting frizz and dullness.
5 Best Shampoo For Your Pretty Curly Hair
1. Mamaearth Happy Heads Shampoo
In case, if you are looking for a natural shampoo to assist tames your curls, you can try this Mamaearth Happy Heads Shampoo at least once. It is packed with some natural ingredients which include natural protein, biotin, and amla, and help in keeping the curls in place. In addition, it helps decrease frizz and keeps the tresses moisturized from root to tip. Mamaearth also helps to reverse hair loss and enhance new hair growth.
2. Aunt Jackie's Oh-so Clean Moisturizing & Softening Shampoo
This shampoo is very perfect when you have chronically dry hair with tangled coils. It contains powerful moisturizing ingredients such as Shea butter, extra virgin olive oil, and Shea butter. These natural ingredients keep the curls silky, soft, and hydrated and also help to comb your tresses very easily. It conditions the curls thoroughly and also gently cleanses the dirt and impurities.
3. Jessicurl Gentle Lather Shampoo
Jessicurl Gentle Lather Shampoo is made up of natural cleansing agents which cleanse the scalp without stripping the natural oils. This may create a luxurious lather, leaving the hair looking silky, soft, and shiny. It doesn't contain any artificial fragrance and is suitable for all types of hair.
4. Shea Moisture Retention Shampoo
This Shea moisture retention shampoo is sulfate-free and it is extremely suitable for dry as well as damaged hair. It contains sea kelp, Shea butter, and argan oil. The natural moisturizing agent is present in which can deeply condition the hair and scalp. They give mineral-rich nutrition to the hair, stimulating its elasticity and strength.
5. Quidad Advanced Climate Control Defrizzing Shampoo
This advanced shampoo is developed to help the curls withstand extreme humidity and heat. It rejects static as well as controls other frizz-causing factors. The formula in which contains a blend of emollients like murumuru butter, Shea butter, and ceramides that assist repair its every strand and also smoothes its surface. Quidad advanced climate control defrizzing shampoo is well suitable for all types of hair.
Conclusion
Concluding that, go for a shampoo that favor you very much and at any cost do not comprise the product ingredient. This one gives you the perfect and beautiful curly that you need.
You Might Also Like: