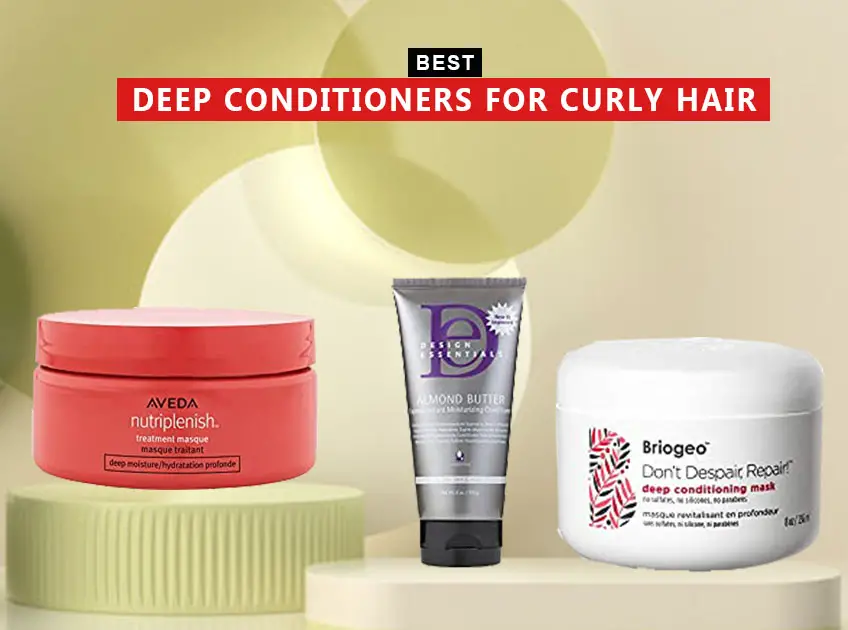 Curly hair requires special care to avoid frizz and keep the curls deeply conditioned. Generally, traditional conditioners are too light to handle such hair because they are more porous with wavy textures. UV rays can dehydrate these curls and damage them easily, when not conditioned properly.
Deep Conditioners
The follicle shape of the curly hair is mainly the reason for it being drier. The natural oils in the scalp find it difficult to travel down the shaft. When such hair undergoes colour treatment, even more frizz can be experienced. Hence, it is important to ultra-hydrate the curls and deep condition them. Read on to check out some of the best deep conditioners for curly hair.
7 Best Deep Conditioners For Curly Hair
1. Nutriplenish Hair Mask For Thick And Curly Hair
Why Do We Like It?
Suitable for colour-treated and chemically processed hair.
Doesn't have parabens, silicones, or mineral oils.
Has a hydrating effect on the hair.
Its superfood complex combines naturally derived ingredients like coconut oil, mango butter and pomegranate
oil for keeping the curls soft and moisturised.
We Dont We Like It?
Its strong, sweet smell might not be liked by all.
[ Read: How to Get Thick Hair Naturally at Home ]
2. Moroccanoil Hair Mask For Weak Hair
Why Do We Like It?
Has a restorative effect on the hair.
Cruelty-free.
Makes hair stronger.
Doesn't need any application of heat after using the product.
We Dont We Like It?
Some may dislike the smell of the product.
3. Briogeo Don't Despair Conditioning Hair Mask For Rejuvenating Damaged Hair
Why Do We Like It?
Conditions dry, damaged or colour-treated hair.
Repairs the wavy, curly or straight hair.
Free from parabens and phthalates.
Vegan product.
Almond oil in the product nourishes the hair damaged from heat.
Vitamin B makes the hair lustrous.
Extracts of rosehip oil and algae prevent frizz and split ends.
We Dont We Like It?
Those with fine hair might find it too hydrating.
4. Davines Mask For Hydrated And Softer Curls
Why Do We Like It?
Enhances elasticity of hair.
Makes the parched and flat hair free from frizz, resulting in a smoother feel.
Gentle formula for the fine curls.
We Dont We Like It?
The hydrating effect is not enough for thicker hair.
5. Design Essentials Almond Butter Express Instant Moisturizing Conditioner, 6 Ounces
Why Do We Like It?
Quick-acting deep conditioner.
Makes the hair shiny.
It is perfect for curly hair as the hydration is locked in just 3 minutes.
Makes your hair more manageable.
Hair becomes silky smooth, free from frizz.
We Dont We Like It?
It is difficult to get larger-sized products in stock on Amazon.
[ Read: 7 Best Conditioners For Fine Hair ]
6. IGK OFFLINE 3-Minute Hydrating Mask, 6.7 fl. oz
Why Do We Like It?
Has amazing results on dry and dull hair.
Protects the hair from harmful UV rays.
Makes the hair shiny.
Safe for colour-treated hair.
Can be used on fine, medium as well as thick hair.
We Dont We Like It?
The packaging could have been better.
7. Oribe Moisture & Control Deep Treatment Masque, 8.5 Fl Oz (Pack of 1)
Why Do We Like It?
Makes the hair smooth and soft.
Hair becomes frizz-free.
It protects hair from harmful UV rays.
Approved by PETA.
Prevents breakage of hair by sealing the cuticle.
We Dont We Like It?
The price is on the higher end.
[ Read: How to Protect Hair from Sun Damage ]
Using The Deep Conditioner For Curly Hair In The Right Way
While buying a conditioner for your curly hair, evenly distribute the product by sectioning the hair using a comb or fingers. Use a shower cap for locking the hydration. Deep condition the curls by using steam or heat, so the ingredients reach the cuticles. The conditioner must not be over-used. Ideally, using these 1-2 times a week or 20 minutes in a session gives the desired results.
Conclusion
Investing in a good hair conditioner can help in providing the best results for your curly hair. The best ingredients to look for, while buying it are, coconut oil for moisturising and smoothening the follicles and reducing frizz; argan oil for boosting shine; cocoa and shea butter for retaining moisture; and rose oil for a better hair texture. Following the right hair care routine using any of the above conditioners can lead to effective outcomes.
You Might Also Like: