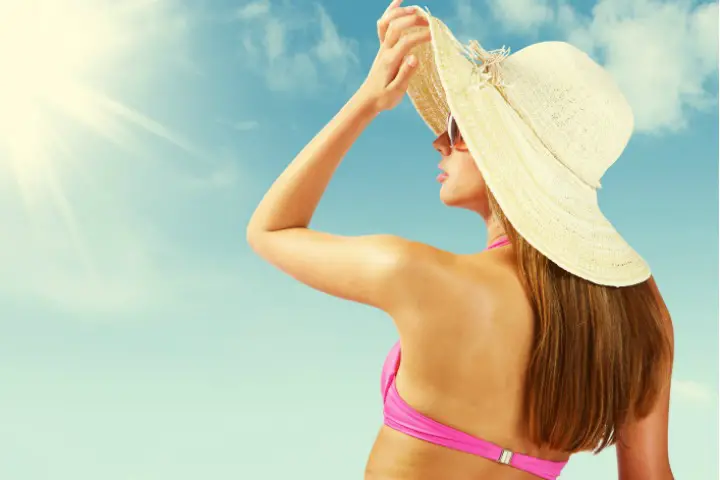 Most people spend lots of time in the scorching sun on an everyday basis for office, shopping, regular groceries and more places. There is a lot of awareness with regards to the damage that UV radiation and excessive exposure to the sun has to the skin. However, excessive exposure to the harmful UV radiations is said to damage hair health as well. Protecting your hair from sun damage is as important as protecting your skin.
1. Use UV Protection: Keep in mind that before going to the beach or pool you must use some hair care serum and also apply a conditioner that includes SPF (Sun Protection Factor). Doing this will be a great help for your hair and also prevents hair discoloration and promotes healthy hair.
[ Read: How Often Should You Condition Your Hair? ]
2. Use a Natural Hair Mask: If you want to rejuvenate your hair and promote hair growth the best thing to apply is a natural mask created at home. To create the natural mask you need to take a little honey, 2 egg yolks, a few drops of castor oil, ½ avocados and a small piece of ginger. Don't use the combination on the scalp but apply all along the length of your hair.
3. Avoid Using Styling Products: It is advised to avoid using styling products such as hair curlers, straightening irons and blow dryers on a regular basis. Also remember to use a thermal or heat protectant spray before using any of these styling devices. This helps prevent further damage to the hair by sunshine as the hair are already brittle with continued use of these styling irons.
[ Read: 7 Best Brushes for Damaged Hair ]
4. Fortify your Hair From the Inside: One of the easiest ways to maintain strong hair that is protected from harmful radiation is to eat healthily. Choose to eat food products that contain vitamins E, D, and B that are essential for protecting the hair follicles and nourishing them. Intake of essential nutrients and vitamins has maximum benefits. Use product that is rich in minerals, vitamins, and herbal extracts and offers healthy, strong and radiant hair. Some of the vitamins that are essential for the hair are
Biotin (vitamin H or vitamin B7) – It fights alopecia and best for bleaching hair.
Copper – It helps to increase the production of hair follicles and strengthens hair.
Magnesium and Zinc –Essential elements to removes dryness and excessive oils from hair.
Iodine – Most essential elements are included in thyroid hormone synthesis that is indirectly related to healthy hair.
Simple tips to protect your hair from sun damage have been indicated in this article. However, a number of protective masks, sprays and other hair care products can be found in your nearest health and beauty store or online.
You Might Also Like:
Image:- 1