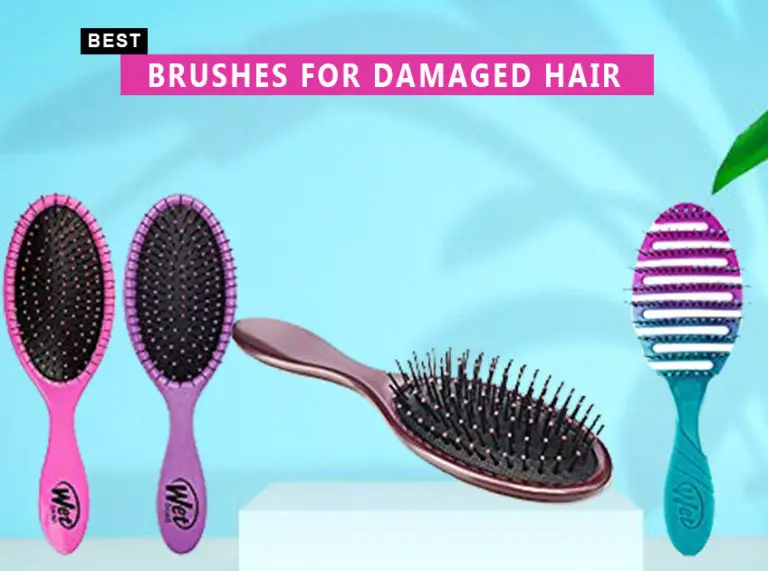 The struggle of dealing with damaged, dry, and brittle hair is real. Even though there are many ways to manage damaged hair, we often fail to recognize one basic requirement- the need for the best brush for damaged hair.
Since we brush our hair 2 to 3 times a day, using the right brush makes a lot of difference. If you have damaged hair already, using a brush that can add to this damage is a bad choice. Therefore, investing in a good brush is a wise decision. One right brush can stay with you for years and is often passed to the grandchildren too.
Brushes for Damaged Hair
The best brush for damaged hair will be the one that doesn't create more tangles, split ends, or hair shedding. Even though different types of brushes are available, finding the one that suits your needs becomes tricky sometimes.
Therefore, we have listed the top 7 best brush for damaged hair that stays gentle on hair and distribute scalp oils throughout your hair to promote shine and naturally condition dry hair.
Check them out!
7 Best Brushes for Damaged Hair
1. Best Ergonomic Designed: TANGLE TEEZER The Original Detangling Hairbrush
Ergonomic palm-shaped design
The unique two-tiered system has long teeth to detangle and short teeth to smooth the hair cuticle
Allows you to brush hair with minimum fuss, breakage, and damage, leaving you with glossy locks
Works on both wet and dry hair and that it never pulls or snags her locks
What We Don't Like: The size of this detangling brush is small.
2. Soft and Flexible: Wet Brush Store Brush Pro Flex Dry Teal Ombre
Stops breakage, as it detangles carefully and is heat-resistant for styling with a hairdryer
It easily glides through knots without the painful pulling and tearing
It can be used in the shower when you're conditioning.
Soft, flexible IntelliFlex bristles detangle hair with ease.
What We Don't Like: According to a reviewer, if you have long textured or curly hair, hair can get caught between the rows of bristles if you don't hold your wrist completely horizontally.
[ Read: Wet Brush Pro Detangle Hair Brush Review ]
3. Fully Flexible: Manta Hair Hairbrush
Molds to the shape of your hand and scalp
Flexible design to protect, control, and style your hair
Gives maximum shine to hair with minimum breakage
Creates less tension on each hair strand and hair follicle while massaging the scalp
Promotes a healthy scalp and hair growth
What We Don't Like: It doesn't work well for coarse and thick hair texture.
4. Ultra Soft Brush: Wet Brush Original Detangler Hair Brush
Features the ultra-soft IntelliFlex bristles that glide smoothly through your tangled hair and knots without causing any pain
Massage the scalp to stimulate the blood flow and strengthen your hair
specially designed to minimize the scalp pain caused while brushing
Prevent hair breakage and split ends
What We Don't Like: For the price, it is an average brush.
[ Read: How To Fix Hair Breakage On Top Of Head ]
5. Sandalwood Paddle Bristle: pureGlow Natural Wooden Hair Brush
Made with natural green sandalwood and has well-polished rounded bristles
Generate less frizz and never discharge any static during usage
Massage the scalp and increase blood circulation, thereby boosting hair growth
Distributes the oils evenly throughout your hair and promotes its health
What We Don't Like: According to many users, the bristles of this brush are prone to breaking.
[ Read: Home Remedies for Hair Growth ]
6. Best Anti-breakage: Keranique Hair Styling Brush
An anti-breakage hair brush that does not rip or pull out your knotted hair
Soft bristles glide through hair smoothly to untangle even the toughest knots with ease
Designed to cut down on scalp pain and protect hair against split ends and breakage
Helps stimulate blood circulation and strengthen the hair
What We Don't Like: It is an expensive hair brush.
7. Technology Infused Brush: FIXBODY Boar Bristles Round Hair Brush
Designed with nano thermal ceramic & ionic technology that has high-temperature resistance
The design allows even heat distribution and quick heating
The boar bristles help to spread the naturally produced sebum and lubricate hair strands
Reduces frizz, adds shine to the hair, and styles your hair conveniently
What We Don't Like: This product may not be suitable if you have thick curly hair.
[ Read: 7 Best Hair Brushes For Fine Hair ]
Conclusion
Sometimes using the right shampoo and conditioner is not enough to help manage damaged hair. Depending on your hair type and texture, you need to find the right brush. It will prevent further breakage, stimulate new hair growth and help detangle your hair effortlessly, reviving its volume and thickness.
Get any of the brushes mentioned above to control further hair damage.
You Might Also Like: