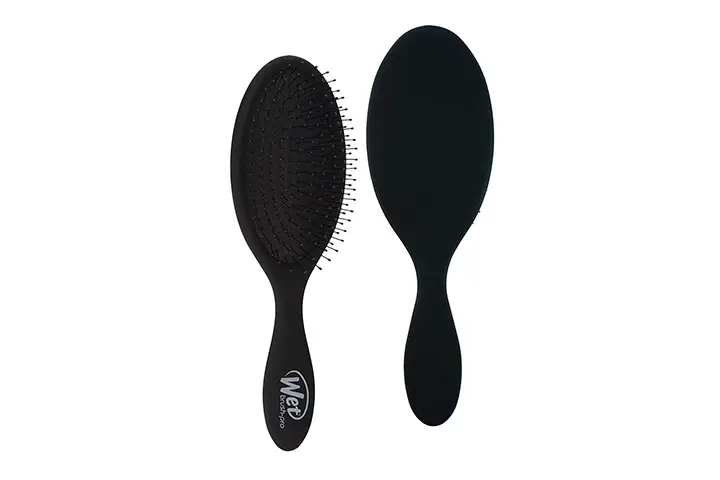 Tangles and knots are common for all hair types like long, short, thick and thin. But for long and thick hairs it is more.
Through away all these problems with Wet Brush Pro Detangle Hair Brush. All brushes can detangle and remove knots but give more pain and hair will get damaged.
This product avoids breakage of hair by tugging and pulling. And it helps to make your hair healthier, longer and shinier than a regular hair brush. This device is perfect for men, women and kids with all hair types.
Wet Brush Pro Detangle Hair Brush
How it Works:
The brush is often shaped to fit easily in the palm of your hand and provides comfortable grip.
It contains ultra-soft intelliflex bristles, which will help to detangle your hair with ease.
Many hair research analysts say that brushing or combing wet hair will damage your hair more…..But if you use wet brush pro will work great in detangling and removing the knots.
Pros:
It is trusted by stylists.
This device minimizes the pain and damage when you detangle.
Works great for hair extensions and wigs.
Suitable for wet and dry hair.
Exclusive intelliflex bristles will give good care.
Cons:
Use gently on wet hair or hair may get damaged.
Rating: 4.6 out of 5
Get the Pro detangler wet brush ,it is an excellent brush that glides through tangles without breakage or pain. Wet hair is weaker than dry hair. So you should brush with this device , it will softly loose the tangles and knots without pulling or breaking.
45% less breakage
56% less effort
100% happier hair
Frequently Asked Questions (FAQ's)
Q. Will this work on thick and bushy hair?
Ans: Yes. Of Course.
Q. Can I use this with a blow dryer?
Ans: This brush is not recommended for use with a blow-dryer, the primary function is to detangle.
Q. How does it detangle the hair?
Ans: Just use the brush to comb through your hair. Trust me it works.
Alternate Products:
You Might Also Like: