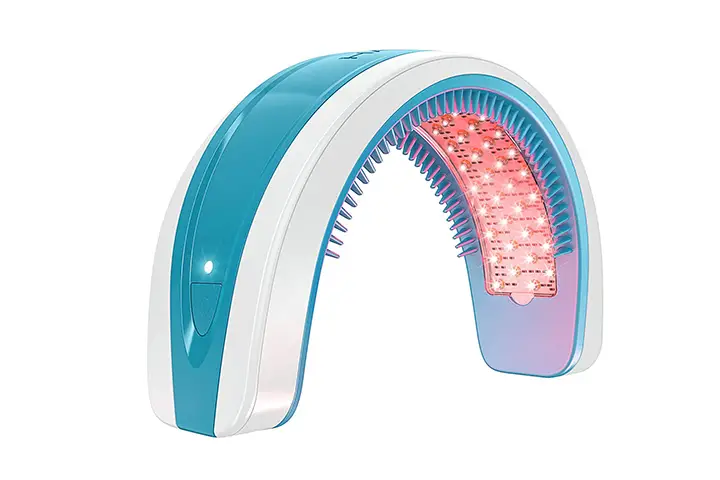 Hair loss is a common problem for men and women. Generally, we may lose 50-100 hairs per day, if it is more than that we need to switch to the HairMax Laser Hair growth band.
It is a low-level laser therapy and clinically proven that HairMax laser band stimulates hair follicles and helps to increase hair density in less time.
HairMax Laser is cleared by FDA. Doctors recommend this device to treat androgenetic alopecia-which includes hereditary hair loss.These devices are proven to regrow healthier and fuller looking hair to both men and women.
HairMax Laser Hair Growth Band LaserBand 82
How it Works:
The Laser band 82 can be used at home, it emits therapeutic light energy to your hair follicles and reverses thinning and brings back your natural and strong hair growth.It contains only medical – grade lasers.
HairMax laser hair growth contains 82 medical grade lasers with patented hair teeth for parting your hair during treatment to deliver the laser light to each follicle.
This band is designed with less weight and is portable, comfortable and easy to carry while travelling. Use this for 3 days in a week about 1.5 minute.
Pros:
It promotes hair growth and reduces shedding.
Strengthens hair and reverses the thinning process.
Restores hair growth cycle and revitalizes damaged hair.
It awakens the hair follicle and increases hair density.
Cons:
Some users shared that laser devices will give only instant results.
Preferably low-level, high-level lasers are not safe.
It's expensive.
Rating: 3.9 out of 5
According to a 2013,2014 study, low-level laser therapy appeared to be safe and effective for hair growth in both men and women.The Hair Max laserband provides a soft-fast 90 seconds treatment.
Frequently Asked Questions (FAQ's)
Q. What is the maximum time you could keep in one position?
Ans: Laserband 82 automatically turns off after 10 minutes.
Q. What is the voltage of the item?
Ans: The HairMax laserband 82 is shipped with a universal power cord that works with voltages from 100-240 around the world.
Q. Does this vibrate on your head?
Ans: It only vibrates to indicate that you need to change its position on your head. Basically you should either use it in 3 different positions on your head for 30 seconds. Band vibrates after time period changes.
Q. How often do you need to change the device? Is it after each use?How long does it take to fully charge it?
Ans: I had it for several months and have only charged twice. The product will let you know when it is time to charge. It's easy.
Alternate Products: