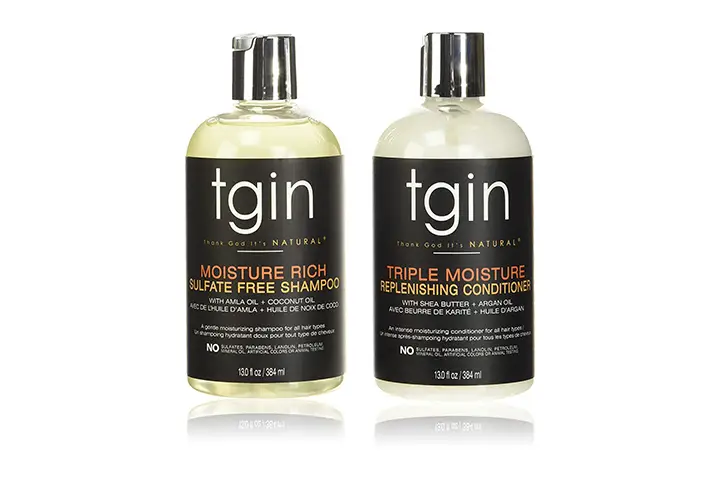 One of the best solutions to get healthy hair is to choose tgin Moisturizing Shampoo & Conditioner. It gives shiny, soft, moisturised and manageable hair with a smoother cuticle.
This couplet does not contain harsh detergents that strip hair of its natural oils. This product is made without parabens, sulfates, petrolatum, lanolin, artificial colors or tested on animals.
tgin Moisturizing Shampoo & Conditioner
How it Works:
The triple moisture replenishing conditioner works to heal damage and improve health of all hair types like dry, curly and straight.
This shampoo is enriched with both coconut oil and pro-vitamin B5. Coconut oil helps to cleanse your hair and pro-vitamin B5 reduces breakage and increases moisture to maintain healthy hair.
Pros:
Plenishes hair's natural oils.
Penetrates hair's cuticle to allow for thorough conditioning.
Promotes healthy hair growth.
Leaves hair feeling soft and smooth.
Helps to prevent split ends and reduce breakage.
Cons:
May take time to show the best results.
Rating: 4.7 out of 5
Tgin is sulfate free shampoo and conditioner is formulated with shea butter and sweet almond oil to hydrate, smooth and repair strands with every use.
The Outcome: Healthy hair that stays soft, moisturized and manageable.
Frequently Asked Questions (FAQ's)
Q. How does it smell?
Ans: It smells like fresh fruit.
Q. Is this product good for color treated hair or will it strip the color?
Ans: The tgin Moist Collection is formulated specifically for dry hair, and color treated hair. Our Moisture Rich Sulfate Free Shampoo and Replenishing Conditioner is extra gentle and won't strip the color from your hair.
Q. Can I use this on my relaxed hair?
Ans: The tgin Moist Collection is formulated not only for natural hair, but also for relaxed and chemically treated hair.
Q. What is the pH level of shampoo and conditioner?
Ans: The pH level of the Shampoo and Conditioner are each 5.00-5.50.
Alternate Products:
You Might Also Like: