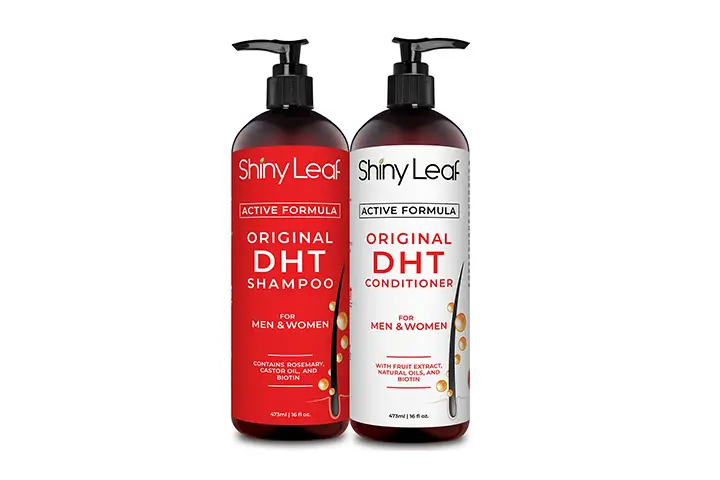 There are many reasons to lose your hair such as heredity, hormonal changes or a normal part of aging which leads to thinning, hair fall and patchiness. Shiny Leaf DHT Blocker Shampoo contains DHT blockers which helps to give nutrients to the hair follicles and supports hair growth.
This product is absolutely free from harmful substances like parabens or sulfates and made with natural ingredients. It helps to prevent hair loss and keeps your hair healthy.
Shiny Leaf DHT Blocker Shampoo and Conditioner
How it Works:
This product contains natural DHT blockers, Rosemary oil and asparagus extracts to help keep your hair follicles healthy.
It helps to nourish each strand with vitamins E,B5 and Biotin.
This shampoo leaves hair silky with increased affability, suppleness and shine.
Pros:
It is a DHT Blocker shampoo and conditioner which helps to control the hair fall.
DHT blockers protect the hair follicles.
It repairs the hair damage and supports healthy hair growth.
It moisturizes your scalp and hair for better hair growth.
This shampoo gives strength to each strand.
Cons:
Some studies reveal that DHT blockers have some side effects in men.
Rating: 4.3 out of 5
Many of us don't know that DHT is one of the main causes of hair fall. Shiny leaf DHT blocker prevents the hormones harmful effect on your scalp's follicles. Let your hair shine with shiny leaf shampoo and conditioner.
Frequently Asked Questions (FAQ's)
Q. Can we use this shampoo and conditioner daily?
Ans: Yes, you can use this shampoo and conditioner daily, it is formulated with safe ingredients and can be used regularly.
Q. What is the scent?
Ans: It doesn't smell bad or like medicine . It has a light scent.
Q. Leaves hair greasy?
Ans: Shiny leaf shampoo and conditioner leaves your hair soft and clean,not feeling greasy.
Q. What is the pH level?
Ans: It has a pH level 5.5-5.6 in 25 degrees.
Alternate Products:
You Might Also Like: