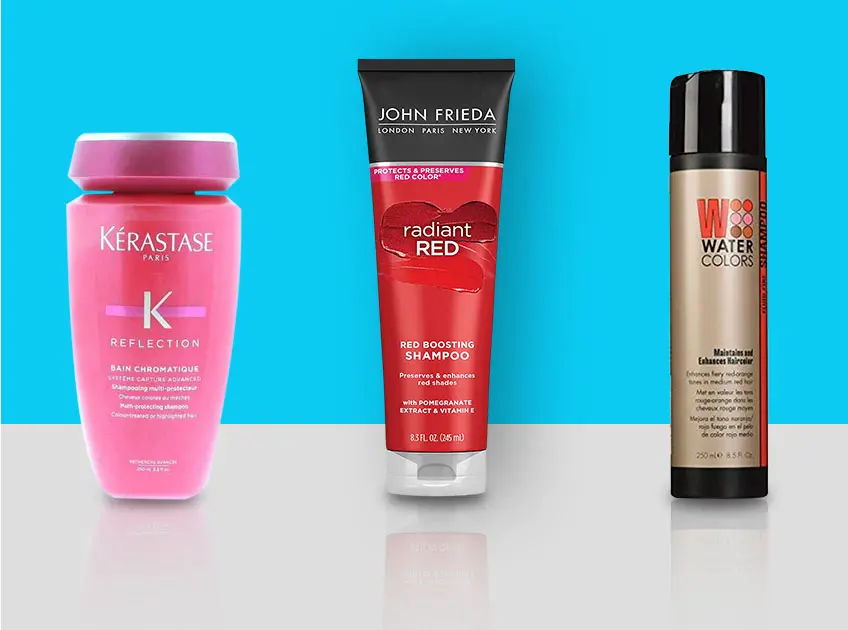 Dyed your hair red or naturally having a redhead and wondering which best shampoos to use for it? Then take a look at this article.
Only 2% percent of the global population has natural red hair. The red-colored hair has more of the pigment pheomelanin than the dark pigment eumelanin. Whether you have natural red hair or color your hair red, it is ideal to use the right best shampoo to maintain the vibrancy or intensity of the color.
Why You Should Choose The Best Shampoo For Red Hair
As red hairs are most prone to fading and looking dull or lifeless due to water quality, sun damage, styling treatments, and products choosing the best shampoo help in preventing the fading and maintaining the color of your mane. When coming to keeping up the red color, the color fade struggle is real. That is why it is important to pick and use the best shampoos that are specially designed for red hair.
Things To Consider Before Choosing The Shampoo For Red Hair
Free Of Harsh Chemicals: Always choose a shampoo that contains no harsh chemicals such as sulfates and silicones as they can cause the color in your hair to fade away.
Essential Vitamins: Vitamins A, B, and E contain antioxidants that aid in strengthening and hydrating your hair strands in order to prevent the damage. Strengthening your mane helps to seal in the color which means the color stays brighter and longer.
Ability To Hydrate: Moisturizing your hair regularly can help make the color appear brighter and more powerful. Look for a shampoo that moisturizes and enhances your vibrant red hair.
Damage Refurbishing Ingredients: By using shampoos that are rich in vitamins can help repair the damage that cause your red hair to look dull or bland, you can restore the shine and volume to highlight the red color.
UV Protection: The effects of the sun's UV light can be unpleasant for your red hair as it fades the color quickly. Choosing the best shampoo can nourish your hair and do wonders by protecting your hair from harmful sun rays.
5 Best Red Hair Shampoos
Check out the best shampoos for red hair that help to keep up the color and to prevent it from fading
1. John Frieda Radiant Red Red Boosting Shampoo
Whether you are rocking a natural or tinted hue, this John Frieda Radiant Red Red Boosting shampoo exclusive formula ignites any red hot hair color. Its formula is developed with pomegranate extracts and vitamin E which boosts softness and smooths your hair with every wash. This shampoo also works great for natural redheads as it contains anti-fade technology. Wash your hair using this shampoo regularly or once a week to gently clarify your scalp while also protecting your hair color.
Pros
Adds shine
Soften the hair strands
Budget-friendly
Anti-fade technology
Cons
2. Kerastase Bain Chromatique Reflection Shampoo
Kerastase Bain Chromatique shampoo is an excellent choice for redheads. Its formula includes UV filters and vitamin E to protect your strands from oxidative aggressions which can cause color fading. Also, the Système Capture Advanced in its formulation captures pigments in the fiber in order to protect your hair color for about 40 days. Whilst the zinc gluconate in this shampoo locks the color deep within your hair strands, the linseed oil polishes and smoothens your hair fiber leaving it smooth and lustrous for maximum light reflection.
Pros
Nourishing
Boosts shine
Lengthens the life of color
Delivers supple hair
Cons
3. Davines Alchemic Shampoo Copper
Davines Alchemic Shampoo Copper is just designed for all the cool red tones. No matter, whether you have a natural redhead or dyed in fiery shades of red, this shampoo is the best pick for you. Being enriched with vitamin B in its formula, it moisturizes your scalp and hair and preserves your hair color as well. Meanwhile, it enhances the shine and helps keep your tresses appearing more vibrant and fresh.
Pros
Free from sulfates
Adds shine
Hydrating
Silicone-free
Paraben-free
Cons
4. Tressa Watercolors Color Depositing Shampoo Fluid Fire
This sulfate-free shampoo contains a formula to keep up the natural vibrancy of your red hair and therefore prevent the color from fading away. The 3-in-1 formula by Tressa Watercolors Color Depositing Shampoo assists in cleansing, refreshing, and conditioning your hair all in one step. It is best suitable for people with medium to darker auburn red shades of hair. This Fluid Fire shampoo includes a rich foaming formula that nurtures your hair strands and brings shine to them. It typically cleanses easily without setting the roots and if you wish to have a subtle retouch to the redness in your hair, then mix it along with your regular shampoo.
Pros
Free from sulfates and parabens
Nourishes
Brings in the shine to your hair
Gluten-free
Cons
5. Quantum Riveting Reds Color-Replenishing Shampoo
This mild formulated shampoo is recommended and works wonders for all redheads. The formula of this shampoo is enriched with sunflower seed extract, vitamin E, wheat protein, and silicone. Moreover, it is also incorporated with Equalizer 4 Color Protection Complex which protects and prevents your hair color from fading away. This shampoo not only replenishes your hair color but also refreshes and brightens all shades of red with daily use.
Pros
Has the mild formula
Provides moisture
Color-replenishing
Value for the price
Cons
Conclusion
Therefore if you are part of that rare group of people who have natural red hair or have colored your hair red by choice, then invest in the best shampoos that are uniquely formulated to maintain the color of your mane. The shampoos listed above assists in preserving that fiery vibrant red color of your tresses and also lends lustrous shine and life to your hair.
You Might Also Like: