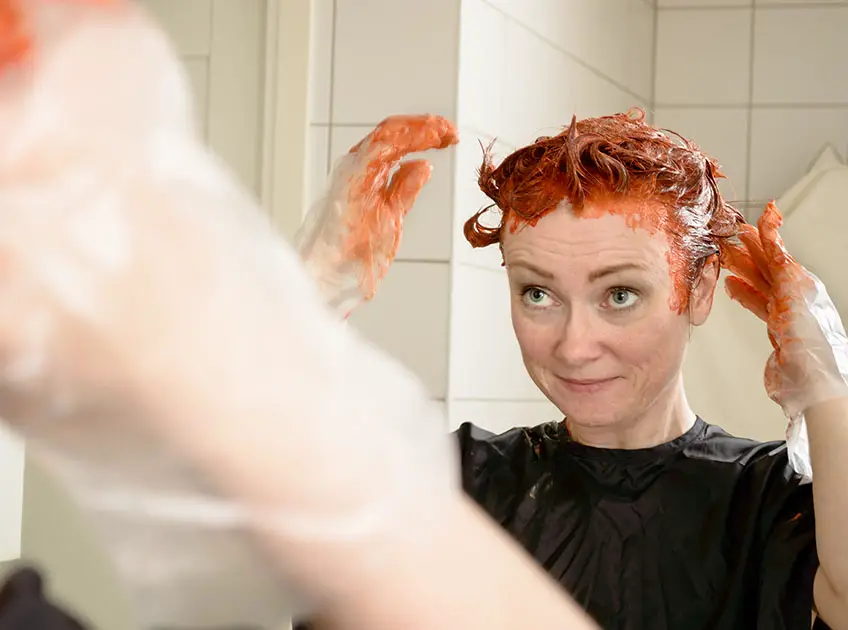 Most people want to change their hair to red color for fashion. It is a simple matter to achieve. But getting rid of redness is a challenge and you need to face that challenge too. Because its orange color takes some time to fade. There are many ways to get rid of red hair and the process you are about to see is one of the most effortless and easy. Deciding whether you're going dark to cover up your red hair or lightening your current blonde or brown color or what type of treatment you want to use is very essential. This blog is going to explain how to get rid of the red color from your hair and how to solve other problems related to red hair.
Get Red Out Of Hair
Tips To Rid The Redness From Your Hair
Red hair colors and dyes are one of the most difficult to remove because they don't fade completely and often leave a bronze, gold, or orange tint on the hair. Removing the red color from the hair can be done in a few simple steps, you can see the steps below.
1. Allow Your Redness To Fade Away: The temporary red hair dye that you apply to your hair only lasts for a short period of time, the simplest way is to let it fade away on its own and it may take a while for your red color to fade. if you want to drastically change your hairstyle, this will make a notable difference and decrease the effect of the red color. This long-lasting procedure causes minimal damage to your hair. Short-term and semi-permanent red colors fade faster and do not need any extra treatment to fade the dye. Also, permanent dyes remain in your hair strands and you may consider further treatment to remove them.
2. Use A Hair Dye Removal Kit: If the red hair dye is intense, it can stick to the hair longer than it should, exclusively for semi-permanent dyes. Even when a remover is used, shades and reds leave a lot of pigmentation behind. Hair color removal helps to remove the dye at some point, however, it is important to understand that this leaves your hair in a state where it cannot be restored to its natural state. It can change your hair color to look different from your natural hair color or previous shade of red, which can make it dry and dull. Keep an additional box or hair tie to use right away after removing the red color. For your natural restoration, you can select one- or two-color shades darker or lighter than your natural hair color.
3. Use Dark Hair Dye: Do you want to cover up the intensity of the red by using dark hair colors? This is one of the best ways to maintain redness reduced hair color and keep it without increasing your overall hair color. Darker shades of brown will noticeably remove bronze highlights and even blacks and reduce redness, as will subtle undertones.
4. Use A Green Shampoo: Unless your hair is completely red, you shouldn't take drastic measures to reduce red hues throughout your mane. Green shampoo aims to neutralize undertones of red, so they don't appear overpowering. You can include a green conditioner or shampoo in your hair care products and use it regularly, within a month, you'll feel a noticeable difference. in case you have a green color food agent, adding a few drops to your shampoo bottle will neutralize the redness.
Things To Consider While Doing The Process
If you like to get rid of the red color soon after a dye, apply an ash tone to offset the results. You can find lots of ash tones at regular drug stores as well as beauty supply shops.
If your hair looks lighter then select an ash blond and for darker tones, you can use an ash brown to reduce the red color. Most store-bought hair dye instructions are very easy to follow and you will find a difference soon after washing off the application to reveal less red.
In case of using temporary dye or semi-permanent dye for unwanted red tones, you may also use semi-transparent options for the blond or ash brown. Always need to pick up a dye with the same performance level as the original product used. For example, if your hair dye is said permanent means, you need to choose a permanent ash shade.
Good hair care is highly important to reduce hair damage after using hair dye removal. Need to avoid washing the hair too often and also have to skip shampoo.
Clarifying shampoo works very best for this purpose and it generally contains between 80 – 90 percent water. Because this product is made of many natural products, it doesn't make any further damage.
You Might Also Like: