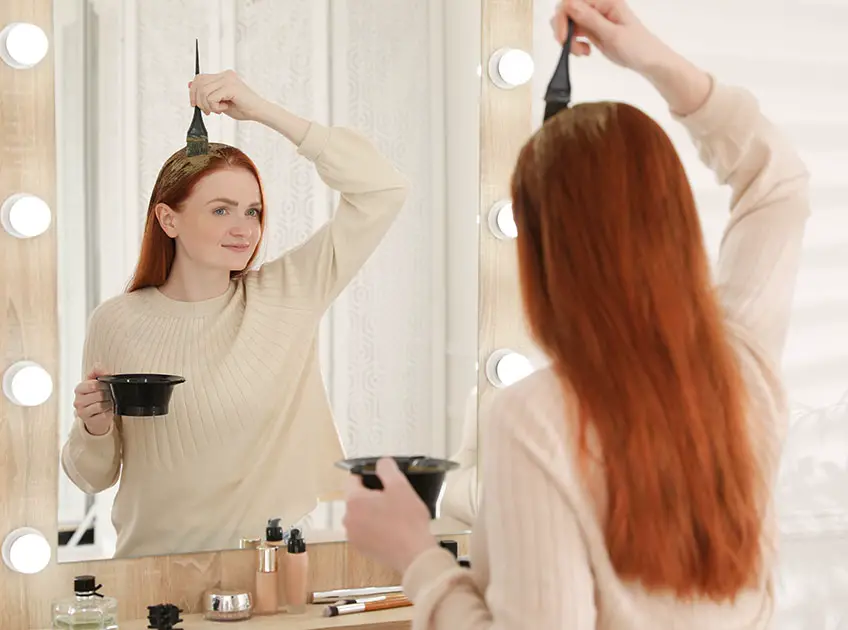 Natural red hair is unique as well as attractive. However, some people need their red hair to be more distinct and vibrant. If you also want like this, then you are on the right page. Whether the hair is natural or dyed red, there is always the fear that the ginger shade might fade away. Of all hair colors, red is something that is hard to maintain. This article helps you to learn about the several ways how to make your natural red hair even more redder and also the necessary steps and preparation that you need to keep your hair healthy during the process.
Natural Red Hair Even More Redder
Ways To Make The Natural Red Hair Even More Redder
There are lots of ways available to make natural red hair redder. Some of them are written below
1. Henna: Henna is the best one to give you red hair redder. Using henna is an old way to dye your hair red but it will render you lots of benefits than giving color. This dye is made up of the Lawsonia Inermis plant and this plant is also called a henna tree. Prior to applying henna, ensure you cover all the things like the bathroom floor, clothes, hairlines, ears, and necks. Because henna gives you a red stain wherever it touches. You can avoid this staining by covering all the things using newspaper, and applying a grease balm on the neck, ears, and hairline. Follow certain steps when using henna to dye your hair
Procedure
First, wash your hair with regular shampoo before applying henna. You should use mild shampoo for washing the hair.
Do not apply conditioner after shampoo because conditioner makes your hair look oily which will affect the hair color
Now mix the henna along with water, it must maintain the consistency
Make a section into 4 parts and apply the henna mixture to the hair
Then cover the head with a shower
Let it for half an hour and wash with normal water. Then wait for nearly two hours to obtain the desired results
Redo this process, if you want more color
2. Carrot Juice: Carrot's natural color helps to give your red hair redder. For an even more effective method, you can go for adding beetroot juice with carrot juice to get a more reddish color. Follow certain steps to get red hair redder with carrot juice.
Procedure
Take 4 medium-sized carrots and wash them thoroughly to make a juice. Before making the juice don't forget to peel the carrot.
Mix 1 cup of carrot juice with 1/2 cup of beetroot juice
Before applying to the hair make sure to wear gloves and cover the cloth with a towel.
Leave it for one hour and rinse with normal water
Redo this process 2 – 3 times a week, if you want effective results
3. Hibiscus Tea And Cranberry juice: If you want to enhance the color of your red hair, you can add cranberry juice with Hibiscus tea like carrot juice and beetroot juice and apply it to your hair to give a natural red color. The recipe is to mix 1 cup of cranberry juice with half a cup of Hibiscus tea and apply it on your scalp and rinse well after 1 hour. You can instantly see the red color hair on your scalp.
4. Hair Gloss: Hair gloss is like deep hair conditioning. It has the ability to seal the cuticle tightly and gives you shiny hair. It has the potential to give natural red color to your hair. If you have damaged hair or want to add moisture and more shine to your hair, you should use this hair shine therapy once a month. Not all products provide the same solution because they vary in hair loss solution depending on the brand. So read the instructions given on the label carefully before buying.
5. Sulfate-free Shampoo And Conditioner: If you've probably colored your hair with red dye, using a sulfate-free shampoo and conditioner is a good solution. Because it is specially formulated for color-treated hair. It is ideal for preserving the red color of your hair. Wait at least 2 days after coloring the hair before washing your hair. Use cold water to wash the hair, it is very helpful in maintaining the red color of the hair.
Conclusion
One good thing about making red hair redder is that there are plenty of options available for you. You don't have to use only products but also can use beetroots, carrots, hibiscus tea, and cranberries. However, the natural red color liquid is not a permanent one and you should re-apply twice a week to get the best results. Regardless of what process you prefer, it is essential to pick up the one that will make the hair look more healthy and vibrant
You Might Also Like: