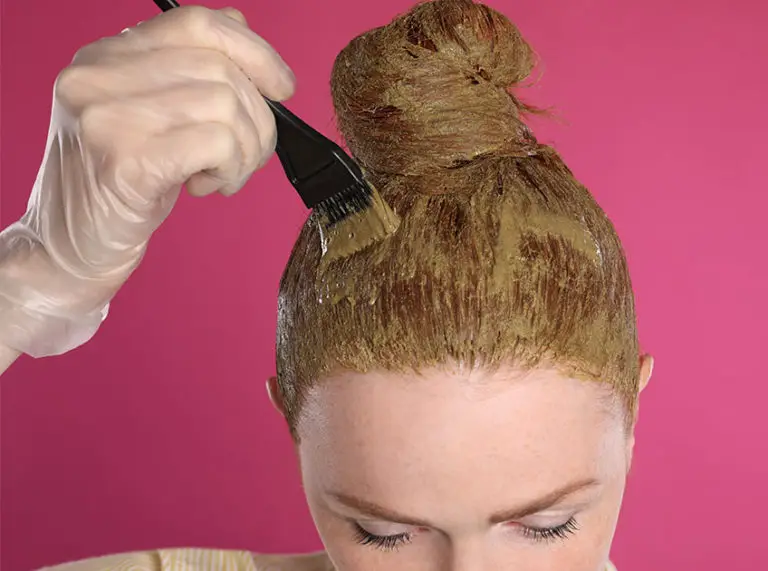 Are you in confusion to choose the best henna hair dye? Then read this article to get a clear-cut idea. Hair coloring has become very popular nowadays. Most of the women are looking for a parlor to do hair coloring irrespective of their ages. If you are a beginner or interested only in natural or herbal coloring, you must try traditional henna hair dye. Henna is not only helpful for coloring but also gives stronger and healthy hair.
Certain Benefits Of Henna Hair Dye You Must Know
Lots of people still don't know the exact benefits of henna. They only know that henna is the best dyeing agent that gives color and conditions to the hair. Some of the henna hair dye advantages are shown below
1. Stimulates Hair Growth: Henna is loaded with essential vitamins and minerals which help to strengthen your scalp as well as boost natural growth. You may end up with no more breakage, no thinning, and no hair fall.
2. Cleanses Dandruff: The antifungal properties of henna assist in controlling itchy scalp and dandruff. On the other hand, it helps to nourish the scalp and remove grease along with dirt from hair. You can use henna as a deep conditioner to fight with an extra layer of itchiness.
3. It Nourishes The Scalp Well: Natural properties of henna nourish the hair when applied to the hair. It transforms dull and dry locks into long, shiny, and luscious hair. Its antimicrobial and antifungal properties aid in soothing the scalp which reduces scalp irritation.
4. Help To Smooth Tresses: Henna alone helps greatly to smooth the tresses and also deep condition the scalp. If it is mixed with other natural ingredients means it will offer more benefits. You can also mix henna with ayurvedic powders like Amla, Neem, Hibiscus, Cassia, Reetha, and Fenugreek.
5. Reduce Split Ends: When your hair is dry, you will get split ends. It will happen if your hair is dry or it does not receive enough natural moisture. In order to break this problem opt for a natural solution of henna power
6. Relieves Oxidative Stress: Oxidative stress is caused due to the free radicals imbalance in the scalp. As a result, you will get heavy hair loss, breakage, premature greying, and hair damage. Henna powder is rich in antioxidative and antibacterial agents that assist to reduce oxidative stress and give a soothing experience
7. Colors The Hair Very Naturally: If you are seeking natural hair color remedy then henna is said to be the best option. It can be combined with other herbal powders to bestow a lighter or darker shade. This will give everything naturally that you expect from hair treatment.
5 Best Henna Hair Dye For Your Hair
Henna is perfect when you are trying to attain a shade of brown, red, or black and for sure, it will not lighten the hair. Few best products of henna hair dye for your beautiful hair is as follows
1. The Henna Guys Pure Henna Powder
This henna powder naturally has red pigment and it is mainly used to dye hair. It renders rich warm that will cover grey strands well. Pure Henna Powder revitalizes dry and dull hair, regenerates your hair and it is free of harmful chemicals. Henna guy's hair henna is made up of high lawson content to get enhanced results. It comes in step-by-step application instructions for you to use easily. This henna doesn't contain any harsh chemicals so it is highly suitable to use.
Pros
It is a vegan product
Revitalize dry as well as dull hair
Free from harmful chemicals
Rejuvenates the hair
Cons
It does not work on dark hair, red or orange hair, and dyed grey hair
2. Godrej Nupur Henna
Godrej Nupur Henna Product is a natural Mehandi loaded with the goodness of Brahmi, amla, and bhringraj. It is highly helpful to promote hair growth, adds gloss to the hair, and also controls hair fall. Godrej Nupur Henna is a popular hair care solution highly known for its natural goodness as well as deep nourishing qualities. It has been traditionally utilized for decorating hands and feet. Godrej Nupur Henna is a 100 percent pure henna product, not only acts as a safe product for covering grey hair but also gives conditioning and cooling effects. It gives a healthy shine and luster to your hair. Henna naturally has antifungal and antimicrobial properties which assist scalp health and deal with dandruff.
Pros
Adds shine to your hair
Heavily pigmented
Fades away gracefully
Can apply without any mess
Cons
3. Henna Maiden Radiant Natural Red Color
This brand naturally covers the grey color. Its unique blend of henna and herbs makes an enriching hair coloring experience. If you like to have rich, shiny, and luscious hair then use this special natural henna made. It enhances hair texture and gives a natural glow to the hair. The special blend of natural henna, botanicals, and herbs gives you a rich, shiny as well as luscious color. It is also perfectly suitable for sensitive skin because it doesn't contain any bleach, peroxide, or other hair lighteners that you may find in boxed hair dyes. Henna won't lighten the hair, in order to get the best results, choose a shade that matches your hair or is darker than the natural hair color.
Pros
Fades gracefully
Brings a natural shine to your hair
Improve the texture of your hair
High pigmentation
Cons
4. Surya Brazil Henna Cream Black
It is made up of plant and fruit extracts from Brazil and India. This semi-permanent hair color does not contain harmful chemicals such as hydrogen peroxide, ammonia, parabens, etc. This Surya Brazil Henna Cream improves hair and scalp health. Surya Brazil's henna hair dye cream is an anti-oxidant-rich semi-permanent hair color and it infused hair with vibrant and lush color when nourishing and conditioning with harvested botanicals. It is 100 percent pure vegan as well as cruelty-free type.
Pros
Free from chemicals
Conditions dry, brittle, or damaged hair
Enhances the scalp and hair health
Cruelty-free
Cons
5. Light Mountain Natural Hair Color
This product is the perfect alternative to chemical hair Colors. It is made from herbal extracts and it will nourish the hair thoroughly along with covering all Greys. Light mountain does not use any harsh chemicals and also no synthetic ingredients. It used only pure henna and other important botanicals. This product color the grey line with a total of 8 shades.
Pros
Nurtures your hair thoroughly
Includes herbal extracts
Covers all grays and silver hair
Doesn't damage your hair
Cons
Conclusion
In the olden days, many people in India had henna plants in the home itself and used them very freshly. Henna is mostly used to keep in hand and to cover grey hair without any chemicals. Currently, lots of brands of henna powder dye have come up in ready-made for instant use. In which you can just mix in the water and apply the mixture to the hair to have excellent look.
You Might Also Like: