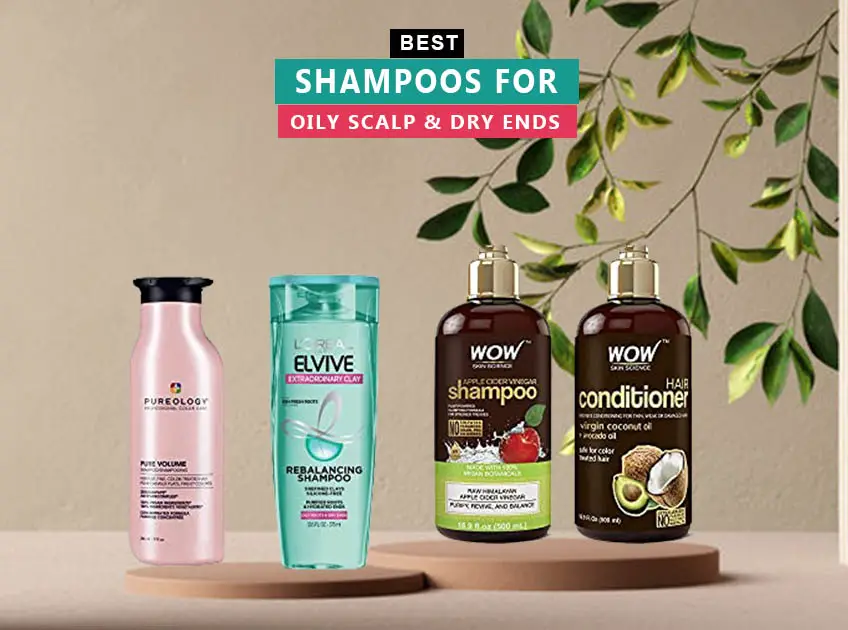 Oily hair tends to look greasy and sticky after a day of washing. Blame it on excess oily production, but the sight of oily and greasy hair is not appealing. Also, styling hair becomes problematic in such hair types. Therefore, daily washing becomes a ritual.
Even though shampooing removes the build-up and excess oil from the scalp and strands, it can also make the hair dry. It is because natural oils do not make their way to the strands, keeping them dry all the time. Regular shampooing can affect hair health tremendously, making them dehydrated, dull, and prone to breakage.
Oily Scalp
It is why having an oily scalp with dry ends is a common problem. Therefore, using mild shampoos that remove the excess oil and grease from the scalp without stripping off the natural oils from the strands is essential. It is one of the best ways to manage oily scalp and dry ends.
Here we have listed the 7 best shampoos for oily scalps and dry ends. Check them out!
7 Best Shampoos For Oily Scalp And Dry Ends
1. Best Overall: L'Oréal Paris Elvive Clay Rebalancing Shampoo
An ultra-hydrating shampoo suitable for oily scalps with dry ends
It contains three different types of clay that helps absorb oil and purify roots
Formulated to keep the lengths of the hair hydrated
Fights of grease while still providing the strands with much-needed moisture
It comes at an affordable price
What We Don't Like: It has a very strong fragrance
2. Effective and Affordable: Kérastase Specifique Divalent Balancing Shampoo for Oily Hair
Creates an ideal balance on oily scalp and dry ends with an amino acid
It helps de-grease the roots and scalp
Do not strip and dry out the rest of the hair
Adds volume and bounce to the hair
It also adds to the shine and strength
It contains the appealing fragrance of basil, freesia, sandalwood
What We Don't Like: It is expensive.
[ Read: 7 Best Natural Shampoos For Oily Hair ]
3. Best Budget: Aveeno Scalp Soothing Apple Cider Vinegar Blend Shampoo
It contains purifying apple cider vinegar
Offers anti-inflammatory benefits to the scalp and strands
Adds shine and gloss to stands without causing any build-up
Gentle formula, suitable for daily use
Leaves the cuticle smooth without feeling weighted down
It contains the aroma of apple and saffron
What We Don't Like: It requires a couple of washes for full results
4. Best Preventative: Paul Mitchell Shampoo Two
Suits all hair types
Infused with jojoba leaf extract and white ginger
It helps remove unwanted oil right away
Minimizes future oil production to curb greasiness over time
It is color-safe, leaving hair shiny and voluminous
It contains the aroma of lemon
What We Don't Like: It may leave fine hair limp or dry
[ Read: 10 Best Shampoo For Dry Damaged Hair With Split Ends ]
5. Best Clarifying: WOW Apple Cider Vinegar Shampoo
Works well on dry hair
It has a natural formula of apple cider vinegar that balances the scalp and strands perfectly
The high acidity makes it a good choice for deeply purifying and balancing pH levels
It helps keep both scalp and hair healthy
The pleasing aroma of sweet apple and coconut
What We Don't Like: Overpowering fragrance.
6. Best Clarifying: Fekkai Apple Cider Detox Shampoo
It contains apple cider vinegar to purify the scalp, prevent bacteria build-up, and offer anti-inflammatory benefits
Also infused with the goodness of salicylic acid to help gently exfoliate and remove the extra dead skin cell build-up
It is gentle enough to be used daily
Also, it contains a proprietary environmental protection complex to shield hair and provide a complete protection
Features a pleasing aroma of green apple and mint and is suitable for everyday use
What We Don't Like: It is expensive
[ Read: 7 Best Men Shampoos for Dry Hair ]
7. Best for Volume: Pureology Pure Volume Shampoo
Suitable for all hair types
Ideal for completely and removing any excess oil or residue
It imparts tons of lift and volume at the roots and throughout the length of the hair
It is color-safe and can be used on processed hair
It helps volumize hair and makes them dense and bouncy
Features minty and herbaceous scent
What We Don't Like: It may dry hair.
Conclusion
So, now that you know some of the best shampoos for oily scalp and dry ends, it's high time you should start using them to manage the health of your scalp and strands.
You Might Also Like: