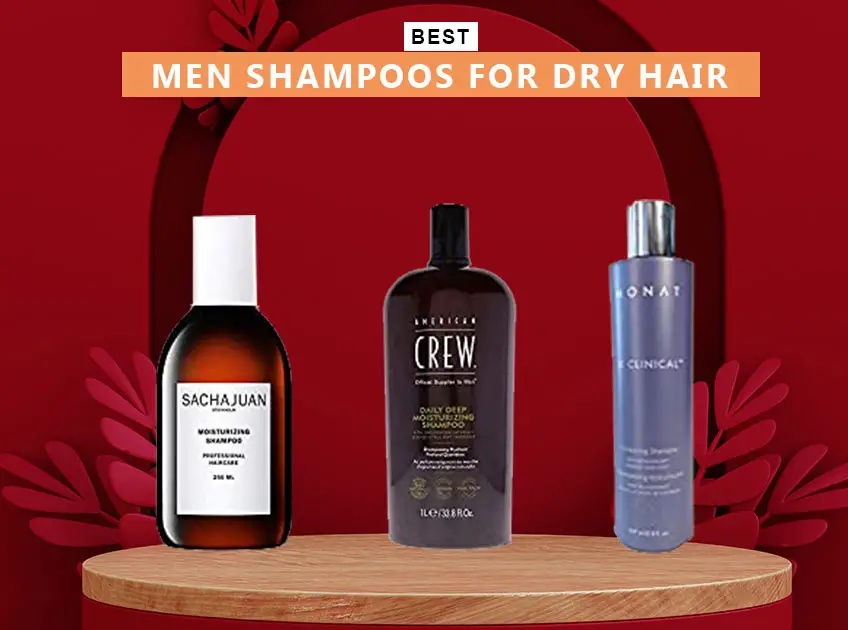 Isn't it always challenging for men to determine which shampoo suits them best? What ingredients can give the hair shine and a smooth texture? How can the brittle, dry hair loss be stopped?
They are constantly encircled by the questions that are put to them. Another important fact is that men frequently cannot tell whether they have dry hair or scalp issues. As a result, men often use a random shampoo that does not fit their standards for hair care.
Men Shampoos
So, here is a curated list of shampoos for men that they can use according to their dry hair condition and needs.
Check Out the list!
7 Best Men Shampoos for Dry Hair
1. The Intense Repair: Monat Balck Intense Repair Shampoo
Men who experience hair loss, roughness, or a lack of shine can turn to Monat Black Intense Repair for assistance.
This shampoo not just rejuvenates your scalp but removes the build-up that has accumulated on the scalp and tip of a hair follicle.
You will need this shampoo to develop re-growth and promote nourishment to your hair.
The shampoo also comes with a refreshing rosemary mint fragrance that keeps our hair fresh all through the day.
What We Don't Like: The rosemary mint may have an overwhelming fragrance for some people.
[ Read: 7 Best Shampoos For Hair Loss Men ]
2. The best moisturizing shampoo: SACHAJUAN Moisturizing Shampoo
When it comes to reviving dry hair, moisturizing is a crucial routine, and SACHAJUAN Moisturizing Shampoo is the best option.
This shampoo replenishes moisture to chemically lightened and dry hair. It also helps in restoring chemically harmed hair.
It has the infusion of Ocean Silk Technology and Argan Oil that works best by reaching the depths of your scalp to provide all the essential nourishment.
The key to getting a scalp moisturized is giving it the hydration that it requires and this shampoo will do exactly that for you.
What We Don't Like: It can lead to tangle issues if you have long hair.
3. The Voluminous shampoo for dry hair: Leonor Greyl Shampooing au Miel Gentle Volumizing Shampoo
It leaves hair with a pleasant honey smell and is ideal for daily use. It has a gentle formula that adds much needed volume and shine to hair.
Leonor Greyl Shampooing au Miel Gentle Volumizing Shampoo is one of the best shampoos for producing volume to dead dry hair.
It has a gentle formula that deeply nourishes your root, scalp, and follicle with rose hip extract and acacia honey.
For any vegan man out there, this shampoo is the best choice because it is plant-based, silicone-free, and cruelty-free.
What We Don't Like: Hair feels a little heavy and clumpy after usage.
4. Best Overall: American Crew Daily Moisturizing Shampoo
This vegan, silicone-free shampoo is appropriate for everyday use on normal to dry hair and is infused with hydrating Vitamin B5 to encourage healthy-looking hair.
The classic brown bottle is infused with coconut oil that provides warm nourishment to the scalp along with rosemary extract for growth and retention.
It is one of the best products on the market right now and is available in every barbershop.
What We Don't Like: It can cause an allergic reaction in people with sensitive skin.
[ Read: How to Use Coconut oil for Dry Hair Treatment ]
5. The Natural Shampoo: KEVIN MURPHY Balancing Wash Shampoo
A renowned hairstylist and expert, Kevin Murphy, created the shampoo specifically for men who struggle with dry hair.
The main component, Wheat Amino Acid, contributes to providing nourishment to increase shine and softness.
It thoroughly cleans the hair and scalp while nourishing oils rich in antioxidants and amino acids replenish moisture and thicken the hair.
Therefore, this is the ideal brand for anyone looking for an all-natural experience and a referral to a hair care expert.
What We Don't Like: It can cause tiny flakes to appear on scalp.
[ Read: 7 Best Natural Shampoos for Men ]
6. For hair loss: Hims Thick Fix Hair Shampoo
For men concerned about hair loss that is directly related to dry hair, HIMS is one of the best brands available.
If you have long thick locks the product is formulated with saw palmetto that provides intense care and nurtures till the root for thicker and fuller locks.
Your scalp and hair are cleansed and moisturised by Hims thickening shampoo without unnecessarily drying out or harming your hair.
What We Don't Like: If you do not have male pattern baldness, the shampoo may not work.
7. For the dry scalp: NIOXIN Scalp Relief Kit for Sensitive, Dry, and Itchy Scalp
A dry scalp, which typically goes unnoticed, is one of the main problems men have with their hair.
For this, the best solution is NIOXIN Scalp Relief Kit for Sensitive, Dry, and Itchy Scalp which contains aloe vera, soothex, and glycerin.
Aloe vera offers much-needed hydration, and soothex and glycerin work as anti-inflammatory agents to nourish the scalp.
When applied consistently at least four times per week, it is claimed to be clinically proved to strengthen the natural scalp barrier.
What We Don't Like: It is expensive.
Conclusion:
Check the ingredients and be aware of the state of your scalp when looking to purchase a shampoo for a specific use. By doing this, you will be able to protect yourself from the possibility of allergic reactions or other product side effects.
You Might Also Like: