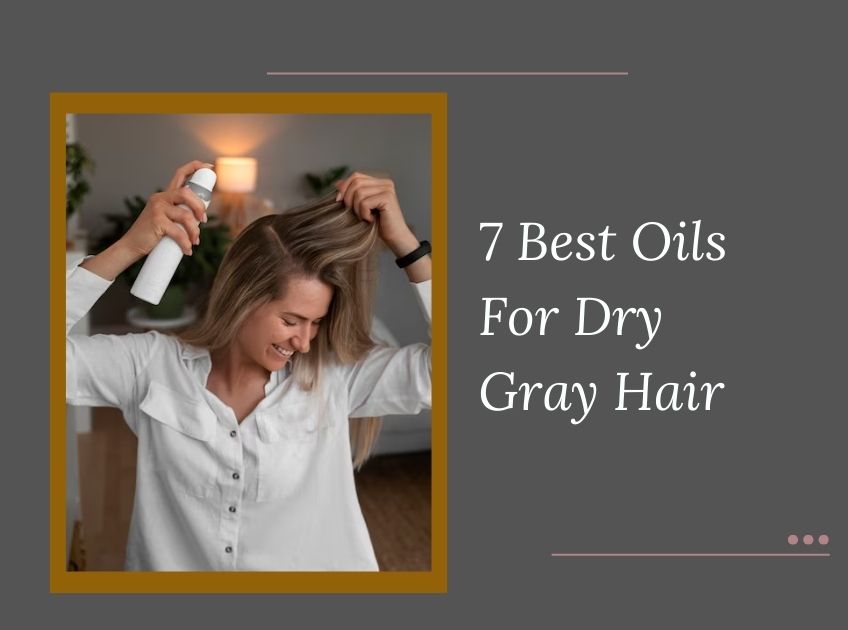 Oiling hair regularly offers immense benefits. Today we can find different oils containing a powerful blend of hair-nourishing natural ingredients that address multiple hair issues. Whether you have dry hair, gray hair, an itchy scalp, dandruff, or any other concern, oils come to the rescue each time.
Dry Gray Hair
Since you can find plenty of options, deciding on one could be tricky. Therefore, we have shared a list of the 7 best oil for dry gray hair that will be highly beneficial for your hair concerns. They are selected based on their ingredients that are highly useful to rectify dry gray hair, giving a lustrous shine to it.
Check them out!
7 Best Oils For Dry Gray Hair
1. Ultra Hydration for Dry Hair: HERSTYLER HAIR REPAIR SERUM
Infused with argan oil, aloe vera, and Vitamin E
Maintain the health and vibrancy of the locks
Tames frizz and flyaways
Also, it contains argan oil that deeply nourishes and offers ultra hydration to dry and dull hair
It consists of Aloe vera and Vitamin E to repair hair damage
Suitable for all hair types
What We Don't Like: It does not work on 4C hair.
[ Read: Essential Oils for Dry and Damaged Hair ]
2. USDA Certified Organic: Kate Blanc Cosmetics Castor Oil
The presence of Castor oil promotes healthy hair growth.
It ensures longer, thicker, and more voluminous hair.
Reduces hair fall effectively
Suitable to use on the scalp, eyebrows, and eyelashes
It is 100% guaranteed authentic, natural, pure, and hexane free.
Combats dry and brittle hair along with dry scalps and dandruff
Useful for the skin as well due to its moisturizing properties.
It helps reduces blemishes, acne, scars, and the apperanace of fine lines without leaving your skin dry
What We Don't Like: It feels sticky and makes hair greasy.
3. Powerful Hair Treatment: OGX Renewing + Argan Oil of Morocco Penetrating Hair Oil Treatment
Works well for all hair types
It makes hair strong and silky
Make hair look voluminous and bouncy by sealing in nutrients and moisture on the locks
The easy-to-absorb formula helps the oil penetrate deep into the cuticles
It gives hair a refreshed look and feel of silky perfection and radiant shine
It contains a powerful blend of rich cold-pressed Moroccan argan oil
It helps revives each hair strand
Features citrus-fresh, floral-green, and woody scent that smells heavenly
What We Don't Like: It is expensive.
[ Read: Argan oil for Hair: Benefits and How To Use ]
4. BEST For Afro-Textured Hair: VERB GHOST OIL
Infused with Moringa Seed Oil, Bamboo Extract, and Hydrolyzed Soy Protein
It is weightless oil and does not weigh hair down
Do not leave hair looking damp and limp
It offers intense hydration and locks in moisture to prevent further hair drying
Tames frizz and flyaways all through the day
Suitable for tight curls and textured hair
What We Don't Like: It does not work well on fine hair.
5. Best for Unmanageable Hair: Garnier Fructis Sleek and Shine Anti-Frizz Serum
It contains Moroccan argan oil that has an amazing frizz-taming power
Penetrates deep into frizzy, dry, unmanageable hair and offers long-lasting smoothness and shine
Ensures lasting sleek and smooth finish
The powerful blend of naturally inspired and derived ingredients into breakthrough formulas make it highly appealing
What We Don't Like: It is a serum, so if you are looking precisely for oil, it is not your pick.
6. Anti Frizz Formula: Nexxus Clean & Pure 5-in-1 Invisible Oil for Frizzy Hair
It helps offer shine, color protection, and frizz control to the hair strands
The nourishing and smoothening formula makes it highly appealing for dry gray hair
It is free of dye, mineral oil, sulfate, aluminum, and paraben
Infused with coconut oil and almond oil that helps tame flyaways and nourish the tresses
Also, it contains ProteinFusion with elastin protein and marine minerals
What We Don't Like: It may feel slightly heavy if you have oily hair.
[ Read: Essential Oils For Frizzy Hair: How Do They Help ]
7. Intense Nourishment Treatment: Mielle Organics Rosemary Mint Scalp & Hair Strengthening Oil
It is a biotin-infused, nutrient-rich, hair and scalp-strengthening oil.
Offers intensive deep hair treatment
It combats hair damage and gives strong and lustrous hair.
It features a pleasing scent, making hair feel and smell refreshed.
It addresses issues like split ends and hair thinning.
The infusion of 30 essential oils and nutrients goes deep into the scalp and increases blood circulation
It combats dandruff and an itchy scalp.
What We Don't Like: It may feel slightly heavy on the hair.
Conclusion
So, these are the 7 best oil for dry gray hair that has the power to eradicate dullness and make hair soft and supple. The powerful ingredients in these oils keep hair bouncy and work on gray strands effectively.
You Might Also Like: