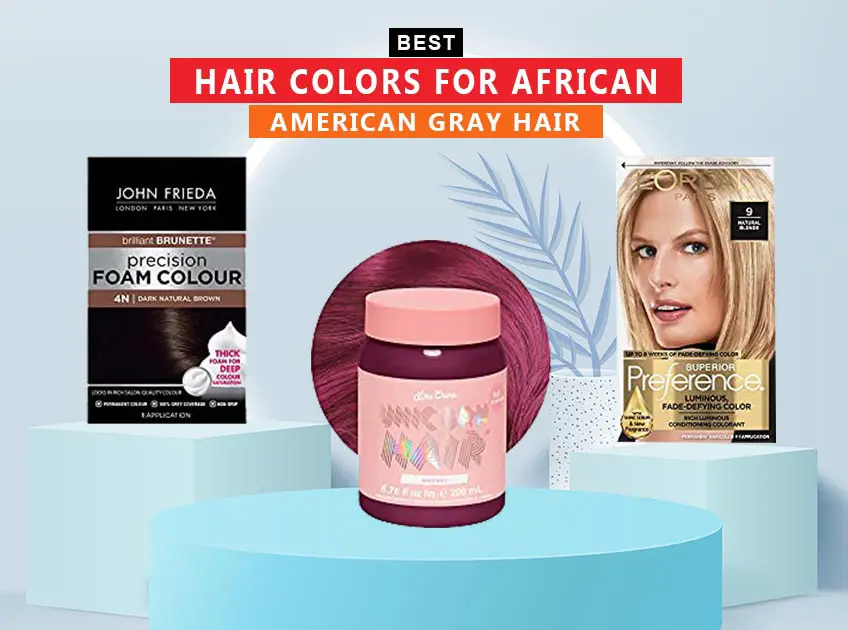 If you want to cover your grays and looking for the best hair color, we have made your search easy by curating a list of the 7 best hair colors for African American gray hair. These colors are great for hair health and keep the healthy.
Check out the hair colors and find your best pick.
7 Best Hair Colors For African American Gray Hair
1. Rich Color: Garnier Nutrisse Ultra Color Nourishing Color Creme
Offering intense hydration, this hair color makes strands strong and supple while giving them the desired color
Enriched with ingredients like avocado, olive, and shea butter that add moisture and nourishment to the strands
The non-drip formula glides over the strands, easing the process manifold
The pleasing fragrance and silky texture make it one of the best hair color
It features an ultra-reflective formula that easily turns dark hair colors to your desired shade
23 shades of this hair color are available that you can apply as per your skin type
What We Don't Like: The color fades faster, and reapplication becomes necessary.
[ Read: 7 Best Products For Curly Gray Hair ]
2. Adds Shine and Gloss: L'Oreal Paris Superior Preference Fade-Defying Color + Shine System
It is a perfect hair coloring kit that can be used at home easily
It helps deliver a smooth, soft, and shiny look to hair, making them look luxurious
The results are long-lasting, irrespective of your natural hair color
Comes with a conditioner and hair serum to keep hair vibrant, silky, and smooth
Multiple shades are available that you can choose according to your skin type
Offers good gray coverage and maximum shine
What We Don't Like: Overpowering smell.
3. Semi-Permanent Color: Lime Crime Unicorn Hair Semi-Permanent Hair Color
It is a damage-free hair color formula, giving pigmented shade and leaving hair silky soft
Works best if your hair is pre-bleached platinum to medium blonde
You don't need a toner or a developer for this hair color, thus making it suitable for at-home application
Different hues can be obtained by mixing different shades
It is available in multiple shades
Free of ammonia, bleach, and peroxide.
What We Don't Like: Overpowering smell
[ Read: Wella Color Charm Demi-Permanent Hair Color Review ]
4. Salon Perfection: John Frieda Precision Foam Color
It is a thick, saturating, and foaming formula that deposits color to the strands and locks moisture to avoid hair
becoming dry and brittle
It is a non-drip color that spreads easily on the strands and offers good coverage
Do not give patchy results, and ensures 100% gray coverage
It is fade-resistant and gives long-lasting results
Comes with a conditioner that seals the hair color and the essential moisture on the strands
What We Don't Like: The color may fade fast.
5. Best Long-Lasting Results: Manic Panic Ultra Violet Hair Color Amplified
It offers stunning hues, and the result lasts for over 6 weeks
It is easy to combine this color with different shades and create a new look for your hair
Doesn't require a developer, thus making the coloring process easy
Contains 30% more pigment, thus ensuring a long-lasting result
Available in 23 shades and is free of ammonia, paraben, gluten, and phthalate
What We Don't Like: The color may transfer, so use it carefully.
6. Effective and Affordable: Clairol Natural Instincts
Formulated with 80% natural ingredients, ensuring great health and shine for your natural hair
It helps enhance the natural hair color and makes it appear healthy, radiant, and shiny
Infused with ingredients like coconut and aloe vera for deep nourishment
Available in 38 shades and the results are long-lasting
It is free of ammonia and paraben
What We Don't Like: Overpowering smell.
[ Read: 5 Easy Homemade Hair Rinse Recipes for Silky, Shiny Hair ]
7. Dermatologist Tested and Approved: Revlon Total Color
It has a nourishing formula that offers 100% gray hair coverage, thus best for African American gray hair
The color lasts for over 6 weeks
Infused with hemp seed oil and other shade-specific botanical extracts such as black tea extract for dark hair,
sesame oil for brunettes, cranberry for red shades, and chamomile for blondes
It has a creamy and non-drip formula and is available in 16 shades
What We Don't Like: The application is messy.
[ Read: Home Remedies for Gray Hair ]
Conclusion
Now that you know the best hair color for African American gray hair, it's high time to give them a try and transform your grays into something bold and beautiful.
You Might Also Like: