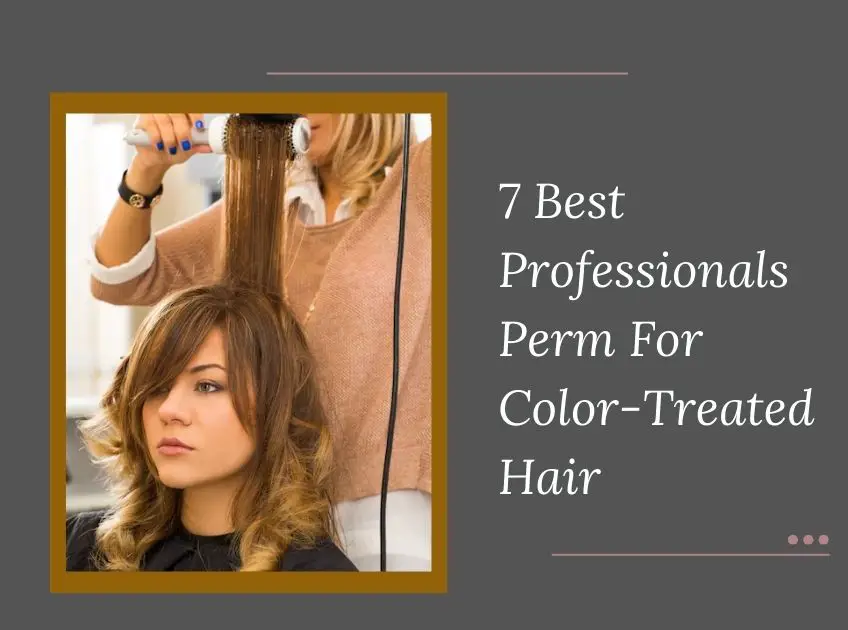 Given that you have already chemically weakened your hair, choosing the best perms for bleached hair that are mild is inevitable.
As the 80s haircuts returned to fashion, modern hair perms are no little matter. It makes sense to follow trends, especially if they make you seem chic.
Even though modern perms are gentler and less harmful than older ones, your hair could still get brittle and dry as a result.
Color-Treated Hair
Whether you want to achieve sleek straight hair or bouncy curly hair after bleaching, always choose a light perm solution to avoid causing harm to your hair.
Here is a curated list of professional perm for color treated hair that will prevent damage and give you the curl of your dreams. Scroll below to know more!
7 Best Professionals Perm For Color-Treated Hair
1. Best overall value: Zotos Warm and Gentle Perm
This perm solution was created to be kind to hair that has had chemical treatment, is weak, or both.
You may get loose curls or silky straight hair with good results. Additionally, it won't harm your bleached hair.
This brand is economical and easy to use and the least damaging to your hair.
Mixes a real acid perm with an exothermic neutralizer to create styles that are longer-lasting, and more natural-looking.
What We Don't Like: The smell can be a bit overpowering.
[ Read: 7 Best Perm Solution For Fine Hair ]

2. For cysteamine perm: Zotos Texture EFX Color Perm
Zotos Hair Texture EFX Normal & Resistant Perm is a resounding yes if you are looking for a gentle, thio-free perm that does not smell weird!
For color-treated hair, Zotos offers a thio-free perm. It has a light fragrance and is gentle.
On your coloured hair, this perm solution will create soft waves in five minutes or less.
The product penetrates the hair shaft easily and softly, leaving the cuticle intact.
What We Don't Like:It may not produce the best result for other perms.
3. Best for acid perm: Zotos Quantum Extra Body Acid Permanent Unisex Treatment
Acid perms typically require heat to create curls, but since this perm kit includes an equalizer, you can achieve curls without using a blow dryer.
You can apply it over coloured or bleached hair because it is specially formulated to be a mild perm.
The porosity of your hair is evenly balanced with this kit. It also includes argan oil, which gives your hair more shine.
What We Don't Like: It leaves the scalp feeling dry.
4. For professional perm: Ogilvie Salon Styles Professional Perm for Color Treated
This product is created especially for hair that is weak, thin, colored, or chemically treated.
It has conditioning components that you must use prior to perming in order to avoid dryness and frizz.
The perm solution is gentle, and the final result is hair curls that are shiny and smooth.
The product has a strong reputation among customers and is reasonably priced.
What We Don't Like: It might not get you perfect curls if you have thick and strong hair.
[ Read: 7 Best Shampoos For Permed Hair ]
5. Budget-friendly: Zotos Lamaur Apple Pectin ACID pH PERM
This mild acid perm recipe is easy to make but works well on hair that has been bleached and is weak.
In contrast to alkaline perms, it produces loose and soft curls.
It performs remarkably well on fine hair and chemically treated hair.
It has specific compounds that eradicate "after perm" stench, leaving hair smelling like an apple.
What We Don't Like: Although it does not tangle your hair, blow drying is required to achieve a nice curl.
6. For damage-free: ISO Option Perm Lotion
It is well-known among thio-free perms and has received recognition as a Stylist's Choice for Permanent Waving.
The perm solution is gentle, and the final result is hair curls that are shiny and smooth.
The product has a strong reputation among customers and is reasonably priced.
Good for all colour-treated hair types
What We Don't Like: It may not last as long as usual perms.
7. At home: Ogilvie Home Perm for Color-Treated Hair
This specific product was created for hair that was weak, thin, coloured, or chemically damaged.
You must use its conditioning components prior to perming to avoid dryness and frizz.
The consequence of the moderate perm solution is smooth, lustrous hair curls.
Heat activator, waving lotion with fresh aroma, rapid creme neutralizer, and large salon end-papers are included. as well as step-by-step directions.
What We Don't Like: It is not best for thick hair.
[ Read: Can You Dye Your Hair With A Perm ]
Conclusion
Your bleached hair can be permed without risk. However, it's recommended to wait two weeks between hair operations. Stop further perming hair damage by selecting a light acid perm rather than bleaching, which weakens and harms your hair. In the event that you encounter any allergic reactions, call your dermatologist right away.
You Might Also Like: