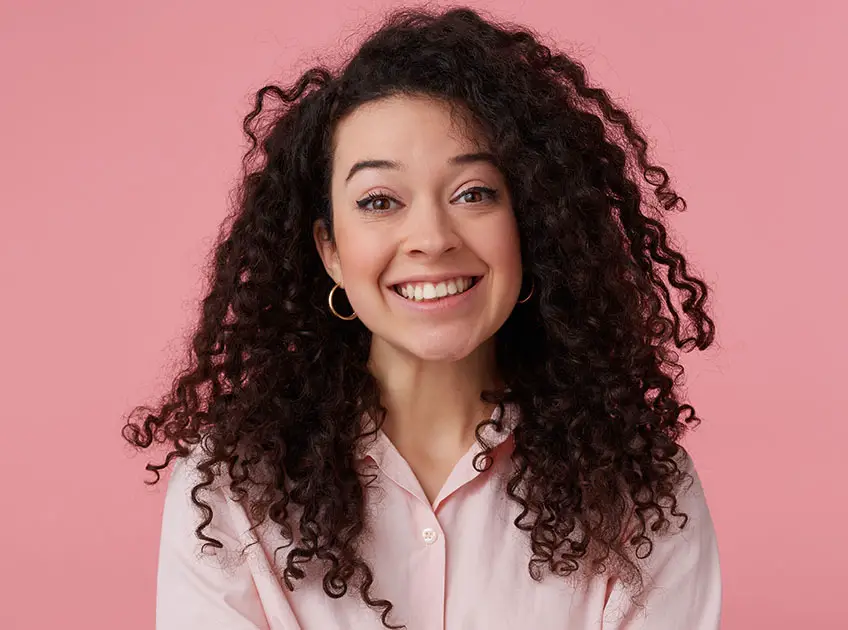 The perm is about as iconic of a hairstyle that everyone loves to wear. But today's permed hair is a much more natural version of usual days. These curls and waves are loose and vary but it is very attractive in size like naturally curly hair think beachy haphazard waves versus tight, uniform curls in a fab way.
And if you're wondering how to give your hair volume and look shiny, a perm is a great way to add texture to flat or limp strands that could make your hair smooth. But like coloring your hair, getting a perm is a chemical process and requires a different set of hair care rules and it is more of a different makeover to your hair.
If you're thinking about getting a perm read the following article for further knowledge and happy reading!
[ Read: 15 Best Protective Hairstyles For Curly Hair ]
Style Permed Hair In The Morning
What Exactly Is A Perm?
The term perm is short for "permanent" because it permanently changes the structure of the hair for a long period of time. It's a chemical treatment that breaks down the protein bonds of the hair, giving it a new texture and gives a different look.
Nowadays the techniques being used today limit damage both from the chemicals and the heat required for hair. Today's perm is looser and wavier, making the perfect hairstyle for those with thin hair and giving an appealing look. A perm can last anywhere from four to six months approximately.
Because you're changing the hair's texture, a perm has to grow out for lasting. But perms aren't only for transforming straight hair into wavy or curly but also the treatment works the other way
Because the chemicals in a perm alter the structure and texture of the hair it can also be used to straighten curly or natural hair for a good look.
[ Read: 7 Best Brushes For Wavy Hair ]
If You're Considering A Perm, You Should Know About This:
If the perm is a hairstyle you're considering then the first thing you should do is talk to your hairstylist about what kind of look you want. They know your hair type, texture, porosity, past treatments, and colorful history and will let you know if you're a good candidate for the treatment or chemical.
Then arm yourself with these tips for permed hair for a better look. After that, there are some general rules and tips to prolong the life of your perm and to keep your hair healthy after the hair transformation.
[ Read: How To Keep Your Hair Healthy and Strong ]
Styling Tips And Tricks For Permed Hair:
Prep your strands for the perm by hydrating and strengthening them with a conditioner and hair mask treatments leading up to your appointment before you go.
Be gentle with your newly permed hair the first few days because the chemicals used continue to form new bonds for two or three days or else you would lose the effect.
Avoid washing and wetting your newly permed hair for at least two days or else your hair wouldn't have the effect. Washing your hair too early or with hot water can interrupt the perm process and could end the process before it's finished.
Don't use a flat iron or other heat-styling tools before your first wash for long-lasting. This can also affect the bond re-forming process of the hair.
Wait at least three days before swimming in chlorinated water or else there is no use in transforming your hairstyle.
The chemicals in swimming pools can be very harsh on your perm so better to avoid them.
Avoid combing your hair in the first 24 hours or applying oil. Use your fingers to gently style the hair and twirl the curls around your face and use scrunchies.
When you do comb, use your fingers or a wide-tooth comb to gently detangle your wet hair while it's covered with the conditioner or your hair will be damaged. Use gentle strokes to avoid breakage or damage
And whatever you do, avoid using a hairbrush at all costs and avoid direct sun. Brushing can break up curls and make them look frizzy and messy turn the look.
Avoid putting your hair in a ponytail or a bun and avoid using hair elastics and tight clips that cut break your hair texture. Leave your hair loose for the first two days to maintain the proper shape of your new texture for a good look.
When you do wash your hair, make sure it's with a sulfate-free shampoo better to use organic and gently massage your scalp while shampooing and conditioning.
[ Read: Wet Brush Pro Detangle Hair Brush Review ]
Wondering How Often And Frequently You Should Wash Your Hair With A Perm?
Aim for every 2-3 days once. Always follow with a conditioner to avoid messy hair. This makes combing easier and infuses your thirsty strands with moisture and keeps your hair alive.
Use lukewarm water and do not use hot water when you rinse gently squeeze with a microfiber towel to dry your hair.
Invest in a silk pillowcase to protect your curly permed hair from hair fall, friction, tangles, and frizz while you toss and turn and to avoid breakage.
[ Read: How To Wrap Your Hair With A Towel? ]
Closure:
For at least two weeks following your perm don't be tempted to color or highlight your hair immediately. Additional chemical treatments can loss of hair, stress and break your hair, and even could cause some side effects.
Let your hair air dry whenever possible do not use heat. If you absolutely must use a blow dryer very low and keep it a little away from hair.
Image Credit: freepik
You Might Also Like: