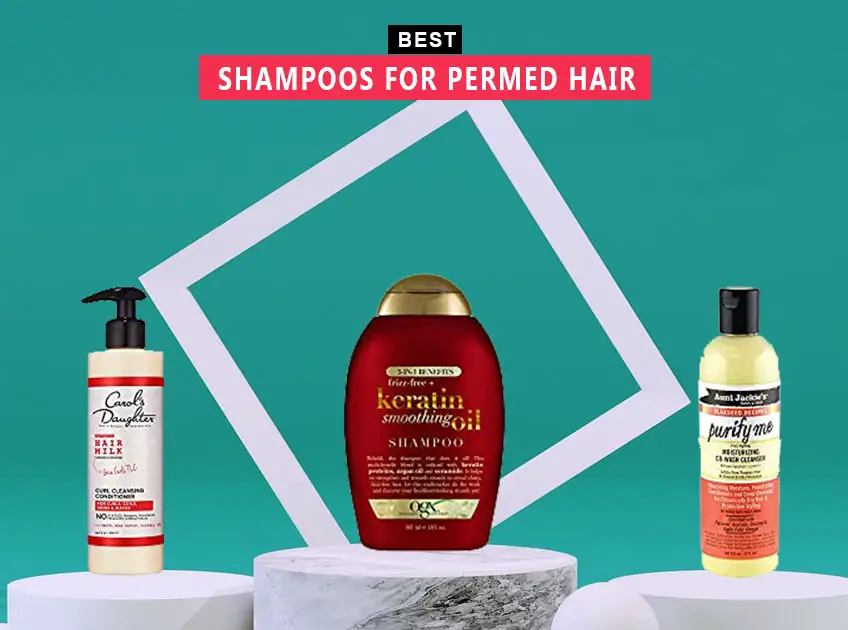 Looking for the best shampoo for permed hair? If you have permed your hair recently and want to make them look healthy and bouncy for a long, you need to shift from normal shampoos to those made specifically for permed, curly, wavy, loose, or bushy hair.
Since these hair types are prone to breakage and dryness, using high-quality shampoos will ensure the strands stay nourished and hydrated. At the same time, such shampoos help maintain the perm for longer with lasting shine and volume.
Permed Hair
Here, we have carefully selected and listed the 7 best shampoos for permed hair that will help manage the curls, twists, and turns effectively. All these shampoos are tried and tested on different curls, and each of them proves true to their name. Also, they help tame the frizz and flyaways. Check them out and find the one that suits your hair type and needs.
7 Best Shampoos For Permed Hair
1. Best Overall: Aussie Total Miracle Collection 7n1 Shampoo and Conditioner Set
It contains the goodness of multiple hair-loving ingredients
Thoroughly cleanses hair and scalp and prevents hair damage
Works on split ends as well and curb dryness
Infused with natural oil, Australian macadamia oil and apricot that make hair soft and smooth
Features ultra-hydrating and nourishing properties
Adds shine to the hair and maintains frizz
What We Don't Like: It is not suited best for oily hair.
[ Read: 5 Best Homemade Hair Conditioners – Benefits + How to Use ]
2. Comforts Dry Hair and Scalp: OGX Coconut Milk Shampoo
It contains coconut milk and egg white proteins
Also infused with other hair-loving botanical extracts
Stays gentle on the scalp and combats dry and itchy scalp
Moisturizes the strands and replenishes the lost moisture
Leave permed hair feeling and looking shiny and healthy
Does not strip off the oils
Improves hair elasticity and hydration
Features the tropical scent of coconut
What We Don't Like: Many users find the smell of coconut overwhelming.
3. Plant-based Extracts: Curl Junkie Daily Fix Cleansing Hair Conditioner
Cleanses the curls without stripping the moisture off
Also cleanses the scalp without adding weight
The concentrated formula gives long-lasting results and maintain perms
The active ingredients are the extracts of Peppermint Leaf, Yucca Leaf, Melissa Leaf Extract, Chamomile Flower Extract, and Nettle leaf Extract
What We Don't Like: It comes with an expensive price tag
[ Read: 7 Best Products For Permed Hair ]
4. Tames the Frizz: OGX Frizz-Free + Keratin Smoothing Oil Shampoo
It is formulated with hydrolyzed keratin and argan oil that tames frizz effectively
Addresses multiple issues and improves hair strength, flexibility, and shine
Protects hair against humidity and other environmental stress
Mild fragrance of a blend of tropical orange, island pineapple, and golden amber
Leaves hair shiny and easily manageable
It has a pleasing fragrance
What We Don't Like: It may make hair feel slightly heavy.
5. Frizz-free Curls: Aunt Jackies Flaxseed Recipes Purify Me – Best Cleansing Conditioner
Helps replenish moisture while eliminating dust, buildup, and impurities
Infused with flaxseed, a great source of omega fatty acids that prevents hair thinning
Consists of avocado and coconut oils for hair health and nourishment
Suitable for everyday use
What We Don't Like: Thick consistency
6. Best for Curls and Coils: Curly Hair Products by Carol's Daughter
Eliminates pollutants and deeply moisturizes hair from root to tip
Prevents frizz completely in permed hair
Hydrates hair and defines curls without leaving any residue
The active ingredients are Shea Butter, Vitamin B5, Agave Tequilana Stem Extract
What We Don't Like: It contains Dimethicone and Amodimethicone, which may not suit certain hair types.
[ Read: 7 Best Sulfate-free Shampoos For Curly Hair ]
7. Best for Damaged Hair: Aveda Restructuring Shampoo
Restructures the hair, restoring its health, and shine
The major ingredients are coconut, quinoa protein and babassu
Penetrates hair to make them deeply nourished
Promotes the growth of stronger and more voluminous hair
Deep clean the hair and the scalp, leaving it lighter, fluffier, and smoother
What We Don't Like: It is pricey and has a thick consistency.
Conclusion
So, these are the most effective and the best shampoos for permed hair. If you are experiencing dryness, frizz, and flyaways with your newly permed hair, it's high time you should invest in these shampoos and start using them. With regular use, these shampoos ensure shiny strands and a healthy scalp.
You Might Also Like: