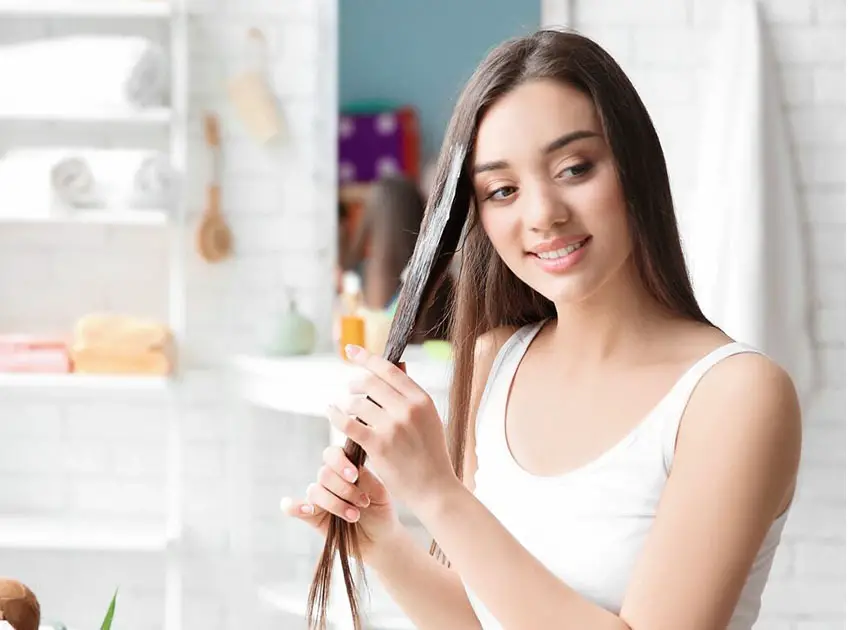 Hair conditioning is an efficient way of hydrating the hair and keeping them smooth, and frizz-free. Using store-bought chemical-based conditioners can have unpleasant results in the outcome but if you make conditioners with natural products at home, those can be effective as well as safe. Let us see some of the best homemade hair conditioners along with their benefits.
Homemade Hair Conditioner Recipes
1. Vinegar and Egg Hair Conditioner
Ingredients:
Eggs- 2 to 3
Olive oil- 1.5 tbsp
Honey- 1 tbsp
Vinegar- 1 tbsp
Lemon juice- 2 tsp
Process of Making and Usage: Whisk the eggs and add vinegar and lemon juice to them. Also, add honey and olive oil and blend well to create a thick paste. This needs to be applied to the tips of the hair and left for about 10-15 mins before rinsing with normal water.
Benefits: The egg makes the hair shiny. Olive oil makes the hair stronger and honey retains hydration. Vinegar is effective in hair loss and makes the hair healthier.
[ Recommended: Homemade Hair Dye Recipes ]
2. Aloe Vera and Lemon Juice Hair Conditioner
Ingredients:
Lemon juice- 1 tbsp
Aloe vera gel- 4 tbsp
Process of Making and Usage: Mix the lemon and aloe vera juice in the above proportion. Shampoo your hair and then apply the mixture to it. Use warm water for rinsing.
Benefits: Hair growth is stimulated by aloe vera and it makes the hair shine too. The pH balance of the scalp is restored by this hair conditioner.
[ Recommended: Apple Cider Vinegar Hair Rinse Benefits + Recipe ]
3. Yoghurt Hair Conditioner
Ingredients:
Process of Making and Usage: Beat the egg and add yoghurt to it. Mix well and massage it on your hair and cover it. After 15-30 min, you can use normal water to wash it off.
Benefits: The conditioner helps in cleansing the scalp because of its protein and lactic acid.
4. Coconut oil and Honey Hair Conditioner
Ingredients:
Coconut oil- 1 tbsp
Honey- 1 tbsp
Lemon juice- 1 tbsp
Curd- 2 tbsp
Rose-1 tsp
Process of Making and Usage: Mix all the above ingredients thoroughly and apply to the hair after shampooing. Let it stay for 10-15 minutes before rinsing with water.
Benefits: Coconut oil smoothens the hair and helps in its growth. Its fatty acids and minerals nourish the scalp.
5. Shea Butter, Coconut and Argan oil Hair Conditioner
Ingredients:
Shea butter-1 tbsp
Argan oil-1 tsp
Coconut oil- 2 tbsp
Essential oil(optional)- 2-3 drops
Process of Making and Usage:
You will find this conditioner useful if you have kinky hair.
Mix and melt shea butter and coconut oil and add argan oil to it.
Whip the ingredients to combine them well.
To it, add some essential oil that you like and mix again.
Apply it to the hair, from the root to the tips and leave it for 30 minutes before washing with a shampoo free from the sulphate.
You can use it 2-3 times a week for the best results.
Benefits: Shea butter has fatty acids, vitamin C, antioxidants and anti-inflammatory characteristics that prevent scalp infections. Split ends, and frizz, are prevented, and hair remains hydrated and protected from damage.
The above conditioner help in repairing the damaged hair and providing deep nourishment. The ingredients are easy to find in the market and the preparation process is not time-consuming. Hence, it is better to make and try these at home, and gradually reduce the reliance on the store-bought conditioners.
You Might Also Like: