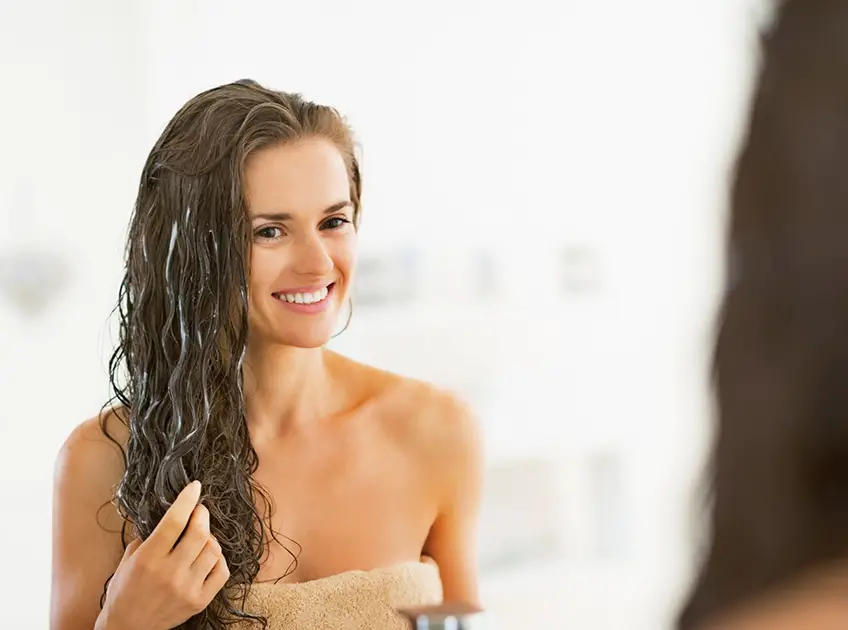 What is Deep Conditioning?
Deep conditioning is a process of taking a treatment for your hair like coating with nourishing products, as it restores your hair and strengthens it and also reduces the damages. Conditioners contains highly concentrated emollients ingredients that protect your hair by forming a thick layer on scalp which remains for longer period of time like 20 to 30 minutes.
Who Needs Deep Conditioning?
Most people with oily hair and those who have tight curls can use a deep conditioning. U can also deep condense before taking any chemical treatment.
Benefits of Deep Conditioning Hair
1. Hydrates Your Hair: Hair also needs to be hydrated just like our skin to stay healthy and strong, deep conditioning helps your hair to stay hydrated which reduces damage and breakage of your hair.
2. Improves Shine: Ever one likes to get soft and shiny hair, deep conditioner helps to get soft and shiny hair due to its moisture and nourishing properties present in it.
3. Reduce Damage: Due to regular deep conditioning your hair may stay strong and healthy as it reduces the breakage and damage of your hair. Deep conditioning helps in nourishing and moisturizing your hair due to which your hair may reduce in damage.
4. Nourishes Color: Using all chemicals to color your hair may alter your hair style and damage its structure, which leads to damaging the roots and dryness. Deep conditioning is the best choice in such situations which keep your hair soft and healthy which also reverse its chemical effect and make your hair strong.
[ Recommended: Natural Hairspray Recipes For All Hair Types ]
How to Do Deep Condition Your Hair
If your hair is dull, frizzy and damaged then deep conditioning is the only way to get back its shiny and thick and healthy. Deep conditioning rejuvenates your hair with the help of nutrients and nourishes your hair to keep them strong and healthy. For that first you need to.
Shampoo your hair first and then
Rinse with cool water
Comb with wide tooth brush and then
Proceed based on your hair style
Homemade Deep Conditioners
There are a number of ingredients in the kitchen which can be used as homemade hair masks which will deep condition your hair. In which some of them are as follows.
1. Banana Hair Mask
Bananas are very rich in vitamins and natural oils, which helps to reduce breakage and frizzy hair. So bananas are the best way of deep conditioning
Process:
Take one banana and mash it
Two to three spoonful of yogurt
Mix them well
Add 2 spoonful of honey and olive oil
Mix all the four ingredients well and make a thin paste
Apply them on your hair for half an hour and wash it with warm water.
[ Recommended: Homemade Hair Conditioners – Benefits + How to Use ]
2. Egg and Olive oil Mask
Egg contains many proteins which helps your hair in many ways whereas olive oil has nourishing agents which nourishes your hair and make your hair strong and healthy. This egg mask make more effective for deep conditioning.
Process:
Take two tablespoon of oil and mix with an egg
Add two spoons of water and mix well
Apply the mixture and set for half an hour
Wash with warm water
3. Honey and Coconut oil
Honey contains minerals, enzymes and vitamins that helps to rejuvenate the damaged hair and is also used as popular ingredients for beauty products for years, as it moisturizes the skin.
Coconut oil is used to strengthen the hair follicles and moisturizes hair. Honey and coconut oil make a perfect deep conditioning for your hair.
Process:
Take one cup of honey
Add one cup of warm coconut oil
And add one cup of honey
Mix all the three ingredients and prepare a mask
Apply the mask and wash after an hour
These deep conditioning processes may help your hair to stay strong, healthy with soft and shiny hair. If you regularly deep condition your hair your hair stays strong and shiny. You can consult your hair stylist and even can take decisions and treatment according to your hair type.
Best Deep Conditioners
Recommended Topics: