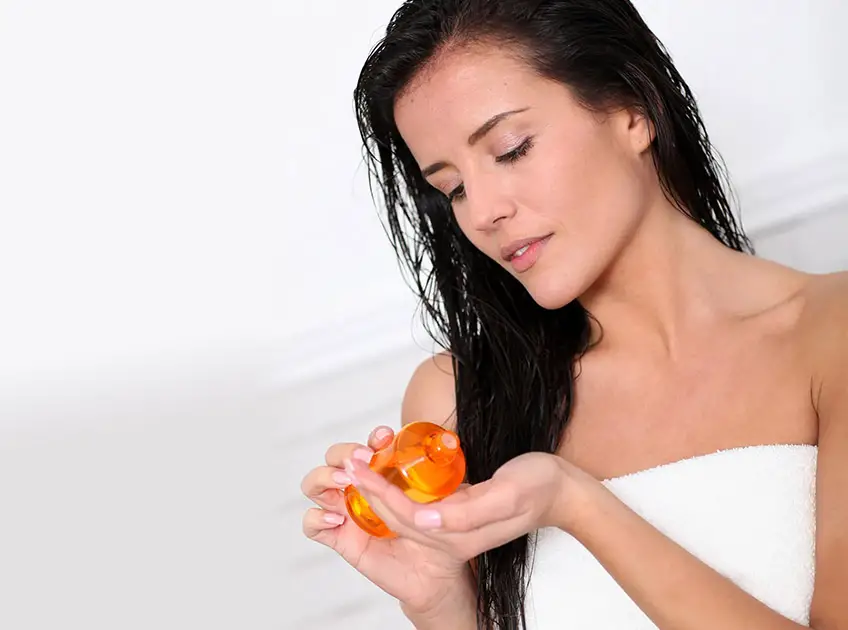 Hair serum is one of the ways of hair care to boost its texture, shine and overall health. It quickly treats the hair surface instead of entering the cuticles to condition the fibre within. Hence it is a great styling tool to reduce frizz, and tangles by forming a protective layer around the hair strands. Let us see some of the DIY serums.
Homemade Hair Serum Recipes
Aloe Vera and Vitamin E Hair Serum
Applying the serum before or after washing your hair in any weather won't let your hair fall out. It is light and non-greasy which reduces frizziness. Letting it soak overnight can result in silky hair.(1)
Ingredients:
Aloe vera gel(fresh)- 10 tbsp
Coconut oil-2 tbsp
Vitamin E oil- 1-2 capsules
Rose essential oil-10 drops
Rose water-2 tbsp
Recipe and usage:
Combine all the ingredients in a blender to avoid any clumps and then transfer it into a glass jar.
Take a few drops of it and apply it to the hair length when it is damp and let it dry naturally.
Suitable for: Frizzy hair
[ Read: How to Moisturize Your Hair Naturally ]
Aloe Vera and Essential oil Hair Serum
This hair serum can be easily washed off and is the best alternative to oily hair. Aloe vera enhances hair growth and nourishes. Dandruff would be removed and the dry scalp will be hydrated.(2)
Ingredients:
Aloe vera gel- 6 tbsp
Lavender essential oil- 5 to 7 drops
Almond oil- 2 tbsp
Argan oil- 2 tbsp
Peppermint or tea tree essential oil- 5-7 drops
Recipe and usage:
Combine all ingredients in a bowl and use a blender to avoid any clumps.
Apply it 1-2 hrs before showering or you can leave it overnight also.
Suitable for: Oily hair
[ Read: How To Get Rid Of Oily Hair Naturally ]
Fenugreek and Coconut oil Hair Serum
The ingredients make the hair strong and reduce dandruff and irritation on the scalp. It treats the follicles and makes the hair soft.(3)
Ingredients:
Coconut oil
Fenugreek seeds
Recipe and usage:
Boil a handful of fenugreek seeds/powder in coconut oil and massage on the scalp.
Leave it for an hour before showering.
Suitable for: Irritated scalp
[ Read: How To Get Rid Of Static Hair ]
Grapeseed and Vitamin E oil Hair Serum
When heat styling has damaged your hair, this method is quite useful. The treatment makes your hair long and lustrous.(4)
Vitamin E and grapeseed oil have a nourishing effect and make the hair shiny. Lavender essential oil reduces problems of the scalp and helps in hair growth.
It thickens limp hair and makes them strong and resilient after some applications. Leaving the serum overnight can result in better effectiveness.
Ingredients:
Grapeseed oil- 4tbsp
Lavender essential oil- 5 drops
Vitamin E oil- 1 tbsp
Recipe and usage:
Combine the ingredients in a small bowl ad transfer them into a glass bottle.
Shake the contents thoroughly before applying them to the scalp and hair length.
Rinse it with a light shampoo and add some drops of it to your hair length and ends of your damp hair to seal in the moisture.
Suitable for: Dry and damaged hair
[ Read: 7 Best Shampoos for Shiny Hair ]
Castor oil and Essential oils Hair Serum
Ricinoleic acid makes the hair healthy by regulating the scalp's pH and enhancing its blood circulation.(5)
Vitamin E, the protein and minerals of castor oil and its anti-bacterial and anti-fungal characteristics help in treating dandruff, infections of the scalp and folliculitis.
Its anti-oxidants make the hair smooth and frizz-free. Using the serum will make your hair strong, and shiny.
Ingredients:
Castor oil, Safflower essential oil- 4 tbsp each
Basil, rosemary and cedarwood essential oil-20 drops each.
Recipe and usage:
Take a sterilized empty bottle and add the essential oils one by one.
Dilute well and mix them thoroughly.
To it, add the castor oil and mix again.
Apply it to your scalp every night and massage the hair roots.
Wash the hair with a natural shampoo in the morning.
Suitable for: Hair growth
Caring for your hair in the hectic work routine is difficult when it is often exposed to sun, dust, pollution, heat treatment and chemicals of styling products. Hence, using the DIY natural hair serums can easily give you softer, shinier hair, that appears shiny and remains protected from external harmful conditions.
Scientific Evidence:
You Might Also Like: